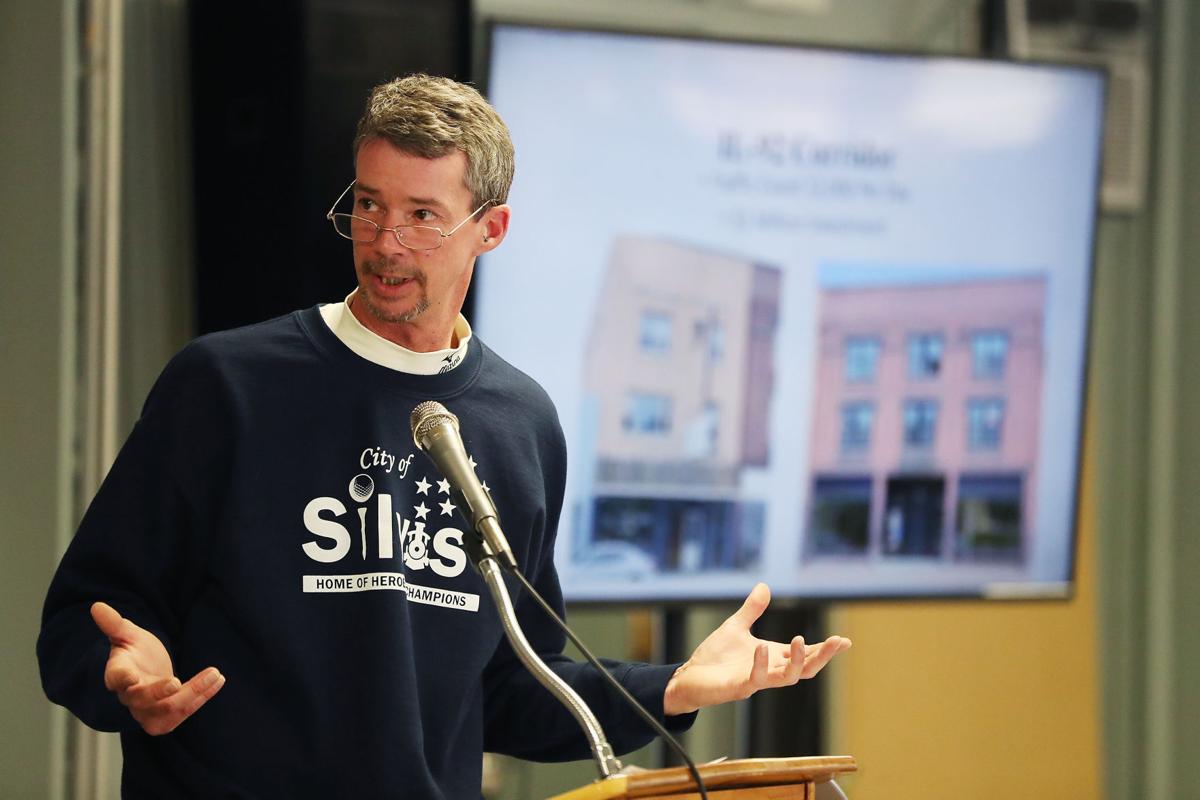 Matt Carter clearly enjoys the job of being Silvis mayor. And though he submitted his paperwork back in November, this week he officially announced that he's seeking reelection for mayor in the Democratic primary Feb. 23. 
He opted to hold off the announcement because he figured people would not care much until after the holidays. 
Carter, 49, believes he has been the city's most accessible mayor, aided in part by his full-time job as floor manager of Anchor Lumber in downtown Silvis.
"For five or six days I am at Anchor Lumber, and I interact with hundreds of people a week," he said. He's been there for 32 years.
"A lot of residents come in," he added.
Carter says he enjoys the interaction with them face-to- face, noting that many people have good ideas and it's good to hear them or get their complaints taken care of or directed to the right person. It's all part of being mayor.
"That's my type of communication," he said. "I like that best."
He believes his biggest achievement during his mayoral tenure is improving communications with the citizens of Silvis. To that end, he created the Silvis News, which is mailed out quarterly with the town's water bill.
The primary goal was to let people know what's going on in town in a non-political way with facts only, he said. 
"I think the residents have really enjoyed that," he said. "It just lets everybody know what's happening in town because not everything hits the mainstream media. When residents know what's going on in town, they feel more connected with their town. And that's very, very important."
Another positive of his four years in office, he said, is his management style.
"I am the opposite of a micro manager in that I try to encourage independent thought," he said. "Everybody has an opinion; everybody has a voice. There's a lot of great ideas out there, and they ought to be cultivated not suppressed through micro management.
"I think just that openness, 'Hey, this is your town. We can make the best of it, so let's do it. And the sky's the limit.'"
He almost downplayed Silvis' growth, which many credit to his primary opponent, City Administrator and Public Works Director Jim Grafton. Silvis was growing while other Illinois cities are shrinking — even before the pandemic. But Carter did have this to say: "Looking back over the past four years, Silvis has remained strong with commercial and residential development. A quarter-century of past leadership has led us to where we are today. Previous solid decisions from past mayors and council members have afforded us the latitude to be aggressive and produce creative ways to attract new development in Silvis.
"Along with the 'easy to work with' reputation, the synergy continues to go as we work together as a team, sharing in our successes for all," he said.
His goals for a second term include splitting the city administrator/public works job into two positions.
"The city has grown over time," he said. "The job is too important to keep as one."
He believes an internal potential candidate may be able to fill the public works director position. And if Grafton, who has been in the dual jobs nearly 20 years, does retire, he has formed a committee looking for city administrator candidates to interview.
Other goals include solving Silvis' hard-water issue and preventing too much rainwater from draining into its sewage system, which he noted is costing the city a significant amount financially.
Carter, who was an alderman for 12 years before winning the mayoral position, said he's both honored to be mayor and very appreciative to the citizens of Silvis.
"It's been a fun run," he said. "I hope I haven't disappointed anybody. I've enjoyed working with everybody."
He does admit the pandemic created challenges.
"It really changed the navigation of how you do things," Carter said, "with City Hall being closed and so many events being canceled in town and really the lack of socialization between so many people."