Tonya and Mike Shaefer each ordered a drink before noon Friday.
She opted for a Bloody Mary with a stick full of olives. He chose one of the many distinctive beers inside LeClaire's Mississippi River Distilling Company & Cody Road Cocktail House. After all, they were survivors. Of sorts.
Just before 11 a.m. a Canadian Pacific train traveling south through LeClaire derailed.
According to the Scott County Emergency Management Agency and LeClaire Assistant Fire Chief Kent Amerine, a chemical leak was discovered in the wreckage of several tankers and mitigated by HAZMAT teams on site.
There were no injuries or fatalities as a result of the incident and no threat to the public, the EMA said in a news release. Liquid was running from a tank, but it has not and won't harm the river, and Scott County and Canadian Pacific will continue to update the status of the derailment over the weekend, the release said.
"I think we might be lucky to be alive," Tonya Schaefer said. "That sounds dramatic, but I'm not kidding.
"Let me start from the beginning."
According to Tonya Schaefer, she and her husband left their home in Guttenburg, Iowa, early Thursday and pulled into LeClaire intent on seeing Antique Archaeology. The store is featured on the "American Pickers" History Channel show, and owned by the show's star, Mike Wolfe.
"We love the show and we went to Antique Archaeology yesterday, stayed overnight, and we decided to hit the store again (Friday) before we left," Tonya Schaefer said. "Well, while we started to leave the girl there was giving me change. She showed me a lucky penny and instead of just throwing it in my purse with all the other change, I kept it aside."
Mike and Tonya Schaefer then decided to go to the Buffalo Bill Museum along the Mississippi River on North Front Street — a stone's throw from the rail line running between Front and Cody streets.
"My Jeep Grand Cherokee is practically new — it's a 2017, but I bought it with really low miles," Mike Schaefer said. "So I'm really concerned about dings and I always park away from other cars.
"We were parked away and went inside and I was taking a picture of Tonya when there was this rumble and all the lights went out. I think it was the manager of museum who came running back and said there been some kind of wreck."
You have free articles remaining.
The Schaefers "never heard a thing" during the derailment. But when they walked out of the museum, their Jeep was lost in a massive cloud of dust.
Mississippi River Distillery bartender Nathan Carroll agreed with the Schaefers. He never heard the derailment. Like a number of the retail stores and restaurants along the south side of Cody Road, Mississippi River Distillery has a raised balcony and outdoor seating area that overlooks the rail line.
Mary Anna Parris, who works in the Cody Road shop called Razzleberries, said she did hear something strange just before 11 a.m. after she noticed the passing train was "moving really fast."
"It always goes fast through town — too fast, really," Parris said. "The train is always noisy. But then I did hear a bigger noise and I can't really describe what that noise was.
"It was just this loud sound. So I walked out on to our balcony and I thought there was some kind of fog. It looked like fog. And I called out to another person standing on their balcony and they said 'It's dust' and they pointed down. That's when I saw the wreck."
Sharon Virtue works in the Cody Road store called Bela. Like Parris, she thought Friday's train was "going through town really fast."
"Then there was a lot of noise," Virtue said. "I can't even describe the noise because I'd never heard it before.
"After the noise, there was dust. That's all I saw until I walked out on the balcony and saw the train. Everybody was out on the balconies and fire escapes looking down at all these train cars just scattered off the tracks."
Mike and Tonya Schaefer decided to find a safe place. And a drink.
"We were told we couldn't get to the Jeep," Mike Schaefer said. "Believe me, I tried to get to the truck but the police were pretty determined to keep people out.
"They said we might not see the Jeep for one, maybe two, days. But I've looked at it from here and it looks like it might be OK."
Tonya Schaefer counted herself and her husband lucky.
"Well, thank goodness we got there when we did - 10 minutes later and we might have been pulling up when that train wrecked," she said. "And there are demolished cars over there. Those train cars slammed into that parking lot and buried some cars."
010320-qc-train-derail-006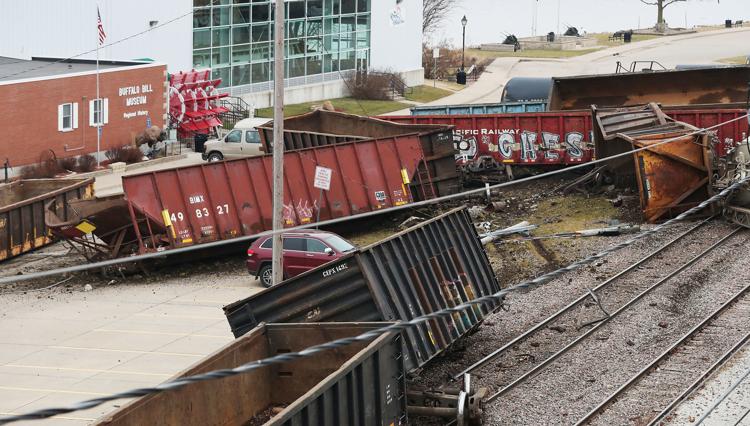 010320-qc-train-derail-004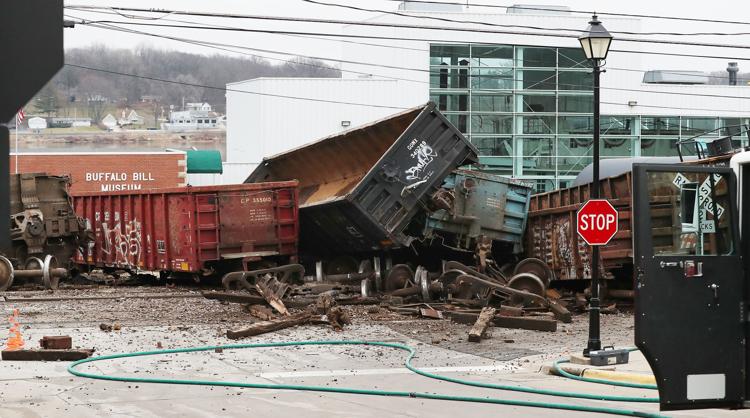 010320-qc-train-derail-010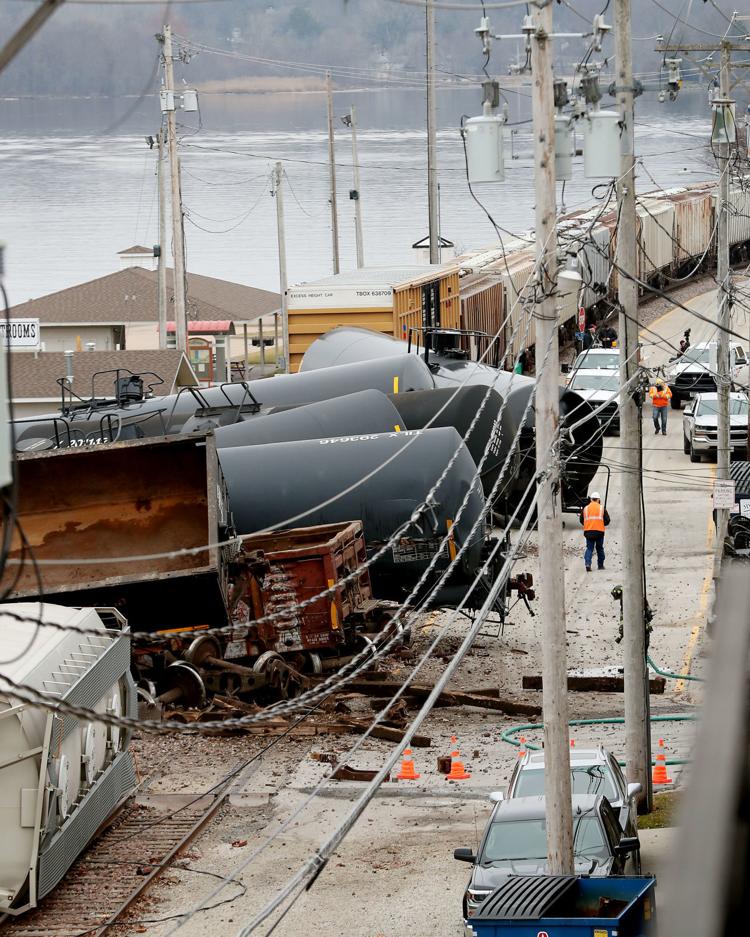 010320-qc-train-derail-008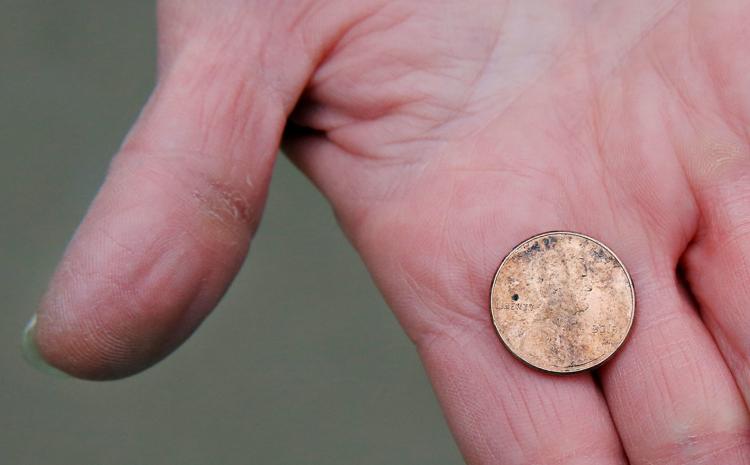 010320-qc-train-derail-002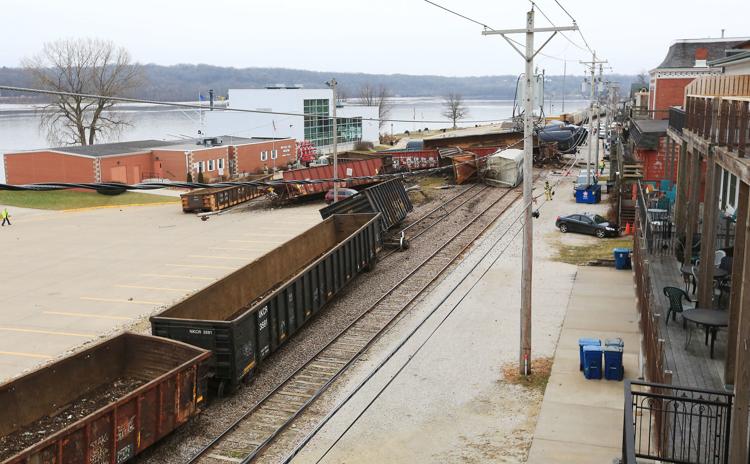 010320-qc-train-derail-007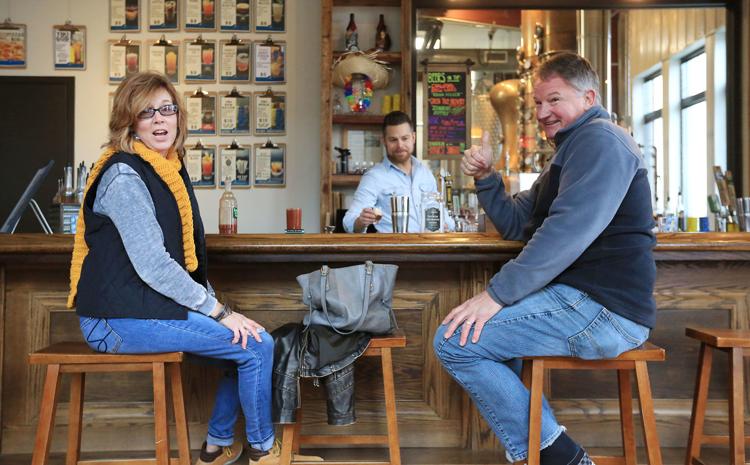 010320-qc-train-derail-014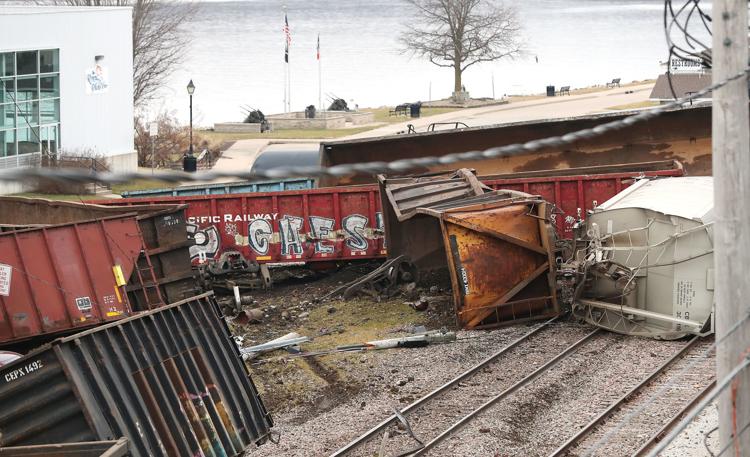 010320-qc-train-derail-013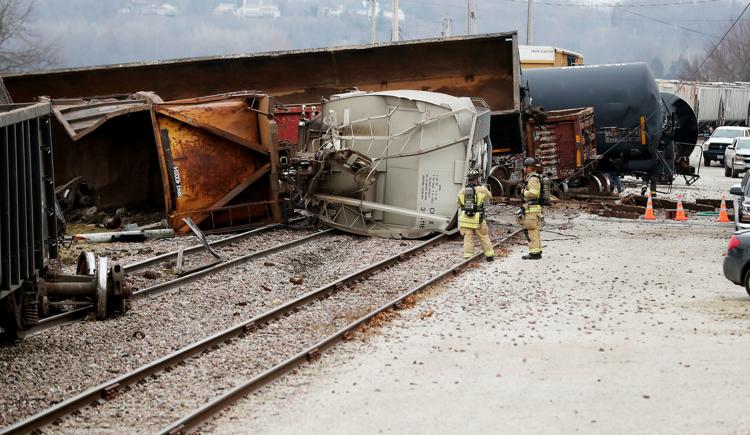 010320-qc-train-derail-011
010320-qc-train-derail-003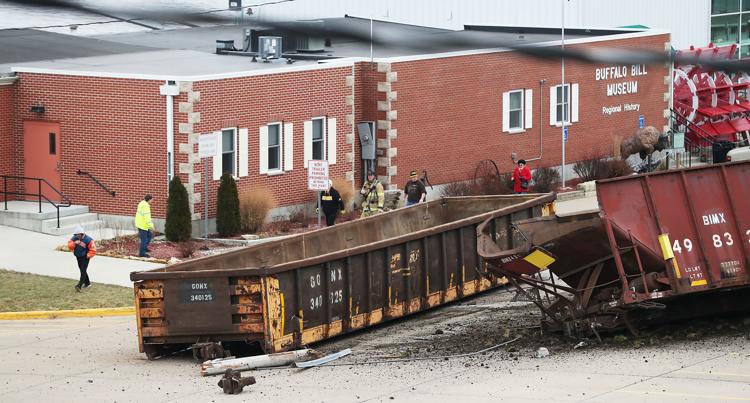 010320-qc-train-derail-001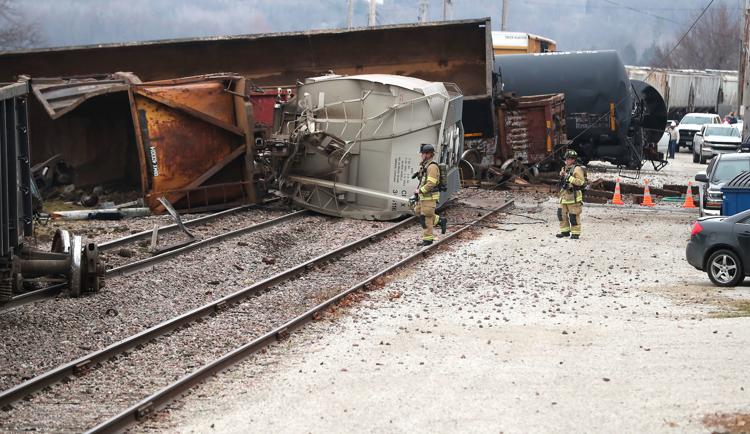 010320-qc-train-derail-012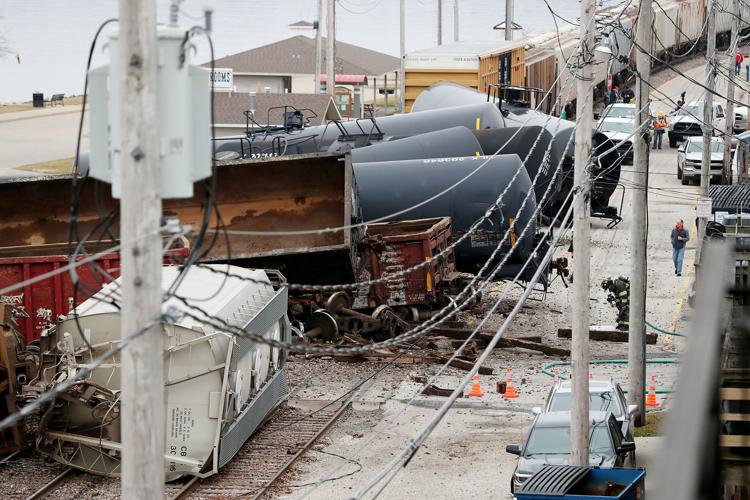 010320-qc-train-derail-009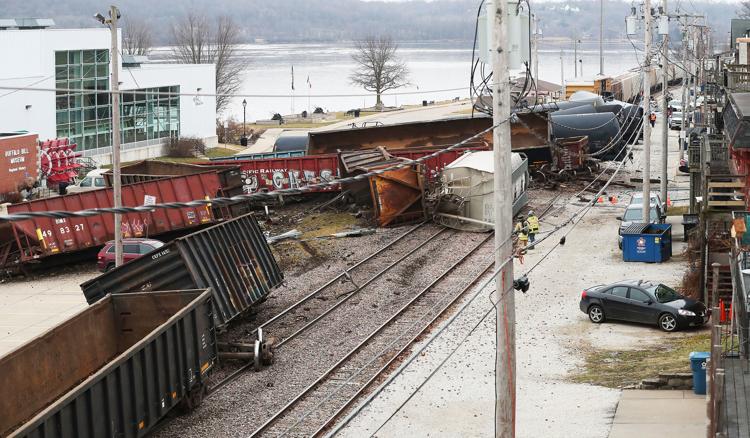 010320-qc-train-derail-005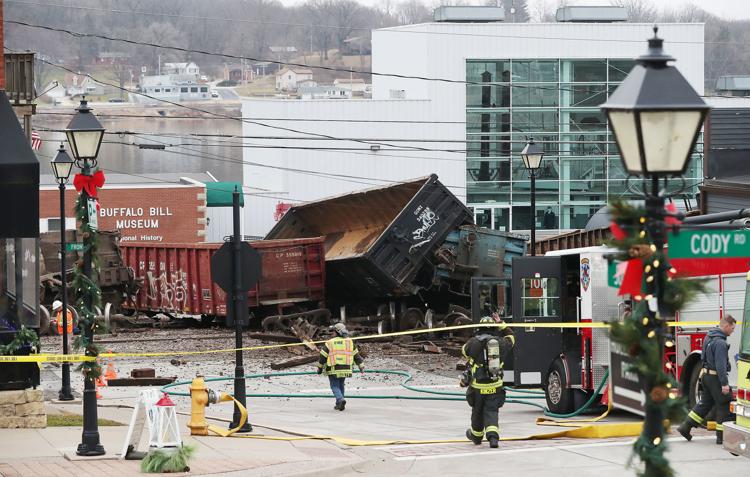 Train derailment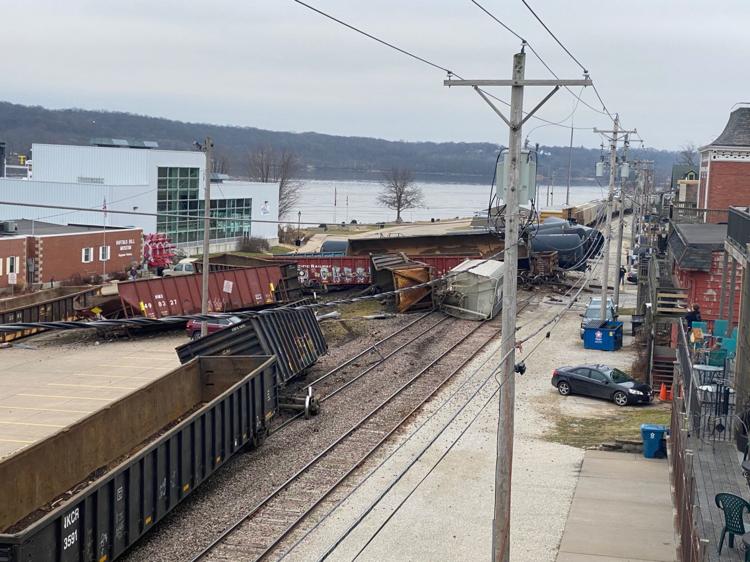 train 2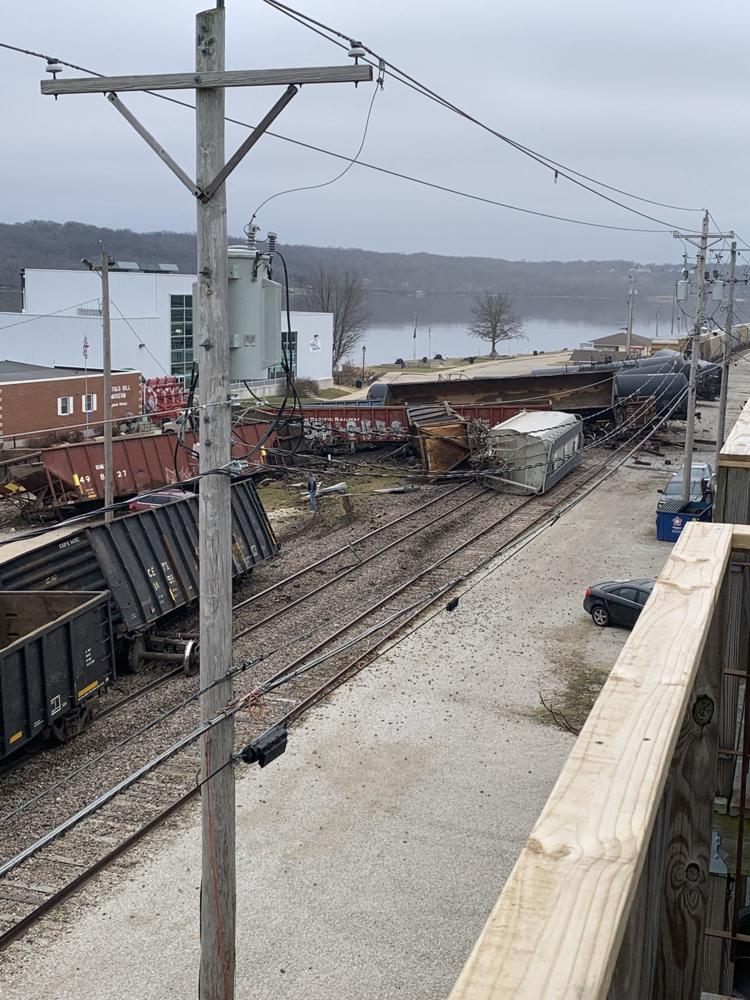 train 1