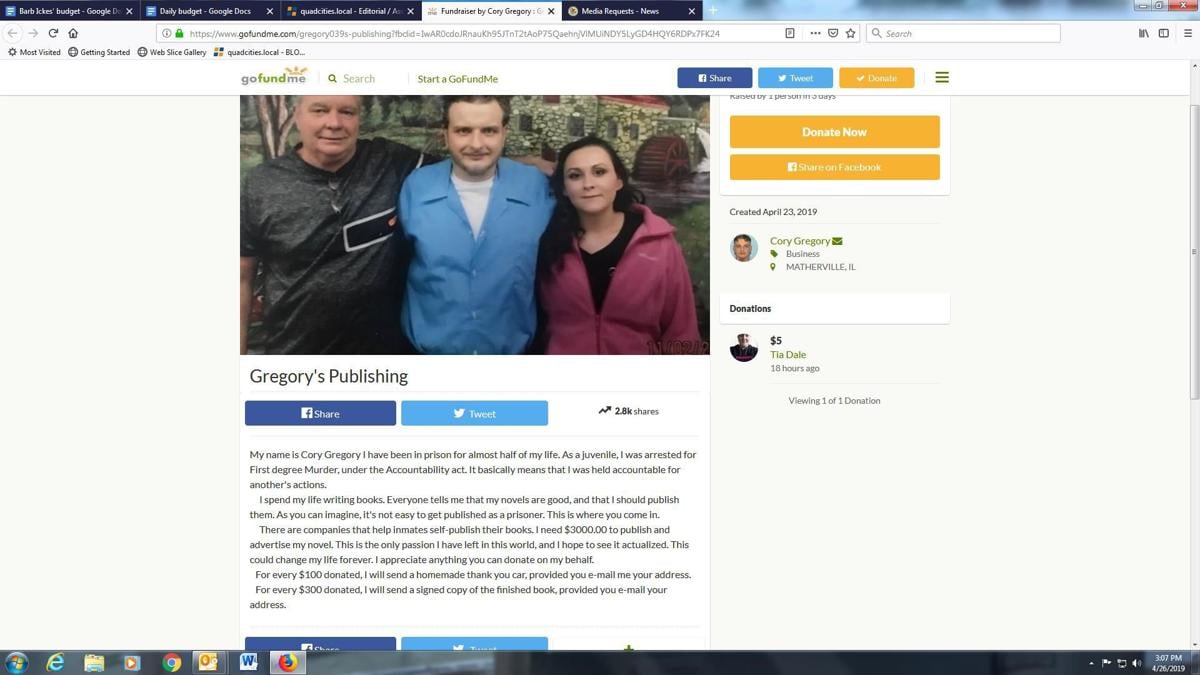 A fundraising account has been set up in the name of convicted Quad-City killer Cory Gregory.
He was a teenager when he led local law enforcement to the remains of Adrianne Reynolds, 16, of East Moline. Gregory is serving a 40-year sentence for murder and another five years for concealing Reynolds' remains following her death in January 2005.
Sarah Kolb, also a teenager at the time, is serving a 48-year sentence for murder. She was convicted while Gregory entered a guilty plea in the strangulation death, which the pair attempted to hide by dismembering, then trying to burn the remains. A third teen, Nathan Gaudet, was recruited to help conceal the homicide. 
Gaudet was the driver and one of the dead in a triple-fatality car crash in Indiana in 2012.
A page on the GoFundMe site introduces Gregory as if he is the creator of the page, which officials from the Illinois Department of Corrections said would not be possible.
"My name is Cory Gregory," the account begins. "I have been in prison for almost half of my life. I spend my life writing books."
The site goes on to say that Gregory is a promising author who has been encouraged to have his books published. The page asks for $3,000 in donations for Gregory to self-publish his books from the Pontiac Correctional Center.
"This could change my life forever," the site states, going on to offer a homemade greeting card for each $100 donation.
Asked whether it is possible for Gregory to have created the site, a Department of Corrections spokesperson said it is not, given that Gregory does not have internet access.
As of Monday, only one person had contributed to the fund drive. Tia Cummings Dale donated $5, and it appears from her Facebook page that she may have been a classmate of Gregory's.
In listing her schooling, Dale indicates she attended United Township High School, Davenport North and Moline High School, graduating in 2005; the year of the Reynolds murder.
She also indicates she worked as a cashier at a Moline Taco Bell. The parking lot of the Taco Bell on Avenue of the Cities in Moline is where the murder occurred; in Kolb's car.
Dale did not respond to questions sent via Facebook messenger. No one responded to requests for details from the GoFundMe account.
Reynolds' stepmother, Joanna Reynolds, said she never has heard of Dale. She reported the site to the Rock Island County State's Attorney's Office and said the family asks that no one donate to the account.
A photo posted on the site last week showed Gregory during a prison visit with two others in the photo. That image was removed over the weekend, and a dated prison mug shot took its place.
Get local news delivered to your inbox!
Subscribe to our Daily Headlines newsletter.