The owners of K&K True Value Hardware have talked for years about doing something to brighten the west side of their building alongside Bettendorf's 18th Street.
But no ideas for the big, blank wall of gray cement blocks really clicked until this year, and then — wow — what a change, Kortney Gaura, office manager and one of the owners, said.
Young people working under the Metro Arts Youth Apprenticeship Program of Quad-City Arts, Rock Island, have been painting a colorful mural on the building that reflects the city's past, present and future, with an added nod to K&K, a long-time, family-owned business.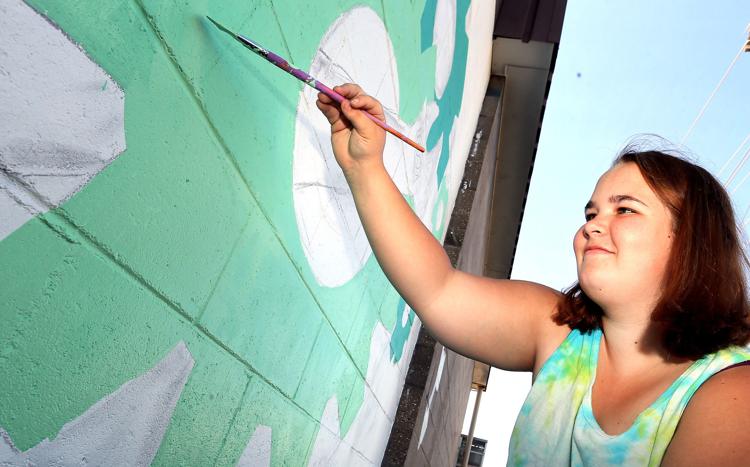 There's a picture of Joseph Bettendorf, one of the two brothers for whom the city is named, and the one who is credited with building Bettendorf Axle Co. into the largest railroad car shop west of the Mississippi. There also is a train, another reference to the Bettendorf brothers, blue swirls indicative of the Mississippi River, drawings of the existing and future Interstate 74 bridges and tools and hardware representing K&K.
The mural is one of three being created this summer, the 19th year of the Quad-City Arts community arts program. The others are in the south parking ramp of Genesis Medical Center-East Rusholme Street, Davenport, and on the side of a former concessions building at Douglas Park, Rock Island.
In addition to painting, improvisational comedy has been added as an apprenticeship opportunity this year, along with photography that debuted last year, Tyson Danner, community arts director for Quad-City Arts, said.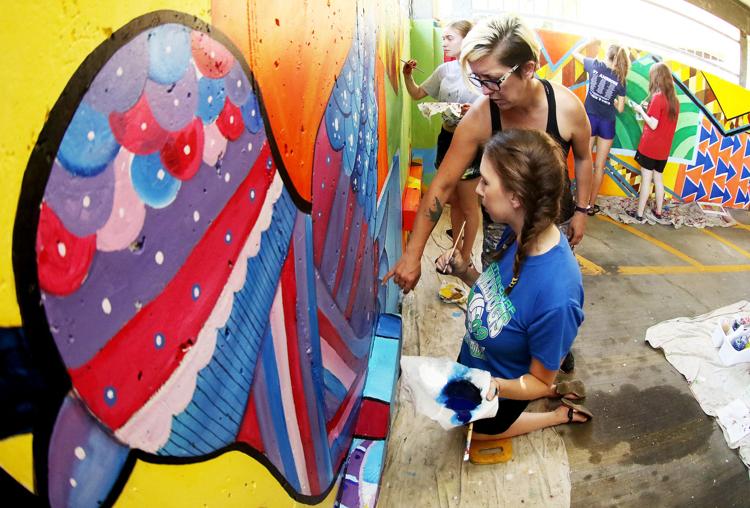 The goal of the program is to allow young artists to build professional and artistic skills while making their community a more enriching place in which to live, he said.
But why is Joseph Bettendorf's face purple and lavender?
Ah, that was one of the challenges students had to work through, Avery Krahl, 18, a spring graduate of Sherrard (Illinois) High School, said earlier this week while working on the mural.
Students wanted Bettendorf's face to stand out, to be the mural's focal point, but to keep with the abstract nature of the rest of the mural, they did not want to paint skin tones that would require complex shading, Krahl said.
They rejected the colors of red and blue because they would blend too much with the train and the smoke from the train, respectively. And they decided green was "too plagueish, not pleasing to the eye," Krahl said.
And it seems to be going over well. Motorists honk and shout encouraging remarks while the students are working, and they said they've even had people stop and get out of their cars to chat.
Overall, the K&K mural is 90 feet by 10 feet, and that doesn't even cover the entire wall. But that is as much as the students thought they could handle, said Colleen Tomlinson, of Davenport, the lead artist who teaches at the Davenport Schools' Creative Arts Academy.
Students working on murals generally work from 8 a.m. to 12:30 p.m. four days a week for five weeks under the direction of a lead artist and lead apprentice. Their last day is July 13.
The first days of the mural projects are devoted to developing a design — brainstorming ideas and sketching multiple designs that are then presented to the property owners for final selection.
All told, 49 apprentices and five professional artists were employed this year.
Get local news delivered to your inbox!
Subscribe to our Daily Headlines newsletter.