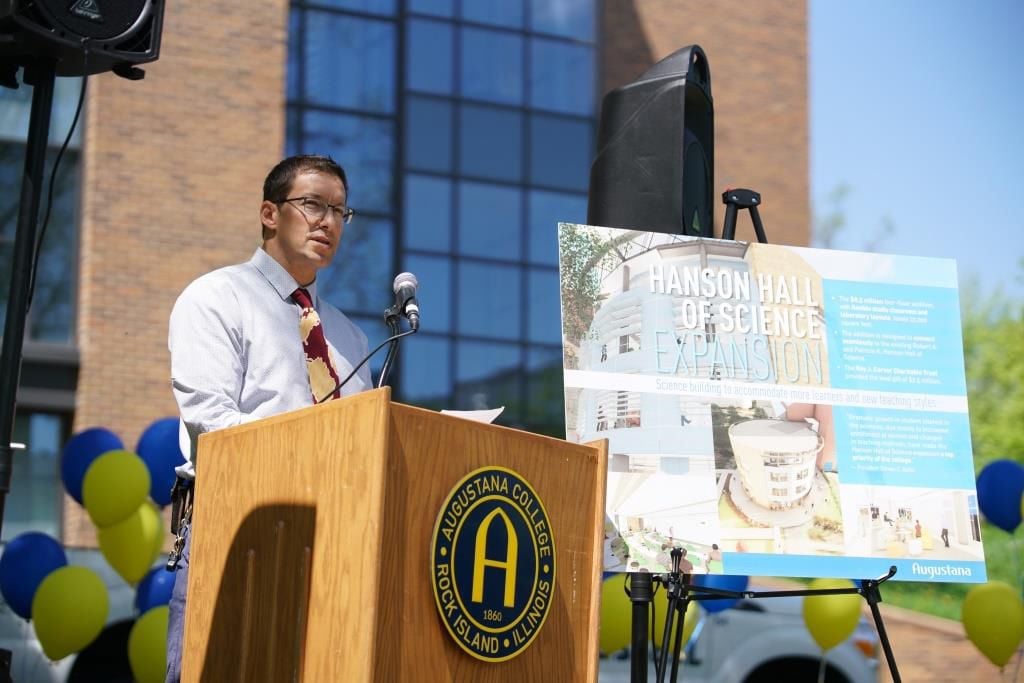 ROCK ISLAND — On a beautiful campus on an equally beautiful day, Augustana College ceremoniously broke ground Thursday on a truly unique building: a circular one.
"Every new building needs to have pop and sizzle," said Augustana College President Steven Bahls.
Based on renderings, the new building seems to have both.
Technically, ground won't be broken until after graduation for the four-story circular structure for now known as the Hanson Hall of Science expansion.
The $8.5 million expansion will sit adjacent to the current Hanson Hall and be connected to it. The 22,000-square foot facility will include five flexible studio-style class/lab learning spaces, five interdisciplinary research labs and four faculty offices with adjoining space for discussion and collaboration.
The building, in which the school is partnering with Russell Construction, also includes spaces where students can conduct research with faculty, Mr. Bahls noted.
"After all, for our students to get into graduate school and be the leaders of the future research at the undergraduate level is the coin of the realm," he said. "So I really wanted to facilitate student-faculty research."
Also on hand for Thursday's ceremony were Augsutana Board of Trustees members, science faculty and lead donors, including a representative of the Carver Charitable Trust and 1960 graduates Paul and Pat Guehler. Other lead donors included John Lucken, Mary Lucken and Diane Griffin.
Mr. Guehler had a distinguished career at 3M in developing new products, Mr. Bahls said.
"And as he thinks back, 'Where did it start?' It started at Augustana," Mr. Bahls said. "So his view is can we provide today the education for this new generation of Augustana students that he had."
Mr. Guehler majored in chemistry at Augustana and was a freshman in 1956.
"I believe that the buildings are wonderful," Mr. Guehler said as he surveyed the campus that has changed quite a bit since his day.
"This facility is excellent," he said. "And it has to be made larger because the student population is larger and it is more diverse in the sense in what people are studying, more interdisciplinary things and so forth."
Dr. Michael Wolf, chair of Augustana's natural science department, said the school which five years ago had 13 majors in its environment studies program has grown to more than 90 majors in the same field today.
The new facilities "will help accommodate this burgeoning major," Dr. Wolf said, "and help facilitate the team-based and project-based experience of learning."
Mr. Guehler, who also has a Ph. D. in chemistry from the University of Minnesota, said the gift by he and his wife to Augustana, in some ways, brings them back to their roots.