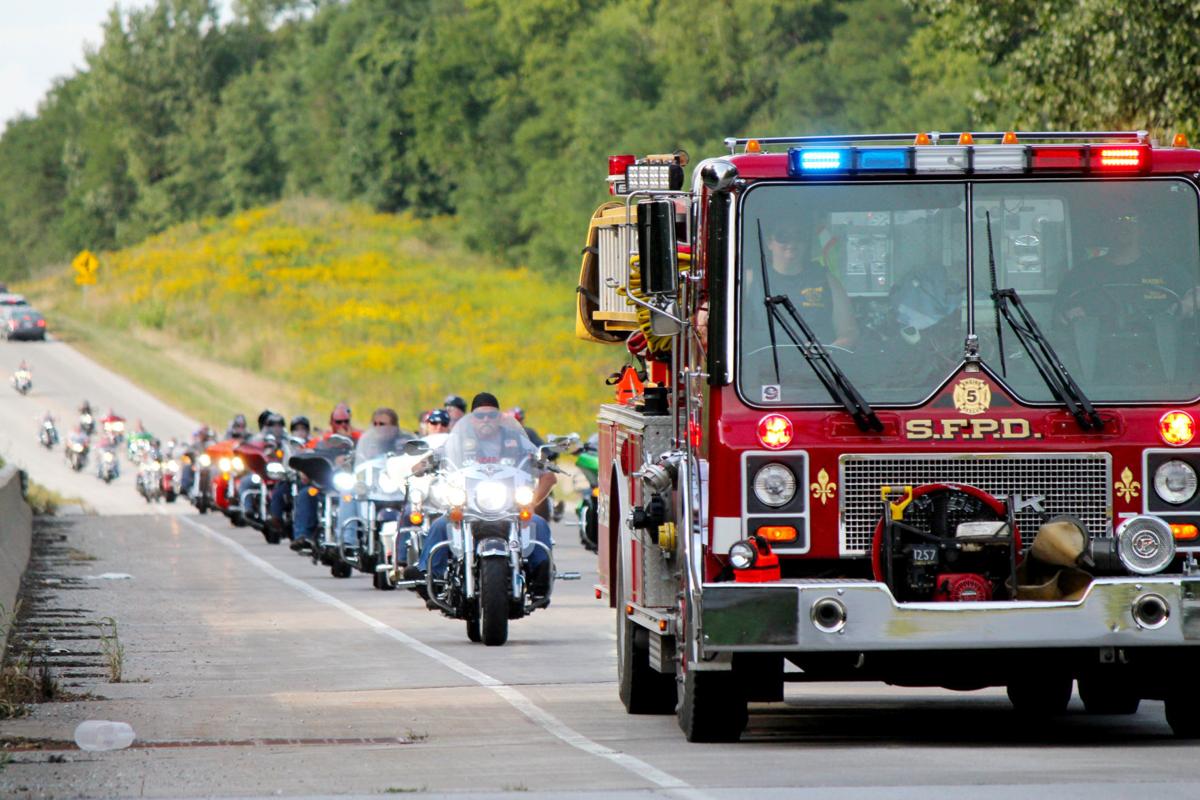 Nearly a thousand miles from ground zero, one small-town fire department in Mercer County stands as guardian of an important piece of 9/11 history.
"Blown away is probably the best way to describe the way I felt after contact was made out on the East Coast," said Seaton Fire Chief Andy Wheeler about the moment he first learned the origin of the village's donated fire engine, a 1991 Mac E-One pumper.
Originally from Islip, N.Y., it was called as relief for the crews at the site of the Sept. 11, 2001, attack and as a "change of quarters" firetruck to cover as other engines went to ground zero. Islip is 55 miles from where the Twin Towers once stood.
"I take a lot of pride in that truck. It's a good feeling knowing that we get to take care of and work with an important piece of America's history," he said.
Its journey to Seaton began in Rockford.
"A retired firefighter from Rockford Fire District was very unhappy with the way RFD's trucks looked in parades. So he purchased a few old pumpers from New York, put new tools on what can be seen on the outside, loaded up the hose reels with hundreds of feet of new hose, fixed some paint in a few places and gave the trucks to RFD to be used for parade duty." Wheeler said after a few years RFD purchased new trucks with a different paint scheme and the New York trucks were retired.
A group of Seaton firefighters were in Rockford in 2012 to pick up other equipment donated by RFD when they got a big surprise.
As the firefighters were packing up to head home the chief said RFD had one more thing they wanted SFPD to have. "The chief pointed to three trucks and said 'pick one and take it home with you.'"
At the time we didn't have any clue about the trucks heritage other than it came from Islip, N.Y."
It wasn't until a few months after it arrived in Seaton that Wheeler called the Islip Fire Department to learn about the truck's history. "There were three or four of us huddled around the phone" when an officer in the Islip Fire Department relayed the engine's backstory, he said.
To make the truck fit in Seaton's station house they had two "enormous" hose reels and hydraulic controls removed from the top of the truck.
You have free articles remaining.
"We have all the equipment that had to be removed. Where the hose reels were located we had a hose bed built and added some storage," said Wheeler.
According to Wheeler, Seaton Fire Protection District serves around 800 people across roughly 56 square miles and covers portions of Mercer, Henderson and Warren counties. The Village of Seaton itself has a population of 220, according to the last census.
"I was just happy to be getting a big pump. Being able to move big water is such an important part of fighting fires in a rural district. … The last New York truck inspection sticker says 2008 and the 1,500 gallon per minute pump worked. That was all we needed to hear."
Oddly, that isn't Seaton's only connection to Islip. Village Clerk Peggy Kaufman and her brothers, village board member Bob Springer and village President Scott Springer lived in Islip in the early 1970s.
She said her family moved to Seaton in 1978 when she was 13 to be near her father's family. "He met my mom in Manhattan while he was in the navy. She lived on Long Island until she married him."
She said the connection is purely coincidental, "We had no idea, we just thought it was really kinda neat."
Each year the historic fire engine escorts the Citizens4Soldiers VMC Mercer County 9/11 Remembrance Ride. Sept. 7 was the sixth year for the event that serves as a fundraising memorial that makes stops at 11 fire departments, Mercer County Sheriff's Department and the VFW Memorial in Aledo.
The ride began in New Windsor and ended with 69 motorcycles and 16 vehicles. It stopped at each fire department in Mercer County, traveling 105 miles.
Ron Watson is the founder and president of Citizens4Soldiers VMC, a 501(c)(3) nonprofit, said the group's main goal is to assist first responders, veterans and community members who are battling cancer through donations.
Opening ceremonies went through the chronological order of events as they transpired on Sept. 11, 2001. The fundraiser brought in $15 per drive and $5 per passenger to benefit the New Windsor Fire Department; a different department is chosen each year.
The organization has donated over $12,000 to local citizens in the past five years. "We firmly believe that no family should have to bear the burden of financial hardship when an emergency arises," said Watson. For more information visit www.citizens4soldiers.weebly.com or visit their Facebook page at Citizens4Soldiers VMC 501c3 NFP.
They awarded two crystal awards, one to Mike Newsom for dedication in his community and the other for a couple who traveled over 280 miles to be in attendance.
"This is not the work of an individual, but rather an organized group of patriotic Americans that care about our citizens and First Responders," said Watson.