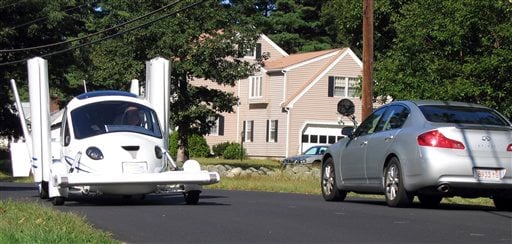 PAXTON, Ill. (AP) — You drive your car to the runway, then take off and fly for a couple of hours. Land the plane, and it takes 30 seconds to fold up the wings and turn it back into a car.
It's not 'The Jetsons.' It's real life, and a Paxton man helped create it.
The Terrafugia Transition had its first flight March 5. In two years, said Paxton's Sam Schweighart, you'll be able to get one for your own garage.
It will run you $194,000, and you should put down a $10,000 deposit now. About 50 people have so far, he said.
The Transition costs more than a typical light sport plane. But it does get good mileage.
This 'roadable plane' fits in your garage, runs on a tank of high-octane gas or aviation fuel, gets 30 to 35 miles a gallon on the ground and 5 gallons an hour in the air and flies up to 460 miles at a time. It cruises at 115 mph.
For Schweighart, 31, it's not his childhood dream of being an astronaut, but it's pretty darn cool.
The Massachusetts Institute of Technology Ph.D. teamed up with colleagues from that Boston-area school and created what one aviation expert calls a realistic approach to a very specific sort of consumer need.
'If you need to drive and fly a short distance, it solves several problems, including finding or paying for a hangar,' said Thomas Haines, editor in chief of the news site for the Aircraft Owners and Pilots Association, a nationwide advocacy group
For instance, if you were governor and lived in Chicago, this might make it easier for you to get to Springfield now and than.
'It's really meant for a special kind of consumer,' Haines said.
It probably also takes a special kind of mind to come up with it.
Schweighart said he grew up wanting to be an astronaut. But as shuttle flights decreased, that became less of a prospect.
His parents are Alan and Sandra Schweighart of Paxton. His mother said Sam always did well in school, including at the University of Illinois, but balanced school work with 'an adventurous life.'
Schweighart was the state math champion in high school at Paxton-Buckley-Loda. He was also on a 2003 TLC reality TV show called 'Escape From Experiment Island,' where he appeared in an episode involving a concrete boat, which happens to be a UI engineering challenge.
The show took place on a Scottish island.
'This was back when 'Survivor' was a huge hit, so they decided to try a techie thing like that,' he said. The show lasted one season.
But right now, Schweighart's baby is the roadable plane. Before earning his doctorate in 2005, he teamed up with Carl Dietrich, Terrafugia's CEO, in a student competition that involved the versatile vehicle.
'There have been a hundred different concepts' for a car plane, Schweighart said, including the Aerocar on the 1960s 'Bob Cummings' TV show. Only a handful of Aerocars were ever built.
There's a small but highly motivated market for a roadable plane, Schweighart said.
'You're not going to take this to the store. But if you have to do a lot of business flying, you might be interested. The target market is pilots,' he said.
Founded by five MIT grads, Terrafugia now has 10 employees. It's privately held but willing to talk to investors, Schweighart said.
In the future, the company might build a four-seater, but for now the Transition two-seater is the priority.
The company is just finishing production details. There's no trunk, though there is room for storage behind the seats.
'I'm pushing for an iPod dock,' he said.