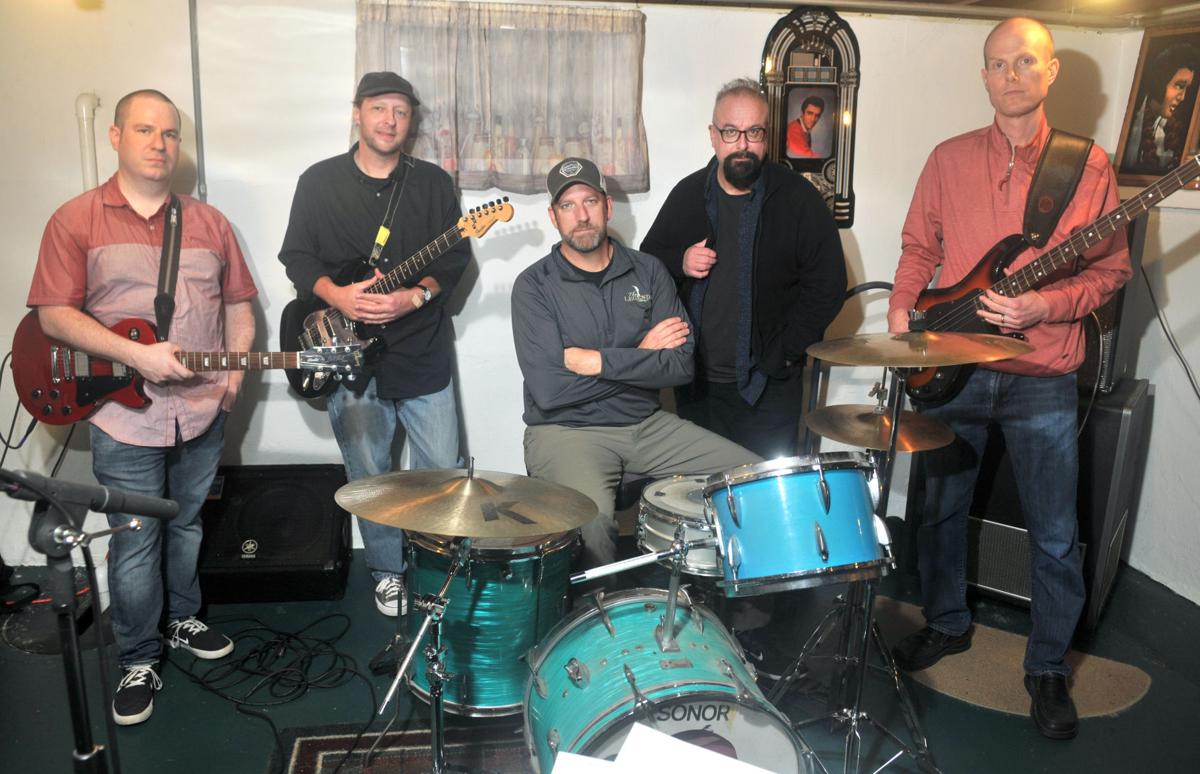 After having played together three times in public over the past 13 years, the popular Q-C power-pop band Einstein's Sister is reuniting for two rare gigs — Thursday, Nov. 16 and Saturday, Nov. 18 — to mark a special album reissue.
Twenty years after forming, the band is releasing a new package of its "Learning Curves" (1999) disc in yellow vinyl, with a lyric and credits sheet, digital download of the original CD (including instrumental version of the album), a 7-inch single of its version of the ELO classic "Do Ya" (on clear vinyl), and a bonus CD of the instrumental, with outtakes, covers and live recordings.
"It's our go-to record. When we made it, we conceived it as an album, with the cover, the artwork, ES co-founder Kerry Tucker, of Moline, said recently. "The sound's great. When the CD came out, that was in the heart of the digital. There's just something about the way it sounds on vinyl, especially the bass."
The new vinyl was mastered and pressed by Adam Boose of Cleveland-based Cauliflower Audio Mastering. Mr. Tucker said he "did a fantastic job. ... He really warmed up the album a lot, and got it. He became a fan of the band working with us."
Guitarist and co-founder Bill Douglas (lead vocals) still regularly play acoustic shows in the area (at Grape Life and Steventon's), including from the ES catalog.
"That's kind of how we started with the idea for this," Mr. Douglas said of the reunion. "We're all pretty excited about doing it." Mr. Tucker said many people have asked if "Learning Curves" could be out on vinyl. "The album has never sounded better," he said.
After writing and performing together in the '80s, the pair recorded their first CD in Mr. Tucker's basement, in 1996. They called it "Einstein's Sister" after a line in the song "Little Known Fact" on the disc, about a smart girl who couldn't see that he was obsessed with her, they said.
It led to the formation of the band of the same name, which between 1997 and 2002 recorded three more CDs — "Oceanus," "Learning Curves" and "Humble Creatures" — and released a "Best of ..." CD in Japan. Band members, including bassist Andrew Brock, drummer Marty Reyhons and guitarist Steven Volk, played in Los Angeles several times, including the famed Troubadour club.
The band name was decided after they were told in L.A. that their original moniker (Douglas & Tucker) sounded country, Mr. Tucker said. They recorded "Learning Curves" in Cedar Falls and some at Davenport's ReelTrax with the late engineer Rob Cimmarusti (who died in 2014 at age 55 after battling pancreatic cancer), with whom they worked often.
"Rob's the heart of this record," Mr. Tucker said. "When I heard the instrumental version, I just remember recording with Rob and laughing nonstop."
"In all the years I've worked with studios, it's gotta be precise, perfect, and Rob was, it's got a great feel," he said. It's not perfect, but it's got a great feel. ... We just had fun; recording was almost secondary with him."
Based in part on financial pressures, schedules and their young children, ES went on hiatus after 2003, and their first reunion was in June 2004, opening for Joan Jett and the Blackhearts at the then-Mark of the Quad Cities (today's TaxSlayer Center).
They played a set for a Rock Island Brewing Co. 30th-anniversary show in 2009, and last in January 2013, when ES performed in a RIBCO benefit to raise money for Mr. Cimmarusti's medical expenses.
Reuniting again now has been a breeze, the guys said at a rehearsal in Mr. Tucker's basement.
"It just seemed natural. Everything fell into place. When we started practicing, it's like nothing's changed." "Even the jokes," Mr. Reyhons added. "It's fun, man. We've been doing this for 20 years. It's like riding a bike."
"It's like we never left," Mr. Brock said.
The new re-issue "looks great; the packaging is awesome," Mr. Reyhons said. "It's so cool. People are getting back into vinyl."
Mr. Volk (who's in Des Moines) couldn't make it, and is replaced by Jeff Howard, who's studied guitar with Mr. Tucker.
"It's a blast. I started playing around when they started," Mr. Howard sai d . Now, when they asked me, I'm honored. It's like playing with your heroes."
Mr. Reyhons also plays with The Velies (with Mo Carter, Tom Swanson and Aaron Jorgenson), which is alt-country, folkish and will play at the Nov. 18 show in the Redstone Room.
The "Learning Curves" package sells for $20, available at the shows, Co-Op Records in Moline, Ragged Records in Davenport, and CDbaby.com.
They recorded the instrumental version for TV, which has been used extensively on everything from HGTV, MTV, and VH-1 to NBC, Bravo, Discovery, and on the soap opera "Passions."
"I just think it's like non-offensive, the perfect television music," Mr. Tucker said. "It's not in your face or aggressive."
"I've had people ask me, 'Can I buy that?' We just thought it would be a nice little bonus," he said. "You hear the album differently when you hear it that way."
They recorded an acoustic "Do Ya" in 2000, with versions by three other bands. The single (size of a 45-rpm, played at 33) has two versions on each side.
By coincidence, Albert Einstein's real sister, Maria ("Maja") was actually born Nov. 18, 1881, so ES will mark that anniversary as well, in theory.
"It's fun, man. We've been doing this for 20 years. It's like riding a bike."

Marty Reyhons, drummer
Be the first to know
Get local news delivered to your inbox!