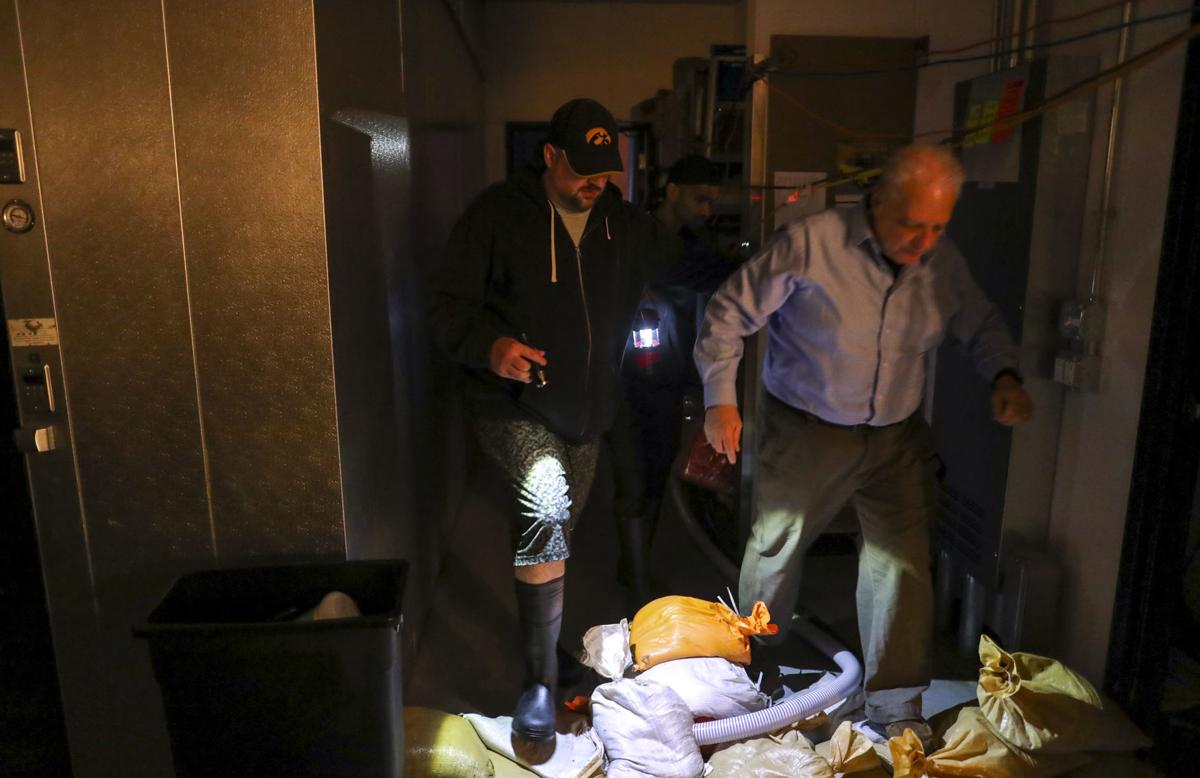 After being closed for weeks by flood waters, some downtown Davenport businesses are reopening.
Paradigm, Bootleg Hill and The Half Nelson have reopened, and LoPiez will serve its full menu beginning Friday. Ruby's Beer, Bikes and Brats opened for bar-only service June 21.
Great River Brewery, Dam View Inn, Front Street Brewery and Roam remain closed.
According to Dam View Inn's Facebook page, interior remodeling is nearly finished and the bar should reopen next week.
Front Street Brewery's pub on East River Drive should re-open by August or September, owner Tim Baldwin said.
Owners of Great River Brewery and Roam did not respond for a request for an update.
The rebuilding process has taken longer than initially estimated, said Pete Stopulos, owner of the buildings that house Bootleg Hill, Paradigm, The Half Nelson and Roam. Some had more extensive damage than others. For the downtown area, the loss of revenue flow had a severe impact, he said.
"One of the things flood insurance doesn't cover is lost rent," Stopulos said. "So building owners such as us, that rely on rent to pay bills and pay mortgages are out that money for the short term; and flood insurance doesn't cover the business' loss of income so it's kind of a double-edged sword."
Another challenge is making sure people know they're open again, said Jack Coder, Bootleg Hill employee. "Even though it's been on the news and in the paper and on like every social media site, I still run into people that I'm friends with that didn't realize we were reopened already," he said.
The biggest key to rebuilding after the flood for businesses is getting people to visit the businesses they've been to before and try the new ones, Stopulos said.
Over the weekend, Bootleg Hill and LoPiez did a joint promotion ahead of their grand reopenings this week. Half Nelson and Bootleg Hill will hold grand reopening events on June 29, Coder said.
Front Street Brewery has two locations, the pub and brewery on East River Drive and the taproom in Freight House on West River Drive. While the pub has not re-opened, the taproom is open, and is able to serve customers, Baldwin said.
"With River Drive being closed it was tough for all businesses," Baldwin said. "We're all looking at six months of diminished revenue."
The pub location was a complete loss, and everything inside had to be removed and reconstructed, Baldwin said. Crews pumped water from the basement last week, he said.
Contractors are reconstructing the floor of the building, and electrical and plumbing work will follow, Baldwin said. But some rebuilding will wait until they receive insurance compensation.
"We're crossing our fingers we'll able to open by late August or September 1," Baldwin said.
Be the first to know
Get local news delivered to your inbox!