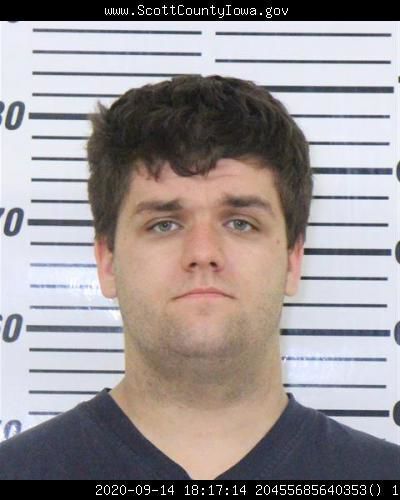 A Davenport man already awaiting trial in two gun-related cases has been hit with new charges after Davenport police say he shot at a vehicle several times near Vander Veer Botanical Park in late April.
Gabriel Juras, 24, was arrested Monday and confined in the Scott County Jail, charged with intimidation with a dangerous weapon, a Class C felony punishable by up to 10 years in prison. He also was charged with carrying weapons, an aggravated misdemeanor punishable by up to two years in prison.
Davenport police officers responded to five confirmed incidents of gunfire on April 29.
At 8:40 a.m. April 29, Davenport officers were dispatched to the area of Vander Veer Park for a report of gunfire. A witness at the scene said someone in a silver-colored car shot at him.
Juras was identified as the driver of the silver vehicle. According to police, he intentionally fired a handgun at the man as he was driving on 35th and Harrison streets. Juras fired at least three more times in the area of West Central Park Avenue and Ripley Street, according to the affidavit.
The man's vehicle was struck at least twice, damaging the front passenger door, rear passenger window and rear hatch window, according to the affidavit.
A warrant for Juras' arrest for involvement in that event was issued Sept. 7. His bonds total $40,000, and he is slated to be arraigned Oct. 8.
According to police, the shots-fired incident near Vander Veer was just the first time Juras shot at someone that day. Later that day, the department alleges Juras quarreled with another driver and the confrontation escalated. He is accused of pointing a gun at a person while driving and following the other driver.
He then got out in the area of 5200 Sheridan St., aimed and fired at the other person as he drove past, the department said. One shot was fired and no one was reported hurt. A shell casing was recovered at the scene.
Davenport police allege Juras flashed his handgun again 11 days later.
Juras already faces separate charges of assault while displaying a dangerous weapon, carrying weapons and trafficking stolen weapons for allegedly threatening someone with a gun on May 10 in the 600 block of West 64th Street, the department said.
During the May 10 incident, the department said Juras was sitting in a grey sedan when he threatened a person around 7:52 p.m. by pointing a gun at the man while he was at his home on 64th Street. Juras and the unnamed person also allegedly knocked on the man's front door while threatening to shoot him.
Another person allegedly was with Juras when these events occurred, but that person was not identified in the narrative provided by the police department. The victim was able to identify the two people, the department said.
Officers called to investigate pulled over a vehicle that matched the sedan's description in the 5000 block of Welcome Way, police said.
Police said Juras was driving and the passenger had a loaded .22-caliber Walther P22 pistol. The department accused Juras of stealing and using the pistol during the 64th Street crime, then giving the gun to his passenger.
The gun was reported stolen by one of Juras' relatives May 10, the department said.
Be the first to know
Get local news delivered to your inbox!