North Scott High School was filled with shouts, bangs and the sounds of police officers running through corridors Wednesday.
The second day of Rescue Task Force training, hosted by Eldridge police, continued at North Scott High School with lots of actions and participants facing real-life scenarios, including "active shooters."
Sessions, funded by the Scott County Attorney's Office, were held Tuesday and Wednesday. Participants included emergency responders from Davenport, Bettendorf, Eldridge, Princeton, Walcott and Geneseo.
While the trial of Luke Andrews, 13, was under way in Scott County Court, Davenport, Eldridge police were getting training in active shooter situations at the high school. Last August, Andrews, then 12, pointed a loaded gun at his North Scott Junior High School teacher and attempted to fire at her. The gun's safety was on and no one was physically injured.
Eldridge Police Officer Sgt. Joe Sisler invited police, fire and medics from both the Iowa and Illinois Quad-Cities to participate. Students were on hand to play the part of injured or endangered students during the instruction.
Among participants was Brian Carsten, Princeton police chief. "It's basically training the officers, during an active shooter incident, to get into the school,  and how to evacuate or exit all the wounded in a safe, rapid way so these wounded students or wounded people in the schools can get medical attention in a lot faster way."
The training
Edwin Lard, of The Rescue Task Force, a veteran-owned small business, said classes are taught all over the country. Rescue Task Force operations focus on the teams of first responders working to reduce preventable deaths in direct- and indirect-threat situations that include active shooters, suicide bombers or other mass-casualty incidents.
On Wednesday, Lard assigned participants, all gathered in the school library, to teams for various scenarios. Officers responded to a "shooter" at the end of a hall. Later in the afternoon, a helicopter arrived on the lawn.
"We get into people's heads," Lard said. Police officers, he said need confidence. "They need to get in there and suppress the threat."
In the training, all responders act as a team, he said. "We like to get municipalities together where everyone's involved."
He tells participants he will push them to failure: "We want ground commanders to feel what it's like when you no longer have resources."
Often, responders come to a "mental standstill" during such a crisis he said. "You see cops and deputies freezing because of Hick's Law (the time it takes for someone to make a decision as a result of possible choices. Increasing the number of choices increases decision time).
You have free articles remaining.
Register for more free articles
Stay logged in to skip the surveys
"We want to put people in a situation that puts them in 'fight or flight,' Lard said. Participants worked in teams in a realistic settings to stop bleeding, care for the injured and save lives.
 "The quicker you can get an officer into where the shooter is, the quicker that shooting's going to stop," Lard said.
Officers had seconds to respond to a "shooter" that was down a hall and around a corner. Alarms signaled an emergency, and bangs could be heard down the corridor. Everyone on the scene, including journalists, was frisked before they left the library.
Participant Bruce Schwarz, Eldridge police officer and school resource officer, has been a police officer for 39 years (he previously served 34 years in Bettendorf).
Active-shooter incidents, he said, are not going away. "The bad guys change their tactics, so we have to change our tactics also," he said. "We have to be prepared."
The old rule was that a shooter would be surrounded until the SWAT team arrived, then victims would be removed from the site to be treated. "That's changed completely," Schwarz said. "Now we're getting treatment to victims as soon as possible."
He added that, with small municipalities, many fire departments are volunteers. "Their kids are in this building," Schwarz said. Emergency responders will know the people they are rescuing. 
In a student-focused situation, Schwarz encouraged some of the students to tell the responders they couldn't walk to help participants experience caring for the wounded.
"Putting on a tourniquet is simple," Lard said. "It's another thing to put a tourniquet on a loved one."
071119-qct-fea-training-16.jpg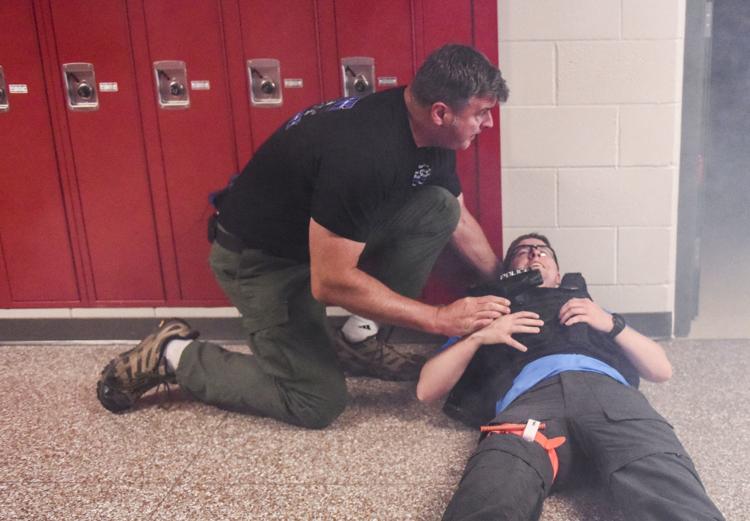 071119-qct-fea-training-18.jpg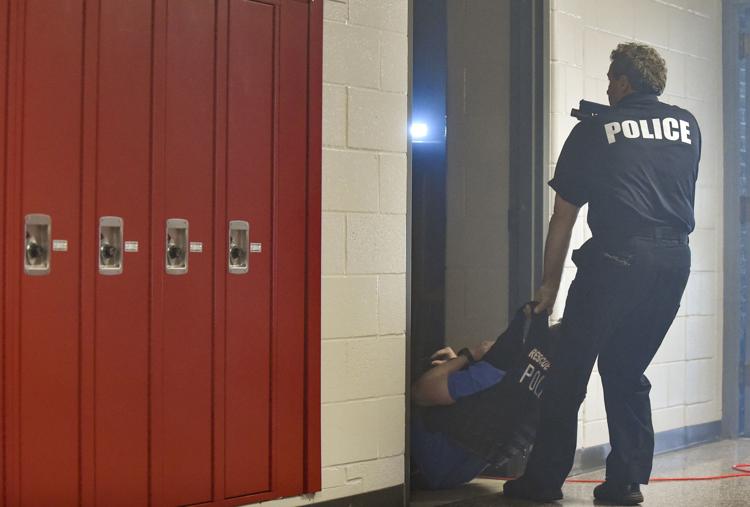 071119-qct-fea-training-10.jpg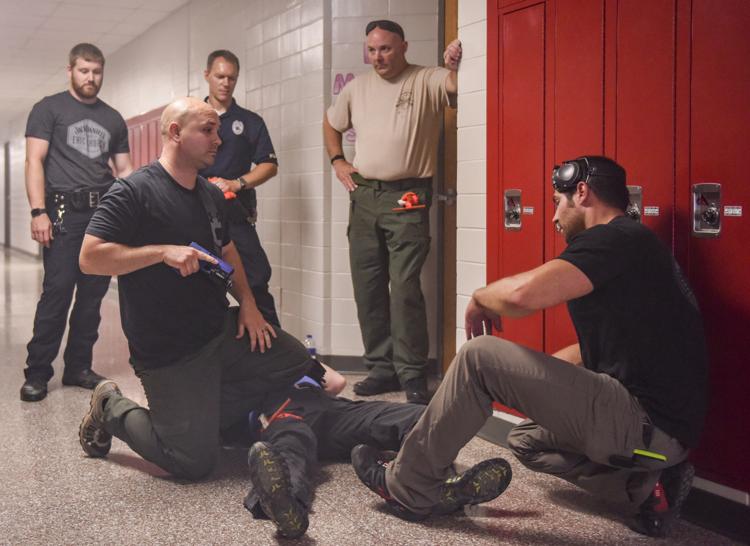 071119-qct-fea-training-8.jpg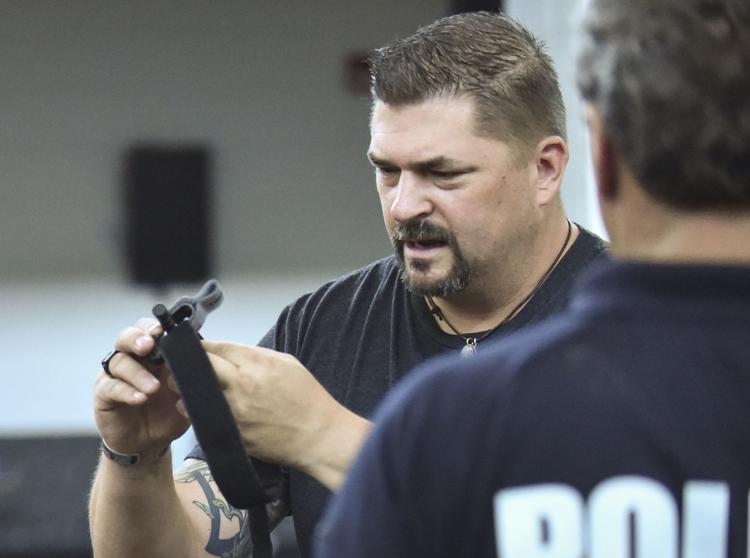 071119-qct-fea-training-13.jpg
071119-qct-fea-training-12.jpg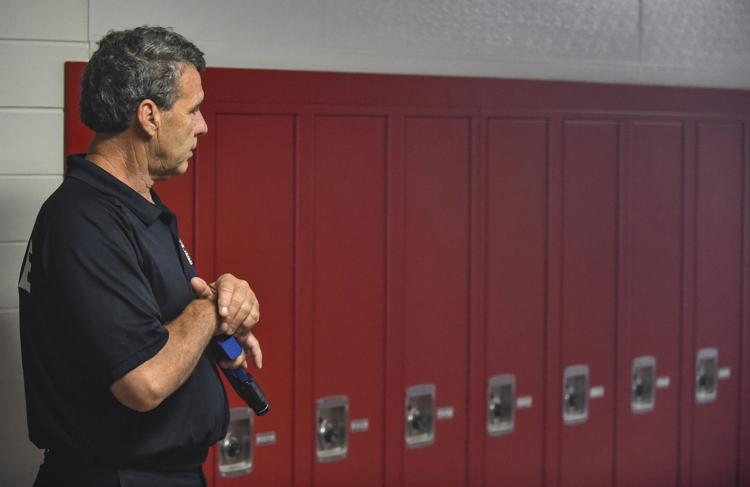 071119-qct-fea-training-15.jpg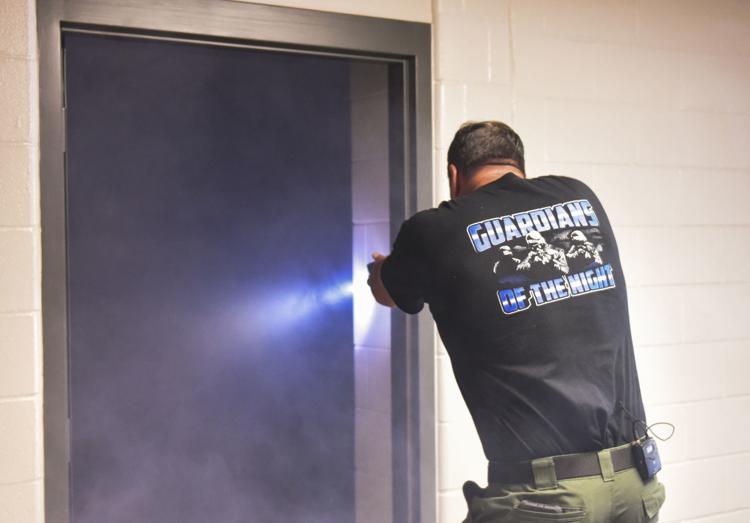 071119-qct-fea-training-3.jpg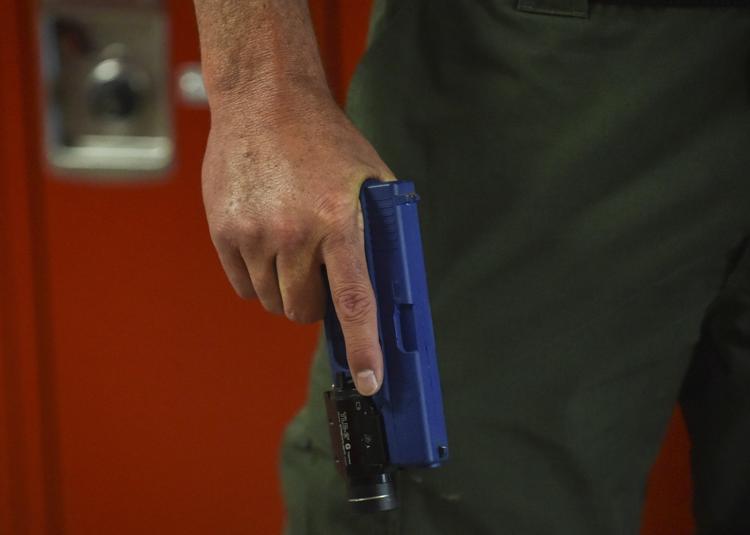 071119-qct-fea-training-14.jpg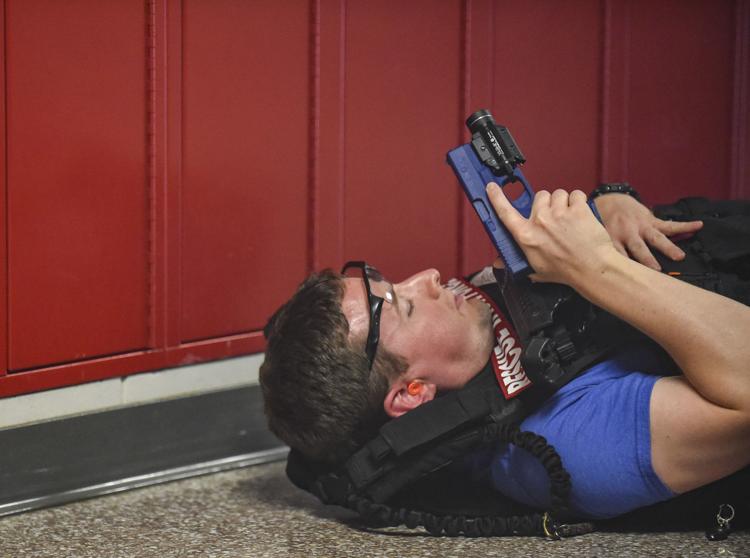 071119-qct-fea-training-20.jpg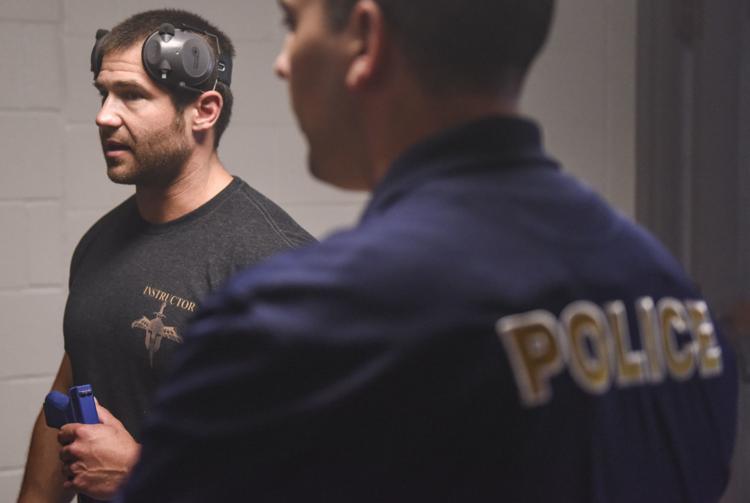 071119-qct-fea-training-9.jpg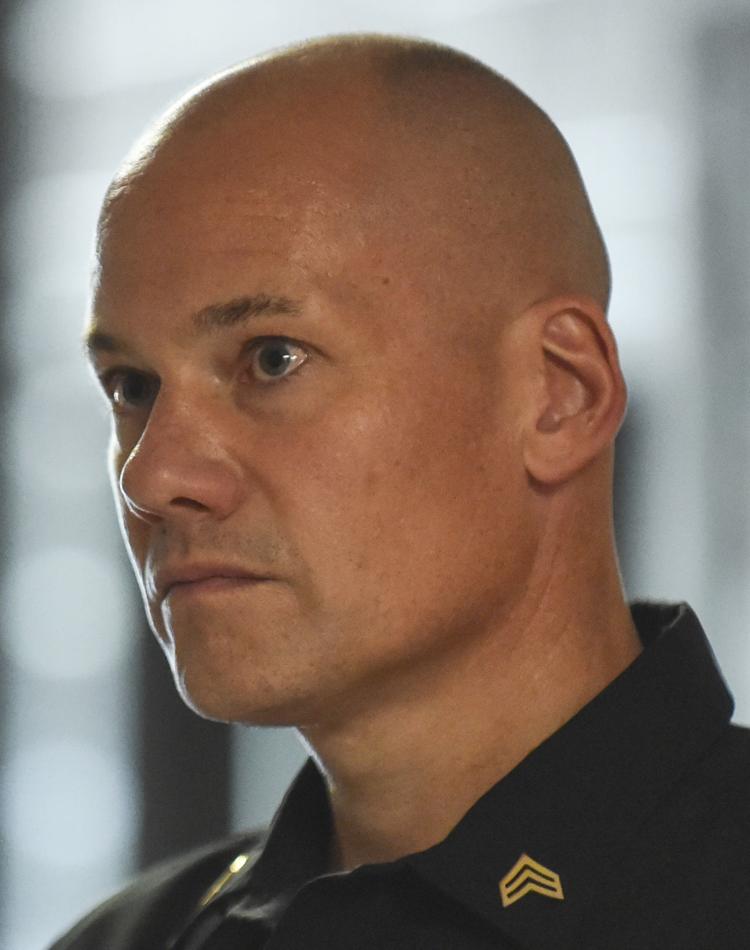 071119-qct-fea-training-7.jpg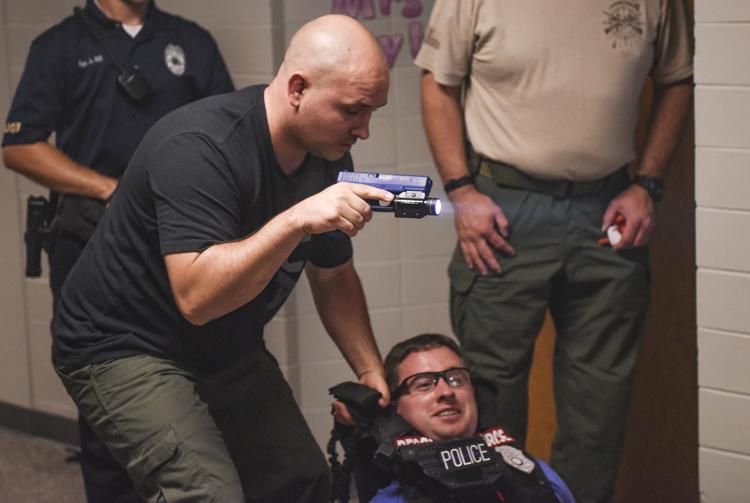 071119-qct-fea-training-19.jpg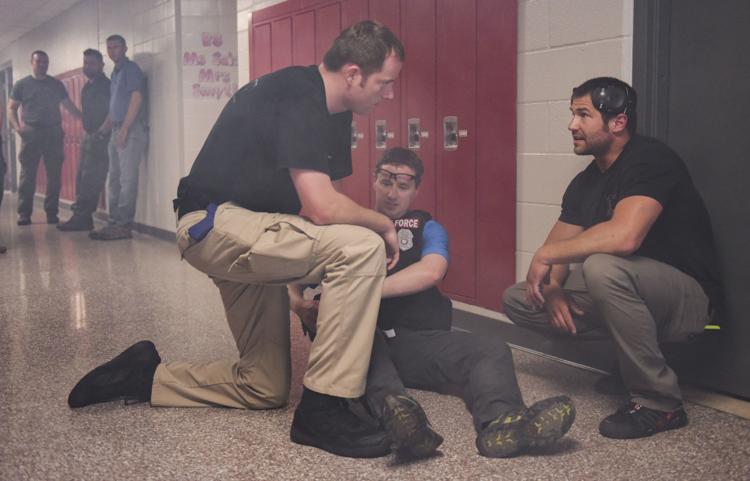 071119-qct-fea-training-6.jpg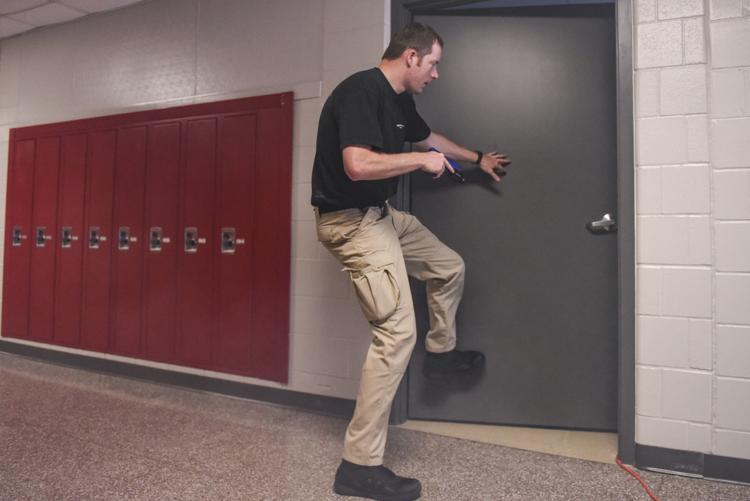 071119-qct-fea-training-1.jpg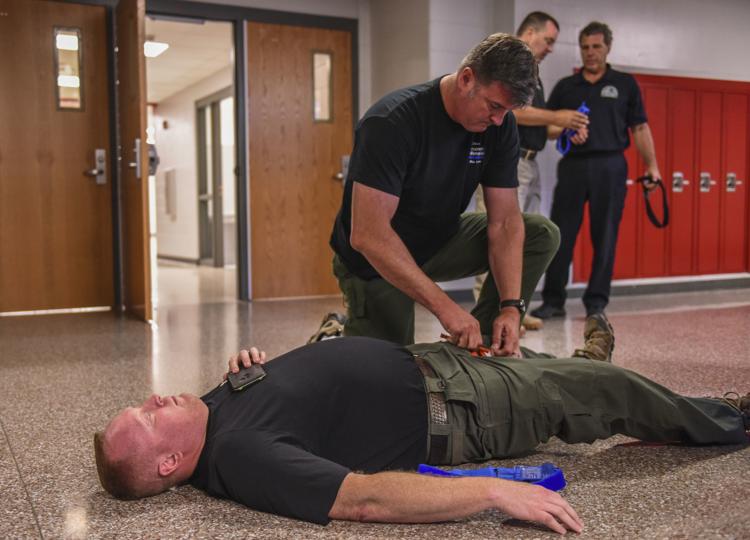 071119-qct-fea-training-5.jpg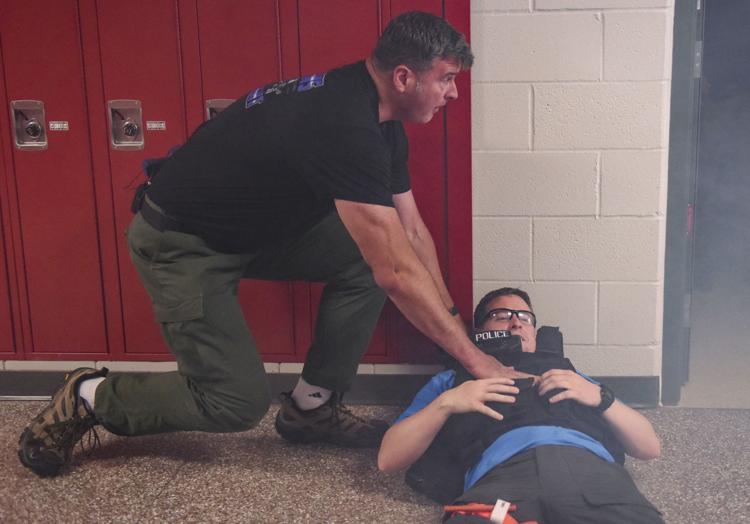 071119-qct-fea-training-11.jpg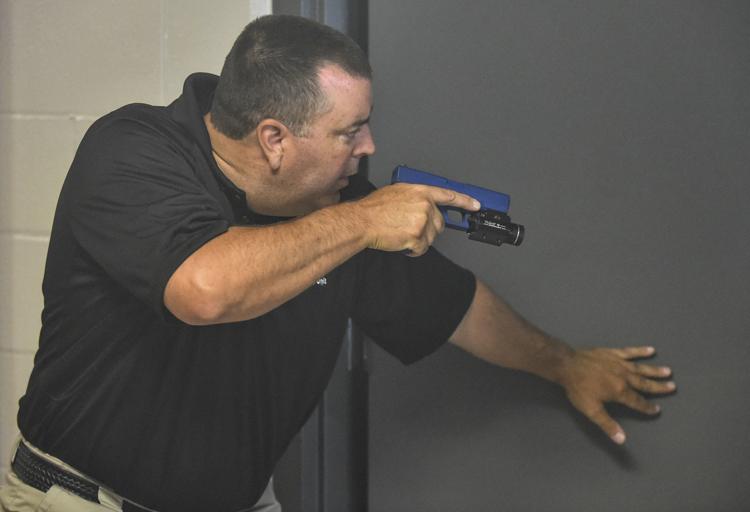 071119-qct-fea-training-17.jpg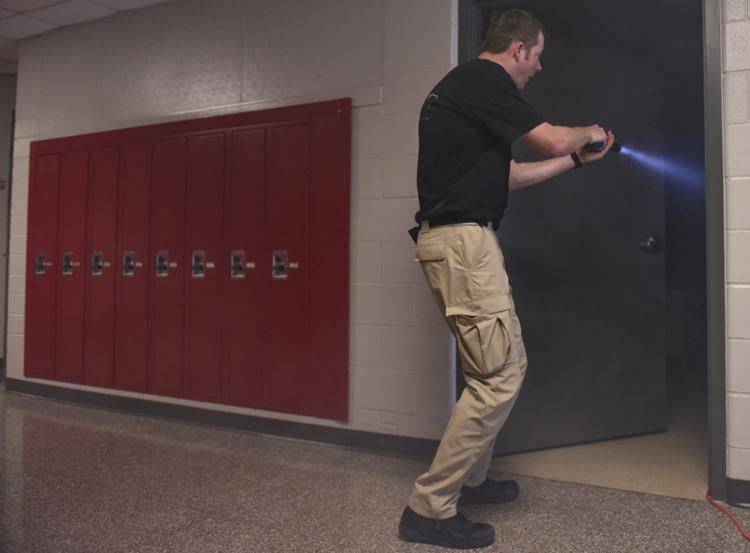 071119-qct-fea-training-4.jpg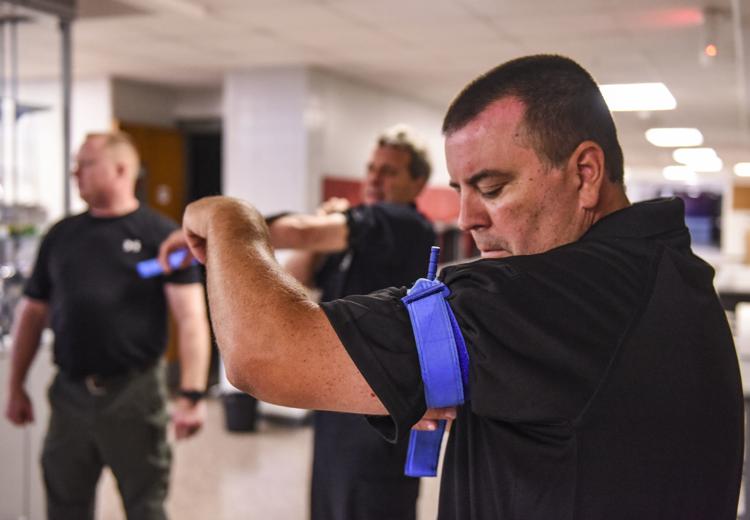 071119-qct-fea-training-2.jpg