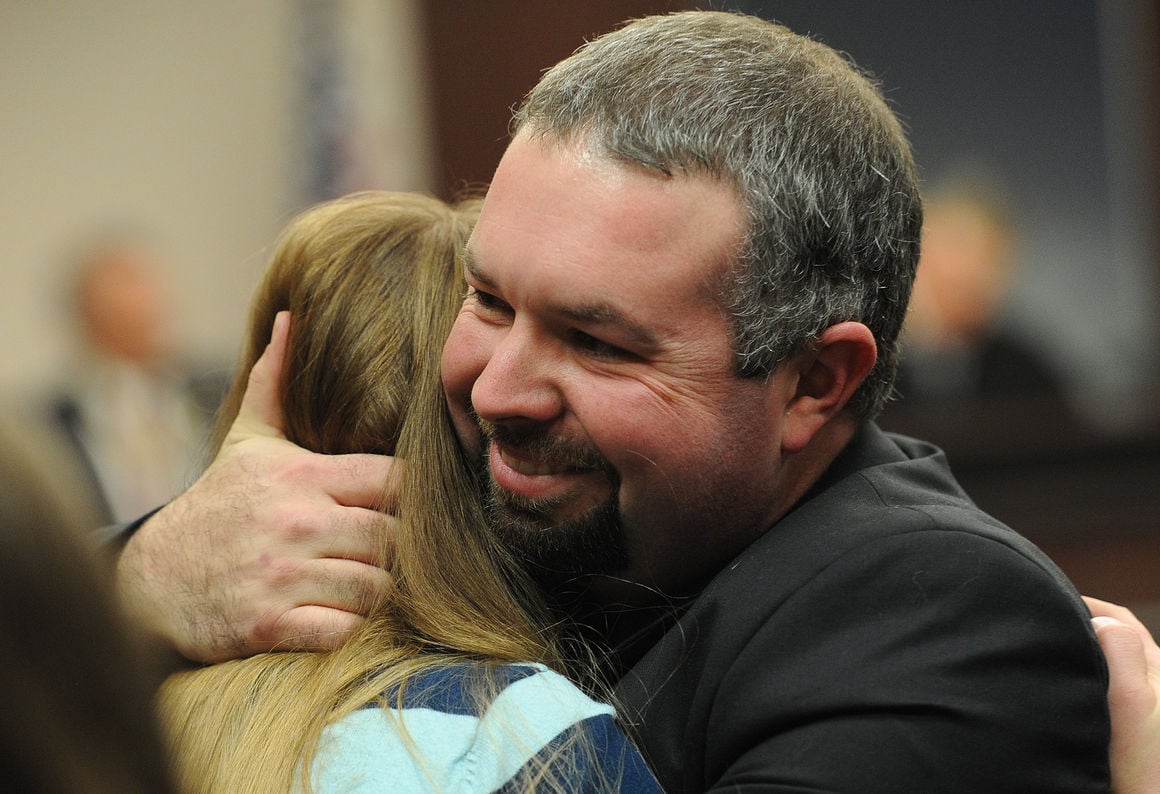 Former Sherrard High School agriculture teacher Corey Terwilliger was found innocent Tuesday afternoon of accusations of inappropriate behavior by two former students.
Mr. Terwilliger, 33, of Alexis, smiled broadly as he hugged his wife, Tosha, in a courtroom crowded with family members and former students who came to show support. The eight men and four women of the jury arrived at their verdict after only an hour of deliberation.
"The hard part's been sitting here seven months not being able to saying anything," Mr. Terwilliger said. "I've always been a fighter. I've always fought for myself."
Mr. Terwilliger said he struggled with his decision not to testify but, faced with having to "disprove something that didn't happen, you may have lost more ground than you gained," he said. 
In April, Mr. Terwilliger was put on administrative leave from his position as agriculture teacher and FFA advisor at Sherrard High School after two students, Kaysyee Haley and Isabelle Ausdal, lodged complaints against him.
Working as a meat cutter for the past several months, Mr. Terwilliger said he's enjoyed the set hours but missed the classroom. He said he plans to start applying for teaching positions again -- possibly at Sherrard.
"Right now, I tell you, I'm jaded," he said. "I would like to go back; I've built so much there. I've worked so hard.
"I really feel it's something I'm good at," Mr. Terwilliger said. "I guess my concern now would be, am I always going to be second-guessing, looking over my shoulder at everything I do?"
Mr. Terwilliger said he fears for other educators who may be put in similar situations, such as a guidance counselor who conducts a closed-door meeting with a student or a sports coach who grabs a player's face-mask or slaps them on the rear on the way out to a game.
"In my mind, I was fighting about as much for some of the others out there than even myself," Mr. Terwilliger said.
If convicted of the two misdemeanor battery charges, Mr. Terwilliger faced up to a year in jail, a fine or probation. He said a guilty verdict would have "opened up a can of worms for educators everywhere."
Neither Ms. Ausdal nor Ms. Haley were in the courtroom for the reading of the verdict. Prosecutors could not immediately be reached for comment.
You have free articles remaining.
During closing arguments Tuesday, Rock Island County Assistant State's Attorney Beth Adams told jurors Mr. Terwilliger took advantage of his reputation as the "cool teacher" to cross a line. 
Mr. Terwilliger -- known to students as "Twig" -- wasn't their "second dad" or their buddy, Ms. Adams said. "He was a teacher who "should have behaved professionally and did not."
Mr. Terwilliger's attorney, Katherine Drummond, called the allegations against her client "baseless" lies created by "disgruntled teens."
"In moments of juvenile ideation and entitlement, they told lies and manipulated truths," Ms. Drummond said, to "garner attention" and "punish" Mr. Terwilliger for criticising them about under-achieving in FFA.
During the trial, Ms. Haley testified that, at a December 2014 FFA holiday banquet, Mr. Terwilliger gifted her with a pair of "footie" pajamas, then put his arm around her and kissed the top of her head.
At least two students testified to seeing Ms. Haley jump and scream with excitement over the gift and give Mr. Terwilliger a hug in thanks, but said they never saw their teacher kiss Ms. Haley's head.
Ms. Ausdal testified she had been close to the Terwilliger family, visiting their home for weekly meals, babysitting their daughter and exchanging Christmas presents.
Tosha Terwilliger testified that Ms. Ausdal, who reported frequent problems at home, often asked to be included in family events. Mrs. Terwilliger recalled accompanying the teen to a prom dress alteration and taking off work so she and Mr. Terwilliger could go on a college visit with Ms. Ausdal. 
"It was like she was a third daughter," Mrs. Terwilliger said.
In court, Ms. Ausdal said Mr. Terwilliger became"hostile" in February after she said she was going to a different university than planned and that put his hands on her thighs when she tried to leave. She also said Mr. Terwilliger yelled at her the next month for not completing an FFA slide-show, grabbing her face and saying he "owned" her.
The defense called four female students to the witness stand Tuesday. Many praised Mr. Terwilliger as a mentor who dedicated long hours to the FFA program. Several students said they were former friends of Ms. Ausdal or Ms. Haley, but those relationships were no longer intact. 
Re-called to the witness stand Tuesday, Ms. Ausdal and Ms. Haley told jurors they had been the brunt of negative comments and cold shoulders since making their allegations against Mr. Terwilliger.
Asked after the verdict about Ms. Ausdal and Ms. Haley, Mr. Terwilliger said only, " I wish them luck in life."