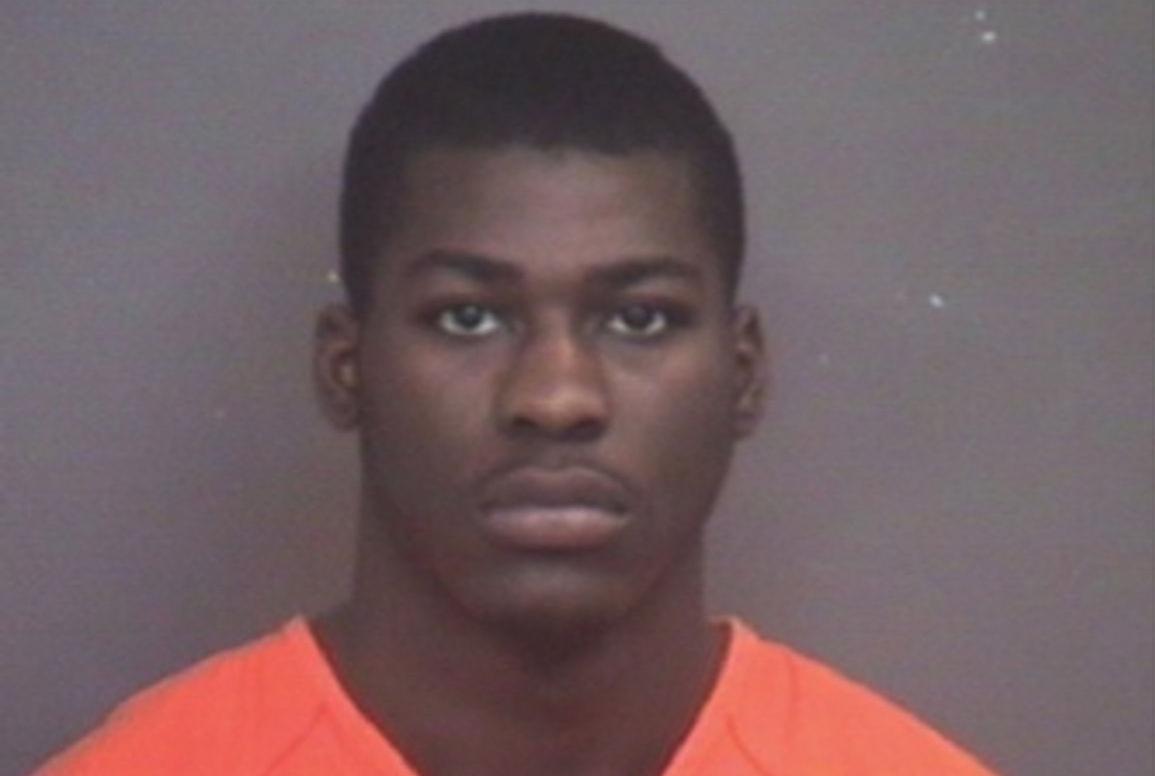 Moments before his murder trial was scheduled to begin, Yolanduis McDuffie heard the words every defendant longs to hear: "Your case is dismissed."
Standing silently in a green checkered shirt and blue dress pants, the 21-year-old Moline man was told by Rock Island County Judge F. Michael Meersman: "They're dismissing the case and you are free to go. The case is over."
Prospective jurors had battled the morning's blustery winds and were waiting downstairs for jury selection. Stacks of attorney files lay ready on courtroom tables. The start of a week-long trial was just moments away.
Prosecutors said they chose to dismiss the case after reviewing new evidence that was brought to light by defense attorney Nate Nieman late last week.
The dismissed charges included two counts of murder and one count of armed robbery in connection with the Dec. 18, 2013, shooting death of local tattoo artist Derek Jackson, 24, of Rock Island.
The unexpected conclusion to the year-long case surprised even Mr. Nieman,  who paced around the courtroom following the dismissal.  "I'm pretty shocked," he said. "I'll have to just walk around all day trying to pinch myself. 
 "I just found out as I was coming up the elevator," he said. "I was fully intent on going to trial this morning. I have my trial notebooks with me and everything."
He declined to discuss specifics, saying he was limited by attorney-client privilege. 
Rock Island County State's Attorney John McGehee said the fresh information was enough to raise doubt about whether the state could prove its case beyond a reasonable doubt.
"The determination was made to dismiss the charges outright," Mr. McGehee said. He declined to discuss specifics of the new information.
There is no statute of limitations on murder charges, which can be refiled at any time.
At a preliminary hearing last January, police testified that a juvenile charged with obstruction of justice in the case had told them Mr. McDuffie had been the one to fire the gun that killed Mr. Jackson.
The 16-year-old  was charged as a juvenile and  has had his case "resolved" and is "serving his sentence" in custody, Mr. McGehee said.
The most recent evidence indicates "possibly (Mr. McDuffie) was not" the shooter, Mr. McGehee said.
Mr. Nieman said the result of lab tests conducted after the preliminary hearing indicated there was no forensic evidence to link his client to the crime scene.
"I tell my clients that in every single case, there is always something unexpected that happens. Sometimes it can hurt you and sometimes it can help you," Mr. Nieman said. "This is just one of those things where something unexpected happened."
Mr. McGehee said no further charges or arrests are expected in connection with the Jackson shooting.
Prosecutors are now focusing their sights on the case against Aaron D. Henderson, 22, of Rock Island, who remains in custody on a $1 million bond.
Charged with murder and armed robbery, he is set to appear for a Jan. 15 status hearing. Mr. Henderson's attorney could not be immediately reached for comment. 
 Mr. McGehee said he doesn't know whether Mr. McDuffie will be called as a witness if Mr. Henderson's case goes to trial.
Late Tuesday morning, Mr. Nieman said his client was still reeling from the news.
"I imagine he's been worrying about this thing for a year," Mr. Nieman said. "So to just walk in on the morning of trial, probably having not slept at all last night, it probably does not seem real to him."
Mr. McDuffie is not entirely out of the woods yet. The Illinois Department of Corrections has called for a parole hearing to determine if there have been any violations since Mr. McDuffie's release from prison last year.
In August 2011, Mr. McDuffie pleaded guilty to felony aggravated battery (causing great bodily harm) and served the mandatory two years of a five-year prison sentence before he was placed on parole May 31, 2013.
Mr. McDuffie has been remanded to state custody until he goes before a parole board, the date for which is not yet set. If determined to have violated of his parole, he may be required to serve the remainder of his aggravated battery sentence.
If no violations are identified by the board, Mr. McDuffie could be released and placed on two years of supervised release.
Mr. Nieman said he wasn't sure why last week's late-breaking evidence hadn't come to light sooner, noting "a flurry of activity" can happen in the week leading up to trial.