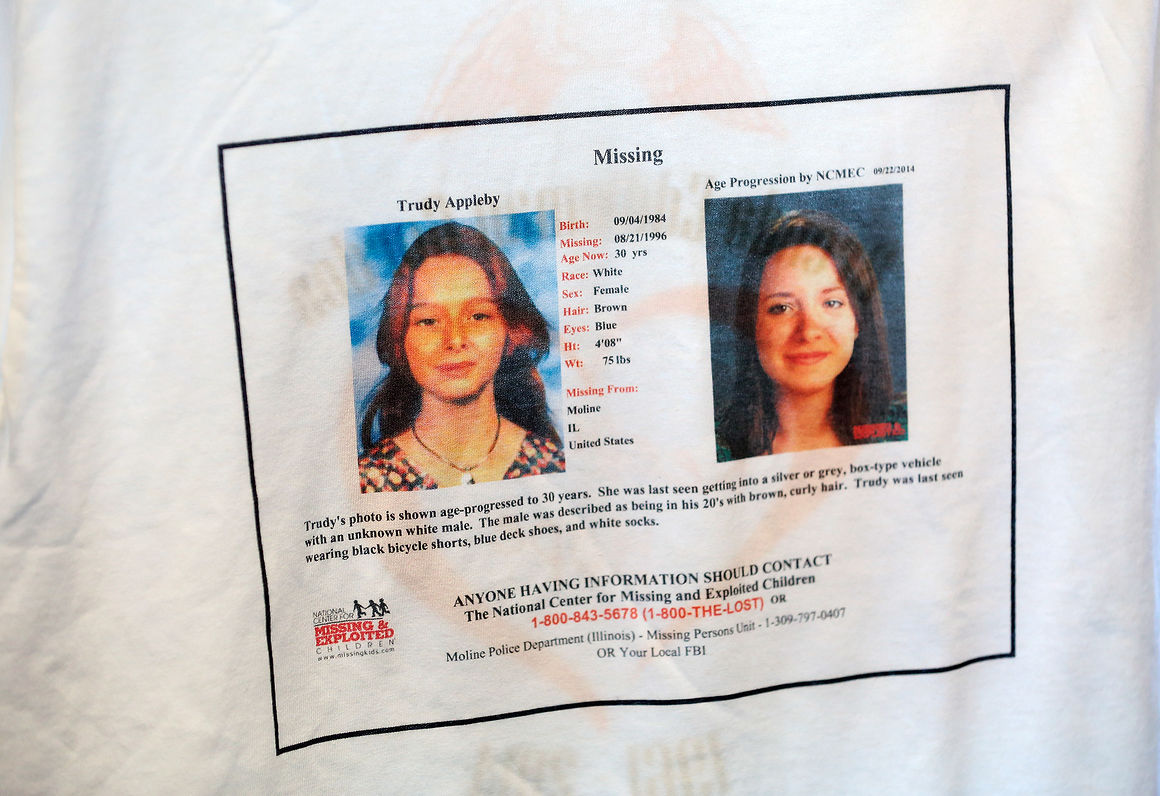 MOLINE — Police have released the name of the last person believed to have been with Trudy Appleby, 11, before her disappearance 21 years ago.
In a Thursday news release, Moline Detective Michael Griffin stated that, on Aug. 21, 1996, a witness has reported seeing the girl, near her home, getting into the passenger side of an older model, gray colored vehicle driven by an unknown man.
She was never seen again.
"Over the course of the last 21 years, thousands of leads have come into the Moline Police Department, and thousands of interviews have been conducted," Detective Griffin said.
"Information from the investigation shows William 'Ed' Smith may have been the last person known to be seen with Trudy Appleby prior to her disappearance," Detective Griffin said. "Information regarding his activities the date of Aug. 21, 1996, may lead to further information about Trudy Appleby's disappearance."
Mr. Smith died Dec. 23, 2014, having never admitted knowledge about the girl's disappearance. According to Moline Police, Mr. Smith would grow "despondent" when Trudy Appleby's name came up in the days following her disappearance.
"He would cry often," the release stated.
Detective Griffin said that, on the days leading up to her disappearance, the girl wanted to go swimming with a friend who lived on Campbell's Island in East Moline. Although her father did not allow her to go, phone records indicate the girl may have planned to go ahead with her swimming plans.
According to police, a witness reported seeing, in the late morning hours of Aug. 21, 1996, Mr. Smith in a vehicle similar to the one the girl is believed to have entered. Mr. Smith was seen in the car near his Campbell's Island residence, police said.
"The witness observed a younger female in the passenger seat of that vehicle and believed that person to be Trudy Appleby whom was personally known by the witness," Detective Griffin said. "The vehicle passed within a couple feet of the witness.
"Trudy Appleby's whereabouts are unknown after the vehicle drove by and no other witnesses have come forward with information on any further sightings," Detective Griffin said. "The witness reported (Mr.) Smith threatened him (that) if he ever relayed information to the police about seeing Trudy Appleby with him on Aug. 21, 1996, he would kill him."
Detective Griffin said police have learned that Mr. Smith often traveled to the area of Blackbird Island and Dynamite Island on the northern edge of Campbell Island, an area only accessible by boat.
The detective also said Mr. Smith had access to a vehicle similar to the one described in the girl's disappearance, and that the vehicle may have been scrapped within a short time after that.
Moline Police are seeking the community's help regarding any suspicious activity observed on Campbell's Island, on the waterways surrounding Campbell's Island, the boat launch at Empire Park in East Moline and the Mississippi River islands of Black Bird Island and Dynamite Island on or around Aug. 21, 1996.
"Please do not assume that we know what you may know," Detective Griffin said. "And no information is insignificant.
The focus, Detective Griffin said, has moved from the actual crime to the ensuing cover-up.
"It's not about what happened that day," Detective Griffin said. "It's about what's happened since."
"Someone's got to know," Detective Griffin said. "We've talked with the family.
"As we get older, we all get more reflective," he said. "I imagine if you had been involved in something like this, you would have talked about it with someone."
The girl's family, along with Crime Stoppers of the Quad Cities, is offering a $10,000 reward for information regarding her disappearance or any information related to the above statement that will lead to a resolution in this case.
Anyone with information regarding Trudy Appleby and Mr. Smith are asked to call Moline Police at 309-524-2140 or Crime Stoppers of the Quad Cities at 309-762-9500.