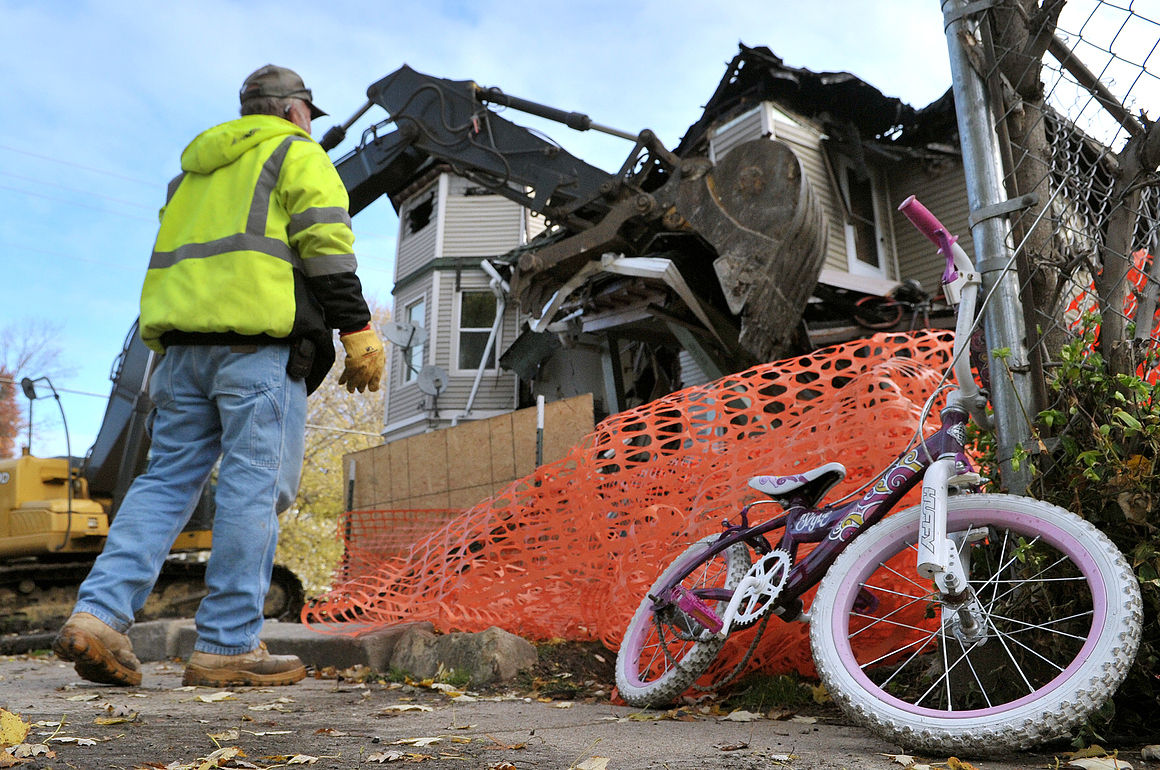 ROCK ISLAND -- City officials demolished a multi-family building Friday, a day after flames ravaged the historic home and left several people homeless.
Thursday morning, flames tore through the top floor of the four-unit building at 903 22nd St., causing the roof to cave in. The building was deemed unsafe for human occupancy.
By 8 a.m. Friday, crews arrived with a backhoe to begin what Rock Island Assistant Fire Chief Jeff Yerkey termed an "emergency demo."
The city's chief building official Tom Ayers said he determined the home was "very much a hazard" to nearby homes and passers-by. The collapsed roof and attic, he said, left an unstable structure with a "precariously perched" chimney.
"It was not safe to leave up," he said.
The backhoe tore through the front of the house during Friday's two-hour demolition, downing charred pieces of siding and roof.
Two stories down, the first floor appeared almost untouched -- an eerie sight amid the debris. Framed wedding and baby photos still hung on the walls, a nursing assistant book sat propped on a bookshelf. By 9:20 a.m., those last remaining artifacts -- along with window frames, stacks of clothing and doors that led to nowhere -- joined the growing heap of rubble.
To reduce the chance of lingering embers, Mr. Ayers said the rubble would remain at the site over the weekend for observation and be removed starting Monday. He said, by Wednesday, he expected the site to be "a level piece of ground."
Cause of fire 'undetermined'
The house was built in 1900 and is currently valued at about $108,000, according to county assessment records. Records say the tax bill is sent to William E. Gordon III in Coal Valley. 
Thursday's blaze displaced at least eight people, including a pregnant woman, according to Mr. Yerkey, who said residents were allowed to collect "absolutely needed" items from the first floor before demolition began.
The unsafe conditions made it impossible for fire investigators to do a "comprehensive investigation," such as burn pattern analysis, he said.
The roof collapsing on the second floor left fire crews unable even to walk around the area, he said.
Friday's demolition essentially marked the end of the investigation, Mr. Yerkey said, adding the cause of the fire was deemed "undetermined."
He said officials determined from witness interviews that four children and a woman were home at the time of the fire, which originated in a second-story bedroom. Two children saw smoke coming from the room, alerted their grandmother and all five made it out safely, he said. 
"You see your house in flames"
One displaced resident -- 25-year-old college student LaCanna Dixon -- was still in shock Friday from the jolt of seeing her home turned to rubble.
"We're having a hard time... We basically woke up this morning and realized we don't have anything," said Ms. Dixon, who shared an apartment with her father and twin sister, LaShanna."It was hard to sleep last night. It was hard to wake up this morning." 
The Dixon sisters were at an auto repair shop when the fire broke out Thursday. While their father, who has health problems, typically would have stayed home, he had joined his daughters on this particular errand.
That choice may have been life-saving, said Ms. Dixon, who said it was highly unlikely their 73-year-old father would have been able to navigate the stairs had he been home during the fire.
"I'm just very thankful for that -- we definitely had guardian angels yesterday," she said.
Ms. Dixon said the family missed calls about the fire because their phones were dead and, when they returned to find their neighborhood blocked off, figured there had been an accident.
"But as you get closer, you see your house in flames," she said.
The Dixon sisters are enrolled in their first semester at Black Hawk College -- LaCanna for broadcast journalism and her sister for secondary education.
Ms. Dixon choked up over the phone as she talked about the textbooks and school supplies they lost in the fire. Nevertheless, the sisters attended class Friday morning, and friends donated notebooks and writing utensils. 
Already saying she was worried about a test later in the day, Ms. Dixon said teachers and loved ones had been understanding.
"People are just trying to help out where they can," she said. The family, which did not have renter's insurance, set up a GoFundMe page at gofundme.com/n68t3u7w, to help with fire-related expenses.
The family is staying at a motel for a few days, courtesy of The American Red Cross, but plans to look for permanent lodging. 
The aftershock fresh, Ms. Dixon said, "We're getting ourselves together."