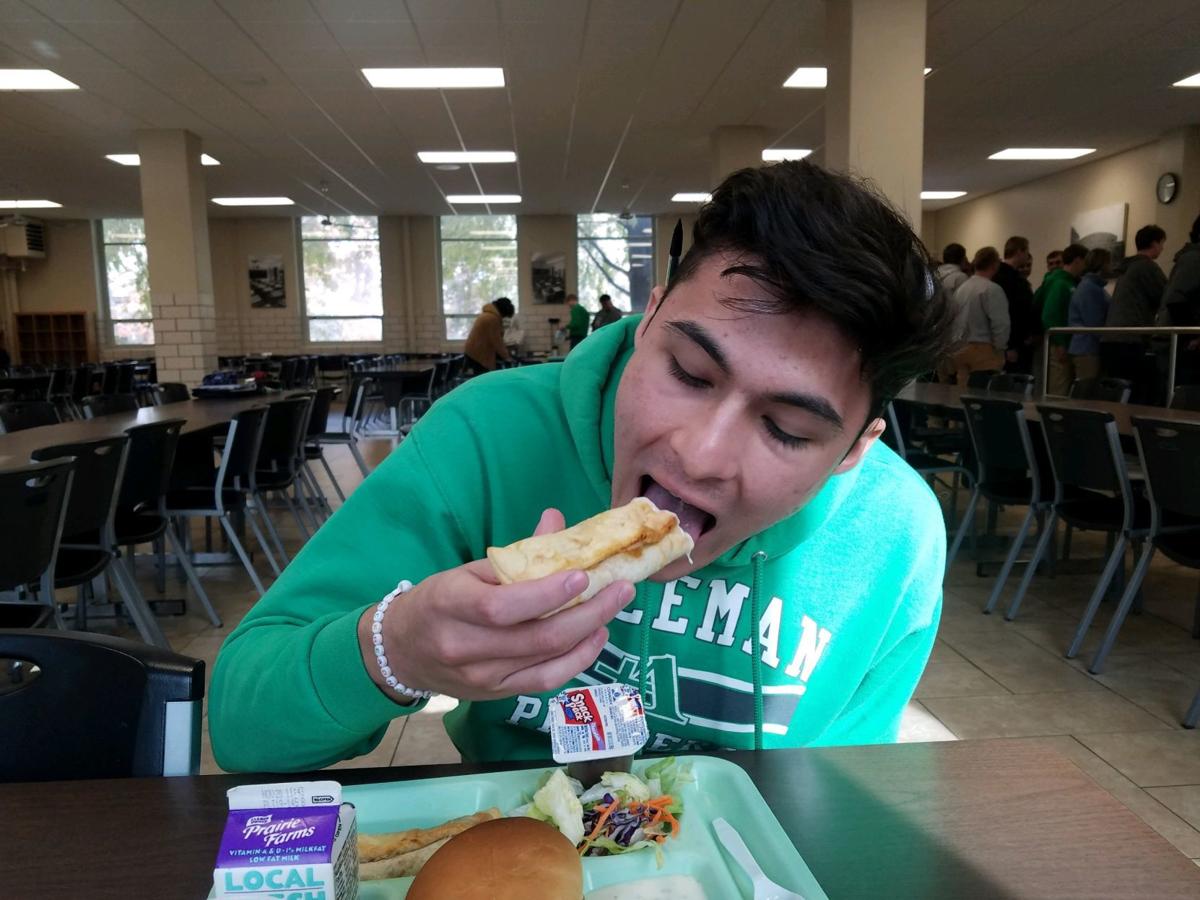 Through my 10-week adventure of Cafeteria Confidential at five local high schools and conversations with a diverse group of great kids, one thing kept popping up.
School lunches have changed since I was a kid. Apparently those cheese-stuffed bad boys are a prep cafeteria rock star.
Bosco Sticks, I learned, are the shining light of the high school cafeteria landscape across the country. Basic in its construction — a mozzarella cheese-stuffed breadstick (some have pepperoni filling) brushed with garlic butter and parmesan cheese — Bosco Sticks rule school lunchrooms.
"I won't go a week without a Bosco Stick,'' said Helmut Soglohun, a senior at East Moline's United Township High School.  "The best thing about our cafeteria is knowing I can get a Bosco Stick. They are off the charts.''
And they're cheap. And they are filling. A Bosco Stick costs between $1 and $2 and do well by themselves or dipped in soup, marinara sauce or ranch dressing.
High school kids across the local landscape, that's who.
According to Eater.com, Bosco Sticks are the top-selling item in school food service in the Midwest, and though easily recognized in the Midwest, Bosco Sticks are available in schools across 45 states.
"If you think about how many Bosco Sticks are eaten in a year, you can literally line them up end to end six times from coast to coast," Lee Nordin Sr., a spokesperson for the brand, told Eater.com
Bosco Sticks have long been a staple across local high school cafeterias.
"Our No. 1 seller,'' said Jodi Johnson, who has led the cafeteria staff at Alleman High School since 2010. "We serve them hot and they go really well with any of our five soups, or you can dip them in whatever sauce you choose. There is a local food show each year, and we learned about Bosco Sticks that way, invested in them and found the kids love them.''
Bosco Sticks were born in a Warren, Mich., pizzeria in the late 1980s, created by Mark Artinian, who at the time owned Bosco's Carry-Out Pizzeria.
For two weeks, Cafeteria Confidential has been trying to nail down an interview with Artinian.
After closing his pizzeria, Artinian began wholesaling frozen stuffed-crust pizza. Soon after, an accident resulted in the creation of the legendary Bosco Stick. A cheese-filled crust fell off a slice of stuffed-crust pizza, and the company realized it could make for a great breadstick.
In 2008 Bosco's Pizza Co. generated $40 million in revenue, a number that jumped to $51 million in 2013. In 2015, the company was sold to food giant Tyson for an undisclosed amount. Bosco Sticks are still produced at Bosco's 50,000-square-foot manufacturing plant in Warren.
Johnson says Bosco Sticks are cost-effective and a stick-to-your-insides staple. 
"We do our best to pass on the savings to the families we serve,'' she said. "And Bosco Sticks are popular, reasonably priced and something the kids know and trust.''
A lunchtime no-brainer for some.
"You know what you are getting, and they taste good,'' Orion's Nikki Taets said. "But I only eat them at school. We have never gone looking for them in a store. I'm satisfied knowing I can get a Bosco Stick at school. They taste good and I can be a picky eater.''
Johnson says the Bosco Stick is here to stay.
"I can't see us changing up what's worked the past several years,'' she said. "And we ask the students about their favorite things, and we work hard to provide a solid balance for them. There is a place for Bosco Sticks.''
Yes, there is, at the top of every high school's lunch menu.
Be the first to know
Get local news delivered to your inbox!