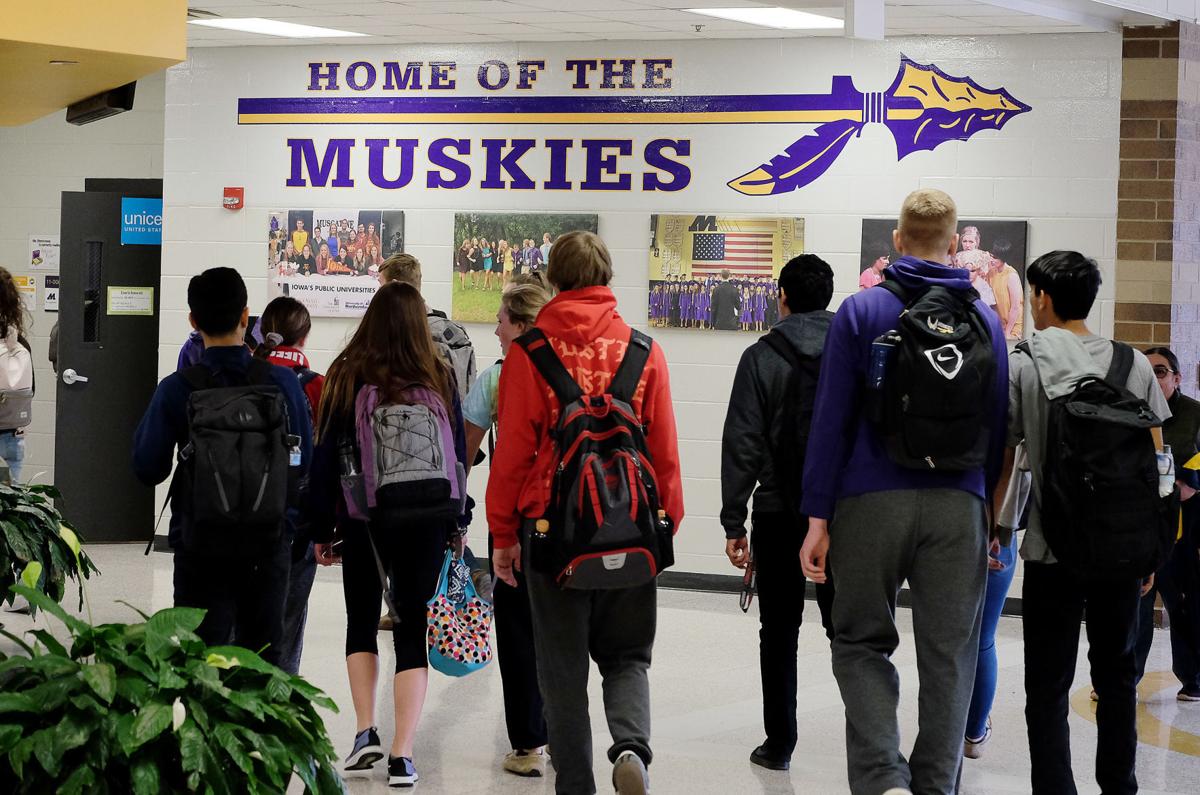 MUSCATINE — Students at Muscatine High School were never in any danger Wednesday, contrary to the contents of a social media post. Officials said there was never a viable threat to the students and there was never an active shooter on campus.
In a statement posted to the school district's social media pages Wednesday morning, the school received notice of an anonymous text message regarding a potential shooting and "police were notified immediately."
"In working with the Muscatine Police Department, two students admitted that their social media post was a hoax," the statement read. "These students have been removed from school. The Muscatine Police Department is continuing its investigation and following up with any further leads."
As morning passed at the school, many students waited outside the main entrance to be picked up by parents or loved ones. Schools superintendent Jerry Riibe confirmed two students, who were not named, were involved in the incident.
The students had posted comments saying they "heard" someone was going to come to the school Wednesday morning and "shoot the school up." Riibe said the two students have been removed from school and charges against the students are pending. No weapons were recovered and the police have determined the incident was a complete hoax.
"At no time was there anyone at school in danger or a threat," Riibe said. "The school is safe, the investigation is concluded and we hope people can get back to some sense of normalcy."
Riibe said there will be school consequences for the students ranging from in-school suspension to long-term suspension to a different kind of placement, and there also will be law enforcement consequences.
Muscatine Police Chief Brett Talkington said the students would be charged for the incident, but the charges are pending. The punishment will be determined over the next couple of weeks. Riibe commented that it "will be determined" if the students will be able to return to school.
The Muscatine Police Department, working in conjunction with the school, was present first thing as students arrived Wednesday morning.
'Throughout the country (threats of shootings are) happening, but have we had it here more often? Probably not," Talkington said. "Unfortunately, kids put stupid things on Facebook or texting. Any type of social media does not help us right now."
He said after the situation had been picked up on social media, much "misinformation" had been circulated. There was a rumor on social media of an active shooter in the building, he said, but stressed there was never an active shooting situation in the school.
"I put on our city Facebook page that there is no active shooter situation at the high school," Talkington said. "I tried doing that as soon as possible. Unfortunately, some of the damage had been done, which is why some students are leaving for the day."
"Our utmost priority is to make certain we provide students a safe learning environment and to that end, we will do whatever is necessary to ensure that happens," read the statement from MHS officials. "Precautions are being taken to ensure the safety of our students and staff. Our counselors, administration, security team, and school resource officers met this morning to make sure the building remains safe and secure. Also, additional police will be in the building and surveilling the outside of the building."
Riibe said the school district goes to great lengths to ensure student safety and he feels students are safe in the district. He said the schools and police department work closely to ensure safety. He encourages parents to play an active role in their student's online presence.
"Know what they are posting in their accounts and make sure you know about their social presence," he suggested. "These kinds of things come out of social media. We need parents' help on this, too. If they hear something or see something, let us know."
Be the first to know
Get local news delivered to your inbox!