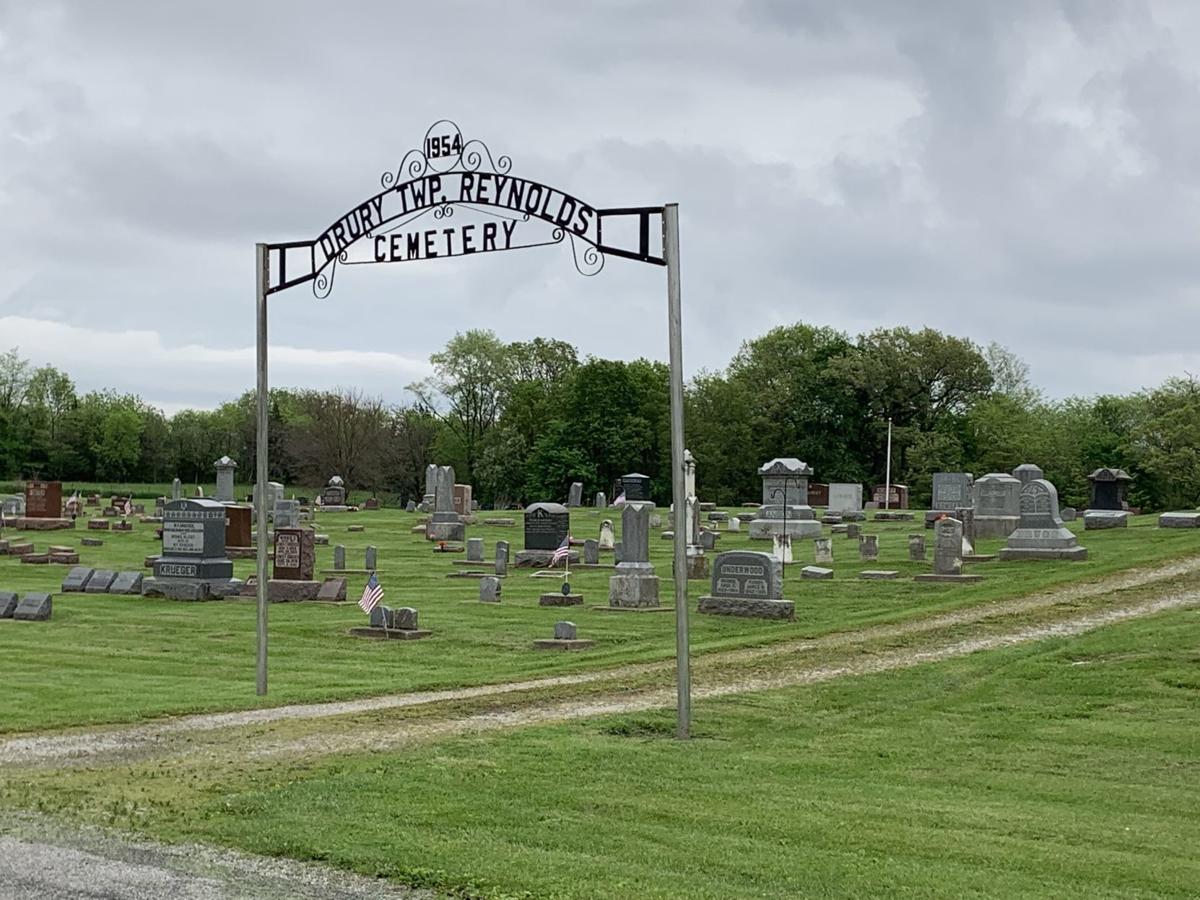 DRURY TOWNSHIP, Ill. — Just about five miles outside of Muscatine in the Drury Township of Rock Island County, one local cemetery has decided to make a few small changes in order to keep a tradition that's more than 100 years old going.
In remembrance of veterans both local and national, the Drury-Reynolds Cemetery is holding its 119th Annual Memorial Day service on Sunday, May 24, at 1:30 p.m., making it a drive-in style service due to COVID-19 concerns. The service itself will happen rain or shine, and all are welcome.
"It's been very important to me to put on this service and to keep it going for my kids and the kids in the community," said Julie Wagner, emphasizing that she didn't want the younger generation to take for granted the freedoms that they have or to forget the people who made the ultimate sacrifice for their country. "This service is for the adults to remember, but it's also for the kids to learn so that they don't ever forget also."
Wagner and her team at the cemetery had begun planning the annual service in January, and while the planning process had been going smoothly, March brought a state-wide lockdown in Illinois along with concerns on whether or not the event would happen.
"We didn't know what was going to come of it, so we've been just sort of biding our time and waiting to see what the governor's orders were going to be." After a bit of time and being inspired by how some of the local schools were going to change their graduation ceremonies to comply with social distancing guidelines, it was then decided last month that the service would be a drive-in.
"We thought that it would be perfect," Wagner said, "because everyone's able to stay a safe distance away from each other, and we can still have the service and do the traditions that are important to the community." With the help of the cemetery's sexton, J.J. Koehler, guests will be able to hear the service broadcasted through the radios in their cars.
Wagner, who has helped put on this event for about 10 years but has been attending it since she was a little girl, said that making it a drive-in service was both easy and difficult. "Not difficult in terms of putting it together, but hard as in terms of 'hard to let go of things'," she said, "We definitely wanted to keep it in a way that we could keep the tradition and still have people want to come and to feel safe."
For this year's service, guest speaker and Mercer County Junior High American history teacher Jeremy Finch will be giving a presentation on the history of the end of World War II, coinciding with its 75th anniversary. "He's done two previous presentations for us and everybody just loves him, and he's very excited to come back again," Wagner said. "Honestly, I've never met someone who loves history as much as he does, so he makes it exciting for everyone else, too."
In addition, there will be a roll call of deceased veterans, the placing of the veterans' wreath, and a prayer for the nation. "Taps" will be performed by Ethan Price, with vocalist Stef Carey and drum players Aubrey Frieden and Caleb Wagner. Guests will also be permitted to visit graves after the service. However, in addition to there being fewer presenters to assure that there's no more than 10 people near the podium, as per guidelines, children will not be asked to put poppies on the graves this year.
"That's always a really nice tradition, but we would've had a lot of people running around, and that would break a lot of the guidelines." Still, even with these changes, Wagner believes that the program will still be similar enough to previous years.
As for how this transition from a sit-down ceremony to a drive-in one will affect the turnout, she isn't sure. "It makes it easier for the older people to come and feel safe, but are people ready to come out in large numbers yet? It's hard to tell, and I'm kind of anxious to see how it turns out."
Still, with the cemetery assuring that the service will still happen rain or shine and no matter how big or small the audience is, Wagner hasn't lost her excitement for the event. "I remember the services very vividly, and a large number of my ancestors are buried in that cemetery," she said, "I also love being a part of this and part of a community that puts so much importance on remembering the sacrifices people have made for us. It's an honor to do this, and I look forward to it every year."
Be the first to know
Get local news delivered to your inbox!