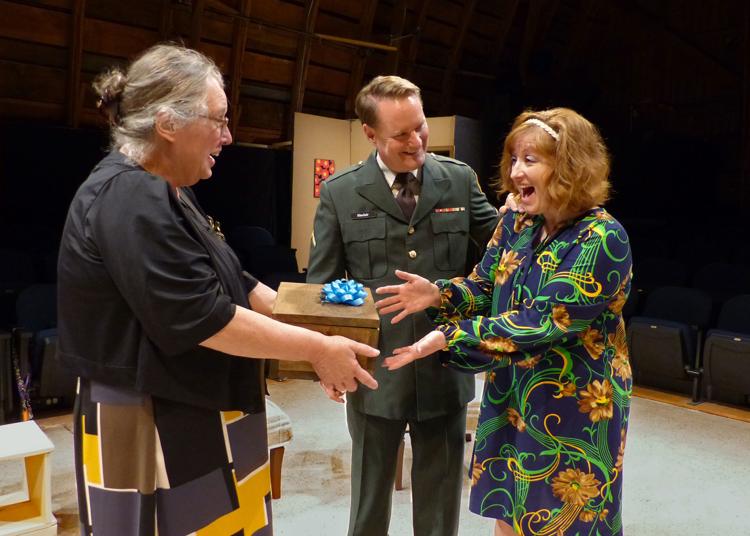 Richmond Hill Players' new offering is the Jack Sharkey comedy "Missing Link," which creatively boasts a double meaning and a fun outlet for its leading actress, Mandi Wilson of New Windsor.
In her third production at RHP, after "The Curse of an Aching Heart" in 2013 and "Checkmate" in 2016, she plays Belinda Baxter — high-school sweetheart of Lincoln ("Link") Sinclair, who in 1945 was reported missing somewhere in the Pacific and never seen again. "For 30 years, she's been missing Link," Wilson, a sign-language interpreter for area schools, said this week. "It's definitely a romantic comedy."
In 1975, Lindy is on the eve of her wedding to another man, Simon Fletcher. The phone rings, and chaos ensues with a blast from the past. Link shows up with a diamond ring and a box of money as his gift for the bride who he thinks is marrying him. A reporter comes with a strange story about another vanished man, and Link's mother arrives with a question.
Wilson says she enjoys working with the RHP director, Joe DePauw. She's also acted in a handful of Playcrafters shows, the most recent "Dixie Swim Club" in 2017. "I really enjoy getting to know cast members and getting tricks of the trade from other veterans," she said.
The "Missing Link" cast includes Kevin Keck, Don Faust, Jim Strauss, Jackie Skiles, Matthew McConville, Michaela Moore-Giebel, Barb Nurmi, Archie Williams, Dana Skiles and Jessica Moore. The show will be at 7:30 p.m. Thursday to Saturday (July 11-13, and 18-20), and 3 p.m. Sunday, July 14 and 21, at the Barn Theater in Richmond Hill Park, Geneseo. The audio description performance is Friday, July 12.
Tickets are $12, available at 309-944-2244 or rhplayers.com. Late seating is not permitted.