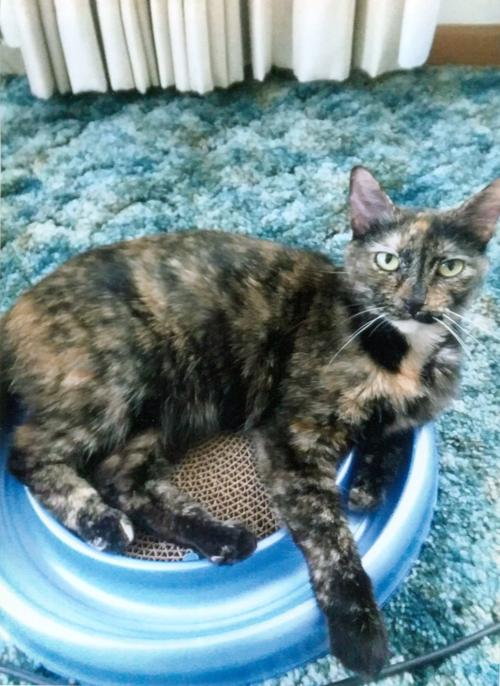 We were sitting at the kitchen table in Sassy's new home when she ran by like a streak of lightning. I only got a glimpse of her.
She did this about three times, then she sort of settled down and sat in the living room. I got to see how pretty she was. Her color and markings are so adorable. 
Sassy was recently adopted from the Rock Island County animal shelter. She is around 3 years old. Since her name was Sassy, the new owners just left it that way. In fact, they used to have another cat with the same name. These two cats sort of looked alike, too.
Sassy is a very curious cat and likes to sit at the window, watching for the birds. I'll say one thing for Sassy: She's fast. So beware, birds.
Sassy has this very neat circular toy. She can play with the roulette-style ball, lie on it and rest, or just scratch on it. It is a very neat cat toy.
You have free articles remaining.
Her new owners say Sassy talked her way into a new home because she was very verbal at the shelter. No doubt Sassy has a lot to say.
Then there is the laser beam light she likes to chase around. I would think she has a lot to say when she can never catch that light. Maybe we couldn't print what she really thinks about it!
She has a cat perch in the computer room where she seems to hang out a lot. It does seem Sassy has the run of the house already. If she wasn't spoiled in the past, she has a very good start on it now. Sassy feels it is never too late, and she loves all the attention she gets.
Sassy doesn't like riding in the car when she goes to see her doctor, so of course she has to be placed in a little carrier. She goes to the Rock Island Animal Hospital for her medical needs. There is no doubt she has a few words to say on this matter, too.
Sassy has gained a few pounds, but that is all right. I saw Sassy's food supply. She likes Blue Wilderness dry food, salmon flavor. She digs right into her Instrinct canned food, which comes in a number of flavors. She won't be running out of food anytime soon.
Christmas is just around the corner, and Sassy has a lot to say to Santa. She will not be shy. If only he will listen! How can Santa say no to such an adorable, interesting, lovable cat as Sassy? This might be Sassy's first time to celebrate Christmas with gifts and lots of love.
She will be at the windows, watching and keeping her paws crossed that Santa will find her and that he will not forget all those animals in the shelters still waiting for love and a good home.