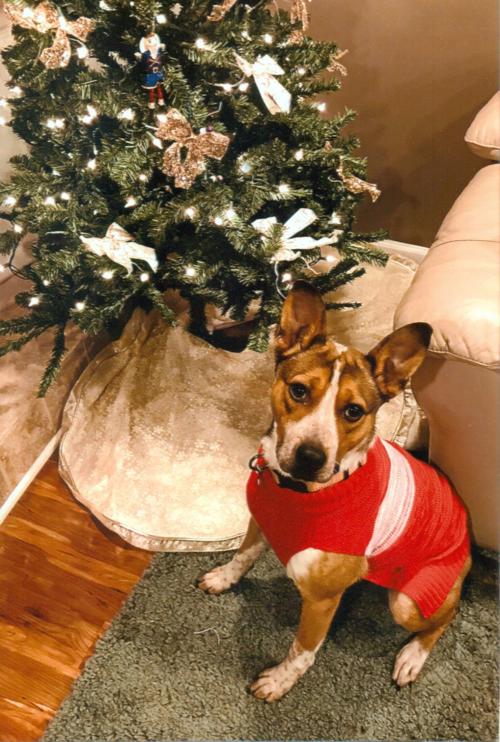 George is a darling dog. He loves to snuggle and give lots of kisses. He would love to be your early valentine. He would win your heart right away.
George was picked up along the Iowa and Nebraska border as a stray. He spent four months in a shelter there, and no one ever claimed him. Right now, he is being fostered by Allie Koeller, foster coordinator of Wild Hearts Can't Be Broken rescue group, and a friend, Brandon, in Rock Island. He is one of three dogs brought here in the hope they would be adopted.
He is a 2-year-old red heeler. They are known for their herding skills.
George has so much energy and loves to keep busy. George is also a very smart dog. He shakes paws to thank you for a treat. If you say, "Kennel up," he knows exactly what to do — get in his kennel. He likes to run and play in the yard.  Playing with sticks is fun for George. In his spare time, he will watch TV.
Of course, he loves going for car rides. One of his favorite stops is the QC Fuel coffee shop drive-through in Moline because he gets his "pup cup" — a dog biscuit and whipped cream.
Allie says that George's ears make her think of Yoda in "Star Wars," but that doesn't hurt George's feelings. It just makes him feel more handsome and more special.
You have free articles remaining.
George does like to dress up, as you can see from his picture.
As for herding, George says the only creatures he sees are a few rabbits and some squirrels, and they don't herd too well.
Those rabbits would be mighty surprised if they could see how fast George can make a carrot disappear. He can down a carrot faster than a rabbit could say, "Carrot," and that's fast. I saw him in action myself.
George eats dry dog food. He looks and acts very healthy. His veterinary needs were taken care of before coming here.
George is hoping he will find a forever family and home and all the love possible. He needs space to run and play. He is very friendly.
George likes the snow, so he has a lot to look forward to. It wouldn't surprise me if George could do snow angels of his very own while leaving the mark of those ears right in the snow. Even Santa could say, "George has been here."