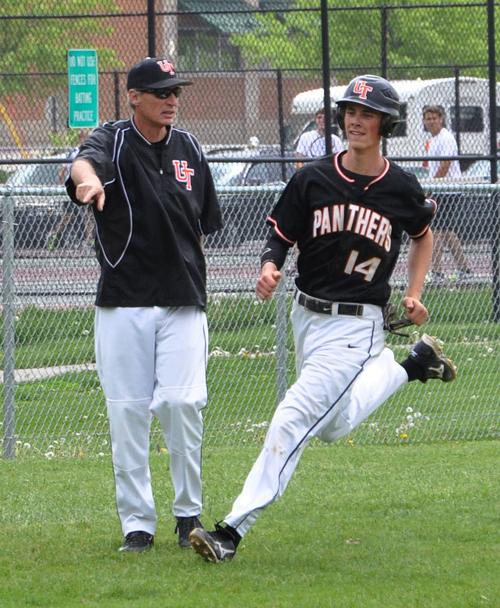 "I couldn't hit water if I fell out of a boat,'' was the first thing Steve Yount said to me three decades ago after he had just been hired as the head coach at his alma mater. He was describing why he was a defensive-minded player, during his hoops-playing days at Augustana College, and why his Augustana-coached teams would be defensive in nature.
For me and the countless others lucky enough to know him, Steve Yount is more than just a much-needed dose of humor in our world.
He has been a confidant to me and many others. We have all gone to him in search of advice and guidance for over the last 30 years. His advice — if we had an ounce of sense — we all took it and used it to better our lives.
Yount is retiring from teaching at United Township High School at the end of the school year. It will be sad to see him go but it's great for him and his family: wife, Beth Ann; and his two sons, Justin, Chip (Garrett), their wives and his two grandchildren.
For nearly two decades at UTHS, Yount positively impacted the lives of thousands of students, athletes, and staff. His unique, and oftentimes humorous, manner will be missed. He has now earned the right to better his golf game at some sun-kissed southern outpost closer to his kids and grandkids.
His retirement is well earned for many reasons but none bigger than for his dedication to family.
After a successful nine-year run as the head basketball coach at Augustana,  Yount, who grew in Champaign, stepped away from the grind of college coaching to be closer to home. Beth Ann, his amazing bride, who proves daily that Steve got the better end of the whole  "I Do,'' thing, had begun to struggle with her health.
When he was hired at Augustana, Yount was a breath of coaching fresh air. He was funny, open, intense and turned Augustana Basketball into an instant winner, including an NCAA runner-up finish in 1993.  As a coach, Yount made the angry sport coat toss famous long before others started doing it. His tie rarely made it past halftime as well. No official ever escaped Beth Ann's rath, either.
Gimmicks aside, Yount could coach, recruit and did he did it all with amazing character. His choice to be with his family and stop coaching college basketball was his own. There was no ceiling on his ability.
To stay closer to Beth Ann, Justin and Chip, Yount took a physical education post at UTHS. A job that would eventually lead him back to coaching basketball and baseball, both with Beth Ann's blessing. After coaching college basketball, Yount was safe enough in his own skin to teach and mentor high schoolers, never needing the ego boost that came with being the face of a program. His return to basketball and baseball, at the high school level, was a bonus to the kids he coached and those he coached against.
My visits with Yount since he stepped away from coaching baseball at UTHS, have been less frequent, but anytime spent with him is — and will always be —  a bonus. He is truly that good a dude.
I have not asked for specifics of retirement, but warmer weather will be a must for Yount and Beth Ann. Sadly, though, more opportunity to play golf and fish will not make him better at either.
Some things cannot be fixed.
Some folks, though, don't need fixing. Yount is one of them.
Be the first to know
Get local news delivered to your inbox!