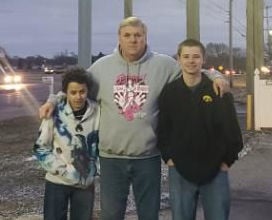 He runs his hands through his once-thick locks and smiles, laughing because there is way more salt than pepper atop his dome these days. His shell, crusty at times, is a product of the world around him.
But his heart, always big and forever worn on his sleeve, is as soft and giving as ever.
Davenport's Mark Bartling has always been the give-you-a-ride, lend-you-a-few-bucks, drop-everything-to-help friend. He's the guy who if you don't run into him for an extended period of time, you're caught up with just a couple of sentences when you do see one other.
Somewhere along his path, I suspect his parents — Caroline and Lloyd Bartling, God rest their souls — told young Mark it was OK to be nice to people.
For 15 years, Bartling has owned the Pizza Shack, a smallish operation that serves great food in northwest Davenport. He does not live to make the cover of Forbes magazine, but he does strive to meet people, make friends and provide quality takeout. If friends were revenue, Bartling would have graced the Forbes cover a hundred times over.
Over the past half decade, Bartling has helped bring to life the local Bowling for Boobies fundraiser, dedicating hundreds of hours to raising money for Quad-Citians fighting cancer.
He accepts can and bottle donations and turns them into fundraising dollars. He calls on anyone who will listen to get them to donate raffle items, including a Hall of Fame baseball pitcher who works with a pal of his at the University of Nevada-Las Vegas. 
You have free articles remaining.
In a way only few can, Bartling collars a group of dedicated souls to host 300 bowlers every October, turning Leisure Lanes in Davenport into the happiest place on Earth to benefit those fighting for their lives.
In five years, Bowling for Boobies has raised approximately $75,000, and given it away to those battling cancer.
"I'm just a name on a list,'' Bartling said, downplaying his role in the effort. "I lost both parents to cancer. Long before that, they did their best to tell me it's OK to help and never seek anything in return. I just push the ball; everyone else keeps it rolling.''
But there is more to Bartling, a tremendous athlete in his baseball-playing days who gave up baseball and became an elite slow-pitch softball player.
Several years ago, he opened his home to a struggling mother and her five children. After a year, they moved on. Soon, though, the mother was struggling again. Bartling then opened his home to one of her sons, who has spent the past five years under Bartling's roof and watchful eye.
The young man excelled in the classroom, played varsity athletics, and completed high school in May 2019. He now has a full-time job, earning nearly $17 an hour.
"His name is Michael, and he is an amazing kid,'' Bartling said. "It's not about anyone other than Michael doing great things the last five years and having a bright future. He just needed a solid home life, some discipline, and someone he could count on. ''
Recently, with the assistance of the Iowa Department of Human Services, Bartling gained guardianship of Michael's younger brother, Tyler.
Tyler had missed the first three weeks of the school year and was struggling on all fronts. Under Bartling's guidance, Tyler's latest report card netted a solid mixture of Cs, Bs, and an A. And his attendance record was perfect.
"There should be a law when it comes to video games,'' the old-school Bartling said, half joking, half serious. "All Tyler needed was someone to care, to take inventory with him, and give him a chance. It's more work than Michael, but Tyler is a great kid. His ability to do his schoolwork, be in school and be accountable is all there. He just needs some direction and less time playing video games. I'm proud of him and Michael.''
Just as we should all be proud of a dude like Mark Bartling.