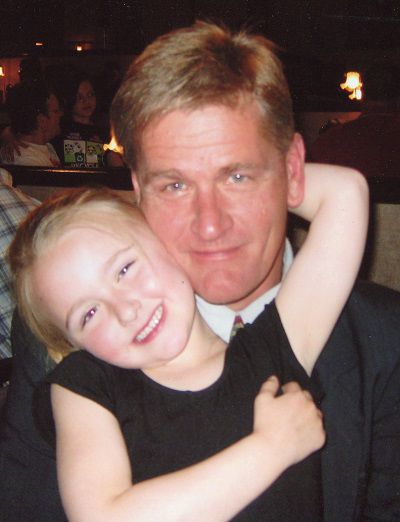 I am a bad golfer, but I love the game.
A good drive, pitch or putt always brings me back.
Years ago, I was playing indoor simulator golf with a group of buddies and was struggling. It was winter, we were bored and it seemed like a great idea to play the virtual version of TPC Sawgrass. I was the subject of constant ribbing and ridicule.
Enter radio buddy Bo J. Spates, who passed recently at age 57. A scratch golfer, Spates and a buddy were going to play Pebble Beach on the simulator next to us. 
Bo and I knew one another through radio, he was a country DJ and I was a sports talk host on KJOC-Am 1170.  He stopped by daily to talk sports before, during and after my shift. If there was a station remote of any kind, we'd find time to talks sports. He liked beer, knew I didn't drink and I would always make sure he got home safely.
Back then, Bo also taught me that the best lunch deal in the Quad-Cities was Bishop's Buffet in Bettendorf's Duck Creek Plaza. Much to the chagrin of my newspaper bosses, we lunched at Bishop's at least twice a week. My deal to be able to do my radio gig was leave the paper at 9:30 for my 10 a.m. radio show and return by 12:30 after my show ended at noon. Thanks to Bo and his ability to hold an audience, I rarely kept the back end of that deal.
When Bo arrived for his simulator golf session, he saw what was happening to me. During a break, he took me aside and gave three simple, applicable tips to better play. Improved, I finished my round at TPC Sawgrass and we decided to play Pebble Beach. Bo stepped in, took me as a playing partner and we — him mostly —  smoked the four dudes that had been up in my grill the first part of the day.
From that point forward, any indoor and outdoor outings I played in, I invited Bo. And whenever he had the chance, he looked after — and tolerated my lack of skill — on the golf course. Our last time out was September of 2018.
After Bo changed stations — and radio groups — our paths rarely crossed. But whenever I sat in for WOC's Jim  Albracht and Jim Fisher, Bo often stopped in to help me get through the challenges of doing news-talk instead of sports. Many an afternoon he saved me from the trials and tribulations of being out of my comfort zone.
We would drift apart again but found each other after we both became fathers. He found me after my son was born and shared all of the cool things about being Charly's dad. He was a loving and caring dad.
It must be noted, not everything was sunshine and lollipops in Bo's world. There were struggles and like us all, there were chinks in his armor. What never strayed though, was Bo's heart. He was a king for all underdogs. He never said no to a charity or someone in need and when trouble found him, it was him usually defending someone who had been wronged.
Bo could relate. Whether it was entertaining an audience from behind a microphone — and he truly loved being in radio, or working in "people industry" — he had the unique ability to draw you in.
Fifty-seven, with a daughter to look after, is way too early to receive God's call. There were too many fairways left for Bo to explore and too many lob-wedges to four feet to boast about.  I only wish I had the chance to tell him one last time what a good dude he was.
Be the first to know
Get local news delivered to your inbox!