Before Leo Othmer retired, he would rather woodturn than work. Now, he has all the time in the world for it.
The 76-year-old often gets up bright and early to turn in his driveway, taking a block of wood and carving it into a duck or other hunting call.
If it's a day the Quad Cities Woodturning Club has programming, he'll then head over to the old DeSoto building, 2324 Third Ave., Rock Island, for open turning, a meeting or demonstration. 
Woodturning is a woodcarving practice where blocks of wood are placed on a lathe — a machine that rotates the wood — and shaped with hand tools into symmetrical shapes, similar to sculpting on a pottery wheel.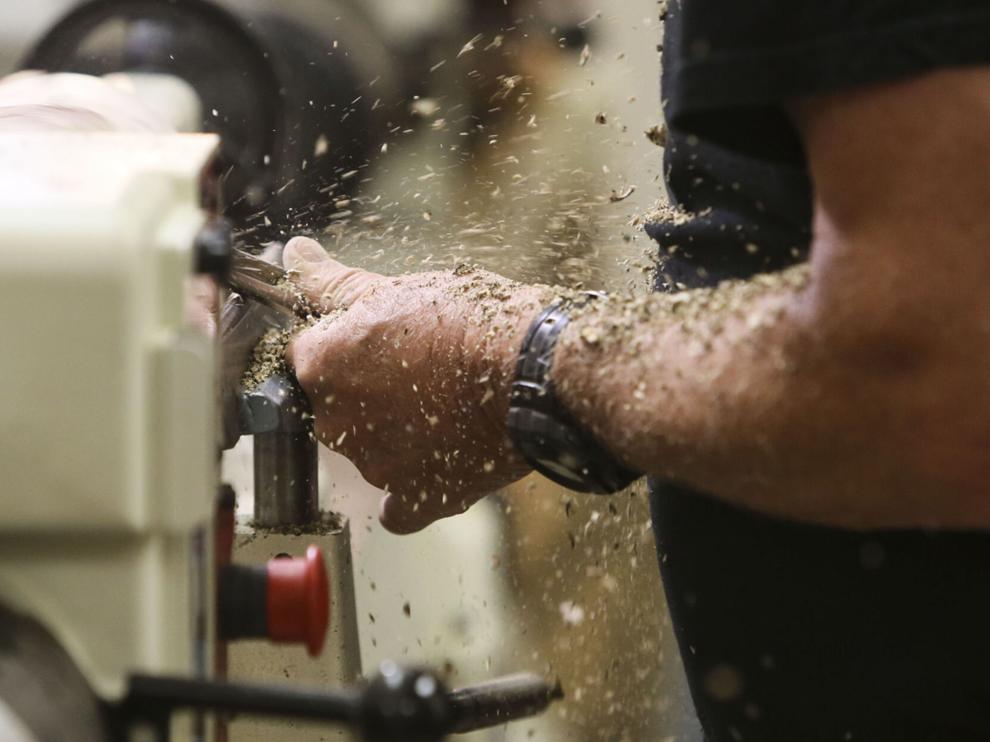 The QC Woodturning Club teaches and provides the tools and space for woodturning for its members. Some lathes are still standing unoccupied as the club struggles to bring members back after the height of the COVID-19 pandemic. 
"I have gained so much [from the club]," Othmer said. "I think everybody here has gained so much because there's so many people here that want to show you what to do and how to make your items better." 
During open turning on a Monday, the concrete floor turned tan and soft with wood shavings and the smell of machinery and lumber filled the air. It was difficult to hear Othmer and fellow member Teresa Allen as they explained the turning process and different techniques, as the lathes and saws were deafening.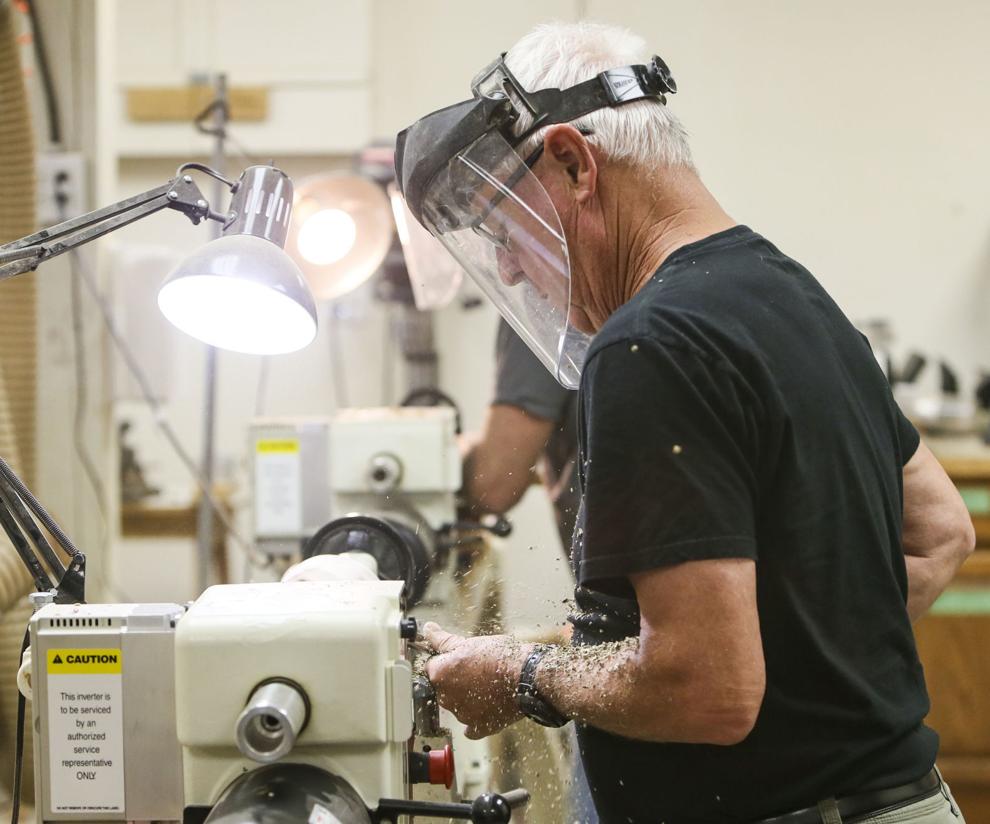 The woodturning process begins with a log. The club has the tools to cut fairly large blocks, and they're roughly shaped into a cylinder before being mounted on the lathe. Then the turner goes to town, carving and sanding until the desired shape has been formed.
Allen joined the club back when it first started 18 years ago. Originally there were seven or eight members, and there are only a few of them left.
In 2019, the club boasted around 100 members. The COVID-19 pandemic stopped lathes in the old DeSoto building for a year and a half, dropping membership to 65. Some died during the height of the pandemic, while others just haven't returned. The majority of members are older, with many retired.
They're trying to encourage younger people to join with events such as demonstrations and sales. The club is holding a public tool sale July 17, and a lathe turning demonstration at the Quad City Botanical Center Aug. 7. 
Both Othmer and Allen got into turning when they were younger, and have worked with wood for decades. They, like many other members, have tried making different objects and would show newer people the ropes.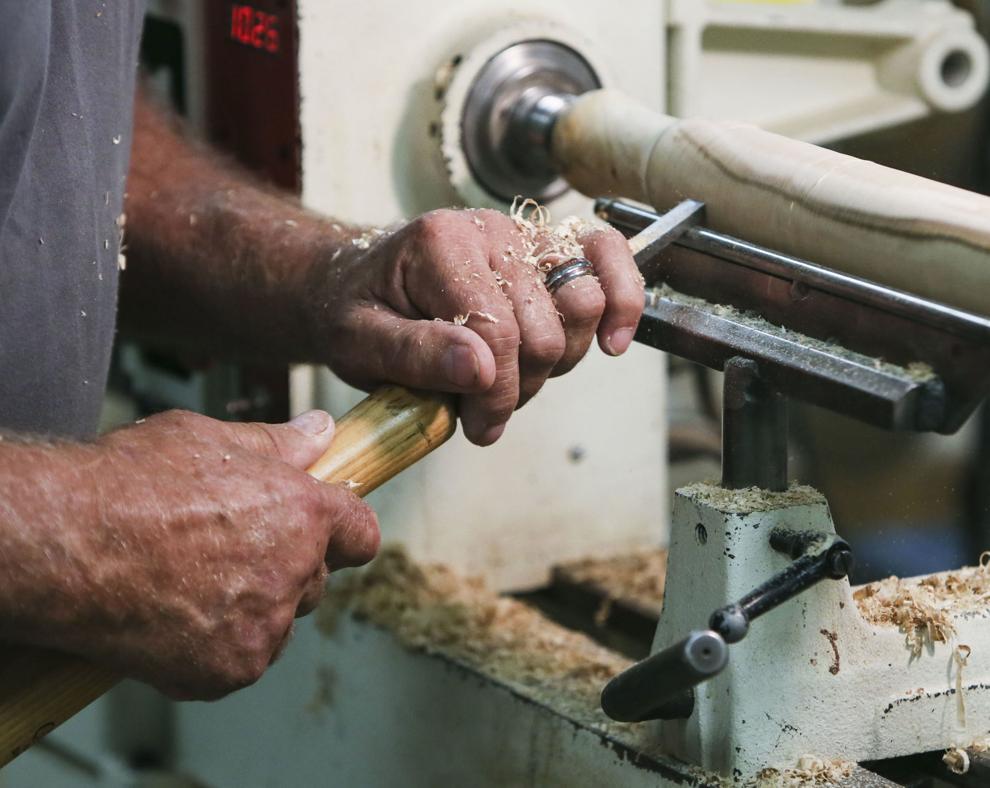 Allen enjoys making boxes the most. While she's made plenty symmetrical boxes, she also employs a method called off-center turning to create irregular shapes and angles. She also turns Christmas ornaments, and has tried her hand at many other objects. 
"I've made just about everything, from bowls to watches to pens," Allen said. "You name it and I've probably made one of them." 
Othmer said the club used to give scholarships to young turners to get them more interested in wood art and the club, but they don't have the funds right now, or young enough turners. 
Club members don't turn just for themselves. At club sales turners can sell pieces on their own and make some money, with a portion going to the club, or can donate pieces to the club for the sale, so it retains all the proceeds. The club does a bit of donating as well. 
Among the shelves displaying different carved tools and decorations sit a few larger round wooden jugs, each with a adornment naming them as Beads of Courage containers. 
These containers will be donated to the University of Iowa Stead Family Children's Hospital, ready to hold beads given to pediatric patients and their siblings. The goal of Beads of Courage is to help kids cope with illness through art programs, and beads are tangible proof of what they're going through and the emotions they're dealing with. 
Each turner was in their own world as they worked their block of wood. One gently placed a strip of sandpaper along the inside of a bowl as the lathe spun it, keeping the paper still as the wood blurred past underneath.
There's no rules when it comes to what turners can make in the club, Othmer said. They don't even need to know anything coming in, because club members will teach them. The goal is to let turners do what they love. 
"Everybody wants to make something just a little bit different, and it's great because they can," Othmer said.