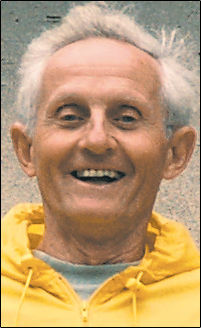 The Quad City Bicycle community — indeed, the entire community — was left distraught over the death of walker Ruth Morris after she was hit and knocked down by a bicyclist on Davenport's Mississippi River Trail earlier this summer.
What happened, according to reports, would appear to be an accident pure and simple. The woman and her son stepped away from the path as a woman bicyclist crashed close behind them. Her companion cyclist braked hard, but he also crashed, and his body hit Morris, causing her death an hour later.
Accidents do happen. I — and probably most of you, too — have been in situations close to what happened. But we still can learn from this tragedy.
— Speeding: Even though it was an accident, we do know that some speed was involved. Here's my take on that:
Speeders and racers, DON'T USE THE PATHS!
I'm sorry, those of you with the multi-thousand-
dollar racing bikes, but your bike going at the speed it was made for has no place on the path, which is filled at times with all manner of users. You wouldn't race an Indy car on downtown 2nd Avenue in Davenport on an ordinary day. Don't do the comparable thing on one of our paths.
You have free articles remaining.
In fact, almost all urban bicycling doesn't meet what you are after: speed. Head to the country and ride on the low-trafficked county roads where you can hit the speed you desire.
I repeat: DON'T USE THE PATHS.
— Path usage: If, however, the path experience has some appeal to you, get a beater bike or a city bike. Use it instead of your expensive racer. If it's too slow for your fitness craving, combine path use with bluff use. If your only bike is your racer, black out its computer (tape over it works, or turn it off if you can) so you won't be obsessed with how fast you are going or your mph average.
— Names for paths: We have to eliminate the term "bike path" from our ordinary usage. Our paths are not just for bikes, not just for recreation (many use them for transportation), and certainly not for race training. The easiest way to refer to them is simply "path" or "trail." That's it. There's no need to embellish them with user designations that are not true and cause confusion.
— Passing signals: I know; I know. Path users have been admonished to use them forever and ever. So why don't you? Or if you do, why do you wait until you're almost beside the person you're passing to speak up? Come on — as soon as you know you're going to pass, yell it out: "Passing," or "On your left," or some other alerting words.
— Turn signals: On the same tack, but not just for path users, why are so many experienced bicyclists reluctant to use arm and hand turn signals? You know what to do, so do it. In a car you use the turn signals; do the same on your bike.
— Laws: Do we need laws for path usage? No. Who's going to insure that they are followed? Common sense and shared courtesy almost always work. They have in the past, and it's true now. But I wouldn't be adverse to seeing a number of signs posted saying something like this: "Speed limit on path: 13 mph."
— Alert: That's what all of us — bikers and walkers — need to be. Let's use this tragedy to enforce the need to be responsible, considerate, and above all, alert to everyone sharing the roads and paths with us.
Chuck Oestreich, of Rock Island, is a longtime cyclist.
Do we need laws for path usage? No. Who's going to insure that they are followed? Common sense and shared courtesy almost always work.