Our favorite place to visit in the Quad-Cities on a Friday night in the summer is Mercado on Fifth. The food stands and trucks, atmosphere, music and fun draw us in. We discovered it in 2017 and have enjoyed going whenever we can. 
"Mercado" translates to "market" in English, but Mercado on Fifth is so much more. We would have to call it a fiesta! It is the brainchild of longtime Quad-Cities businessman Bob Ontiveros, the founder of Group O.
In 2007, he bought the property at the end of 5th Avenue, the gateway to the Floreciente neighborhood, with the intent of establishing a Hispanic market. What started as a small gathering with the backing of a few restaurants has grown to a mercardo that features 95 rotating vendors, including 70 businesses and 25 nonprofits. Of the 70 businesses, 65% are minority-owned.  
The market features food vendors, live music, dancing and events for children — including face painting, bounce houses and free books from the Moline Public Library. You cannot find a better way to spend a warm Friday night.
Bob Ontiveros' talented and personable granddaughter Maria Ontiveros, who returned to the Quad-Cities in the summer of 2016, is the volunteer organizer who helped get the mercado up and running. She does a great job of making sure everything runs smoothly. 
A local food sanitation management class for Spanish speakers has been initiated so that vendors can fulfill the needed requirements for a food service license. Global Communities provided a grant for the infrastructure, including colorful picnic tables and high-top tables where people can gather to enjoy the food. The Small Business Development Center provides business management classes and grants for minority-owned businesses. The local chapter of LULAC, or League of United Latin American Citizens, helps run the event, including booking the bands.  
We enjoy the booths and activities, but what we really come for is the food. You cannot find a more diverse offering of food trucks and stands anywhere in the Quad-Cities.
On the night we visited, there were 14 different food vendors. Five of them were from brick-and-mortar restaurants, and nine of them only operate as a  food truck or stand. While there are Americanized stands, including ones offering gyros, wood-fired pizza and kettle corn, we come for the diverse array of Mexican food. 
Over the summer you can try to sample food from all of the booths; it is impossible to do it all in one night! The food is not expensive, and we enjoy sharing small bites and meals from several vendors in one visit. You can enjoy appetizers and main courses from several booths and get desserts at another. We always come hungry and leave stuffed. 
Start with a cool drink on a warm night. The beer tent offers Modelo, in addition to Front Street Cherry Bomb, Bell's Oberon, Copa wine and Bud Light. We may opt for a beer with our entree, but we like to start with a homemade, refreshing agua fresca (fresh water) at Aguas Frescas Camila.
This vendor offers an array of slightly sweetened flavored waters in addition to horchata. We enjoy the tamarind, made from the pulp of the tamarind fruit, and the agua de Jamaica, made by steeping the leaves of the hibiscus plant to make a tea that is cooled and sweetened. We like to sip an agua fresca while browsing the food vendors to decide on a  plan of attack. 
You have free articles remaining.
Along with a cool drink, we also recommend a mango on a stick from El Tesoro, a vendor offering a treasure trove of refreshing drinks and snacks. They take a whole mango, slice the sides like rose petals, coat it in chamoy sauce, and sprinkle it with chili powder. The burst of sweet, spicy, sour and salty is wonderful. This was our first indoctrination into chamoy sauce, which encapsulates Mexico in a bite.
It is hard to choose where to start, but when we saw the stand operated by Old Mexico, one of our favorite brick-and-mortar restaurants, we knew where to begin. The mildly spiced asada chips, are a great place to start. Think nachos with sliced beef, covered in cilantro and onion — far better than pub fare. The popular Old Mexico restaurant in Rock Island will begin offering a full breakfast at 6 a.m. this week. 
Next stop is for elote corn (Mexican street corn) at a stand operated by another one of our favorite restaurants, El Mariachi, located in Moline. Virginia Castro, the owner of El Mariachi, was the first vendor and supporter of Mercado on Fifth. Elote corn features a cob of corn roasted over an open fire, coated in mayonnaise, then covered with Cotija cheese and sprinkled with optional chili powder. It is so good that we make sure we share it bite for bite. When we have friends with us, we like to share Old Mexico's combination plate for a true sample of the restaurant's fare. 
Patty's Ice Cream stand serves a lot more than ice cream. We chose the chirarron, which is essentially a pork on pork taco salad. A large pork crackling is topped with lettuce, pickled vegetables, pork skin and sour cream. Definitely an acquired taste, it is quite popular on the Mexican street food scene.
Our last entree stop was at Arely's out of Muscatine. We love the tacos al pastor, made the traditional way. You cannot find this cooking technique anywhere else in the Quad-Cities. Pork is marinated in a combination of dried chilies, spices, and pineapple. Slices of pork are then stacked on a large vertical spit, topped with a fresh pineapple, and slowly turned on a rotisserie, in a process similar to the way gyro meat is created. The pork slices are shaved off, grilled, and turned into a wonderful taco. 
You cannot leave Mercado on Fifth without having dessert. It is hard to choose between the many options, including Mexican popsicles sold by East Moline Paleteras to support local Glenview Middle School students taking a field trip to Washington, D.C.
We also headed back to Patty's Ice Cream stand for a mangonada. You must try this refreshing treat to fully appreciate its array of flavors. It begins with wonderful homemade mango ice cream, which is topped with chamoy sauce and a light dusting of optional chili powder. A mangonada is always served with a straw wrapped in tamarind taffy. We loved the layers of flavors. 
Before we could leave the mercado, we had to get a churro sundae at the Country Style stand to enjoy while listening to the music. Country Style's popular soft-serve ice cream is topped with chocolate, caramel sauce, whipped cream and a crispy churro, a fried-dough snack. Be sure to bring a lawn chair so you can sit and listen to the band. 
Mercado on Fifth is open 18 Friday nights in the summer, beginning the first Friday in June and continuing through the end of September. The hours are 5 p.m. until 10 p.m. Check out their Facebook page for a list of their special events and music schedule. In the event of rain, check their Facebook page for canceled events.
Summer nights are made for outdoor events, combined with food and people having a good time. There is no better place to enjoy this than Mercado on Fifth.
He said: I love a party! Sipping an ice cold Modelo, eating great Mexican food and relaxing to music is my idea of a perfect Friday night. 
She said: Food trucks and stands are one of my favorite ways to enjoy summer fare. The Mercado on Fifth combines our love of culture, food and a good time. All of the food is delicious, and it's made with a lot of hard work and pride. Join us any Friday night at the Mercado on Fifth. 
070319-mda-nws-fea-dinnertwo-mercado-011a.jpg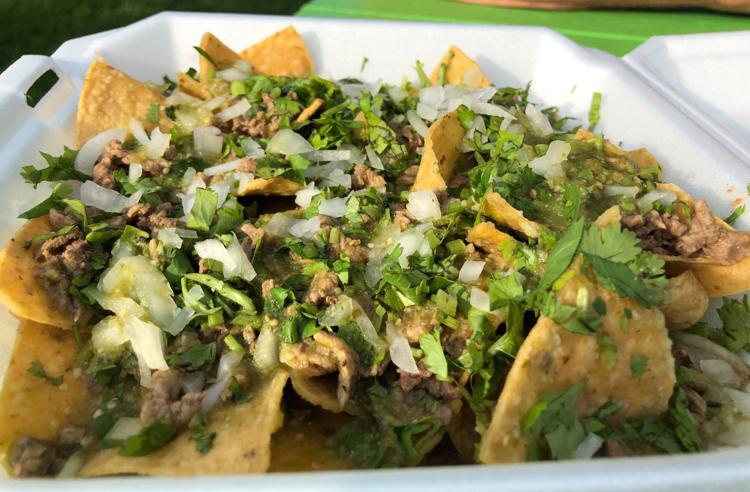 070319-mda-nws-fea-dinnertwo-mercado-002a.jpg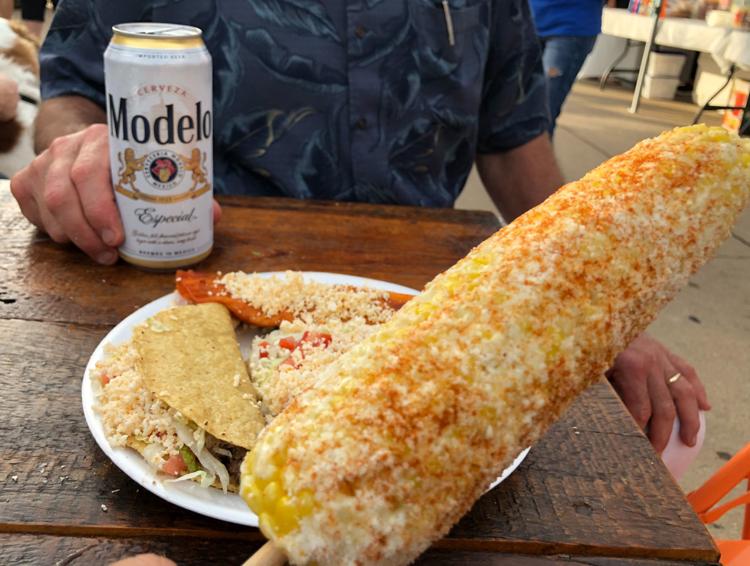 070319-mda-nws-fea-dinnertwo-mercado-008a.jpg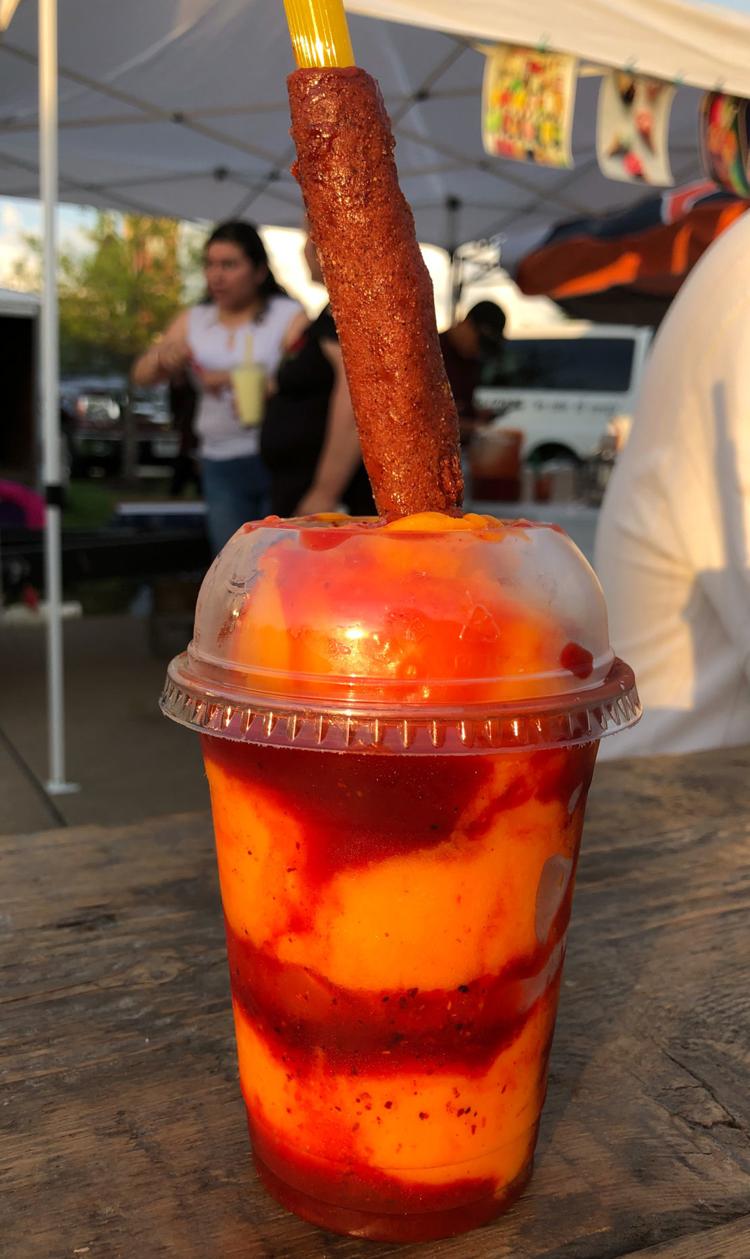 070319-mda-nws-fea-dinnertwo-mercado-006a.jpg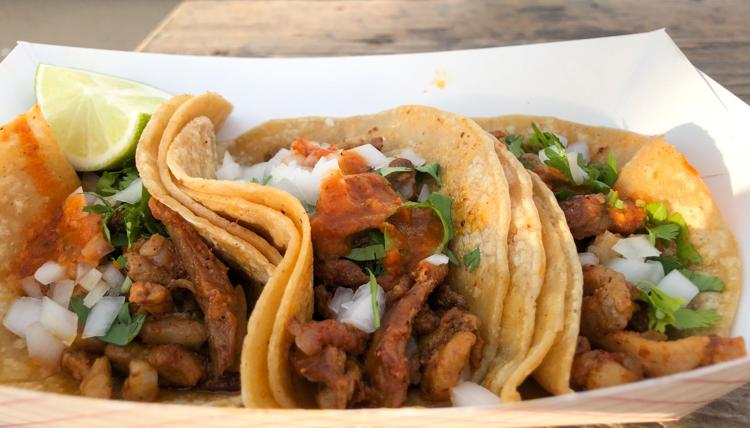 070319-mda-nws-fea-dinnertwo-mercado-010a.jpg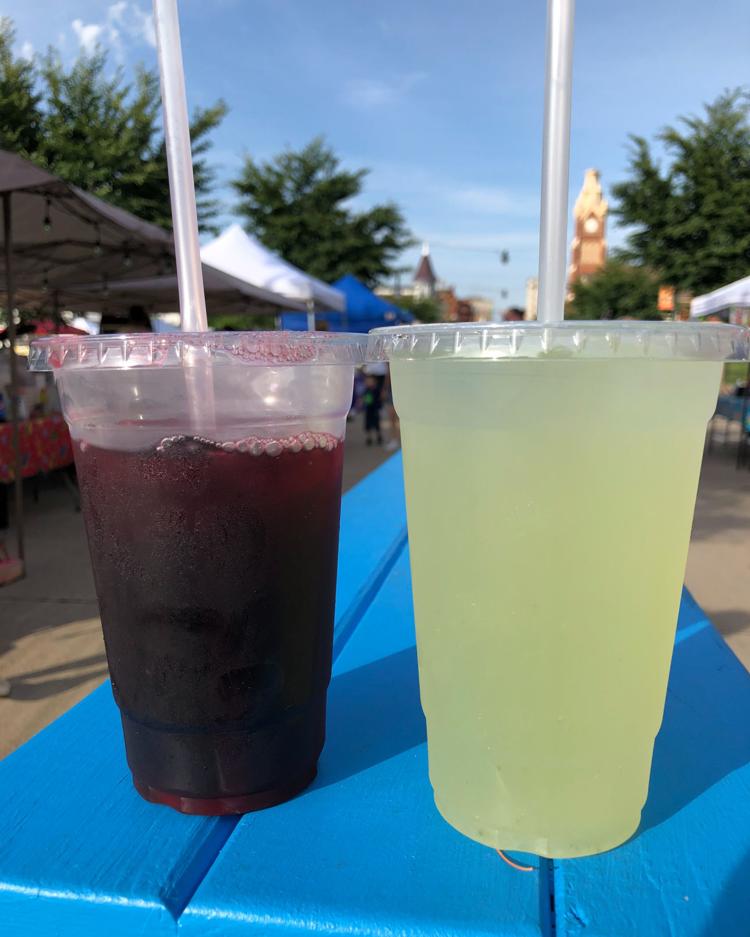 070319-mda-nws-fea-dinnertwo-mercado-005a.jpg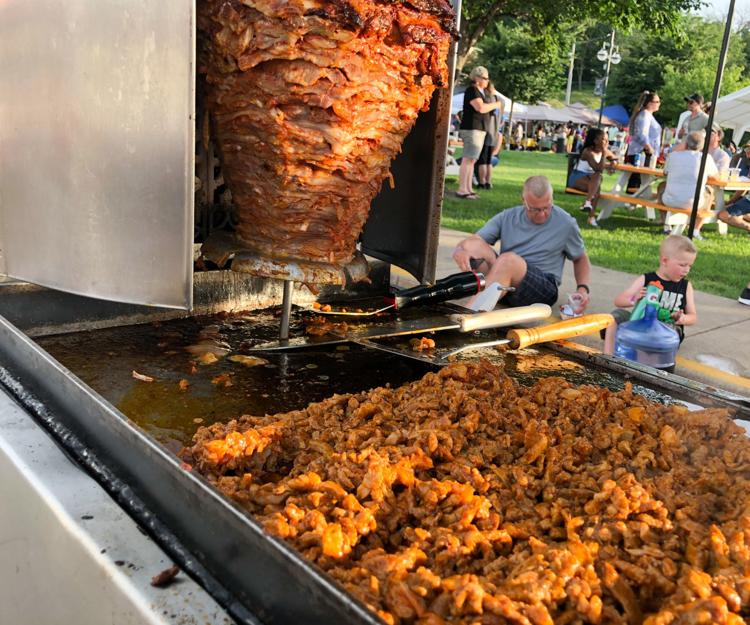 070319-mda-nws-fea-dinnertwo-mercado-003a.jpg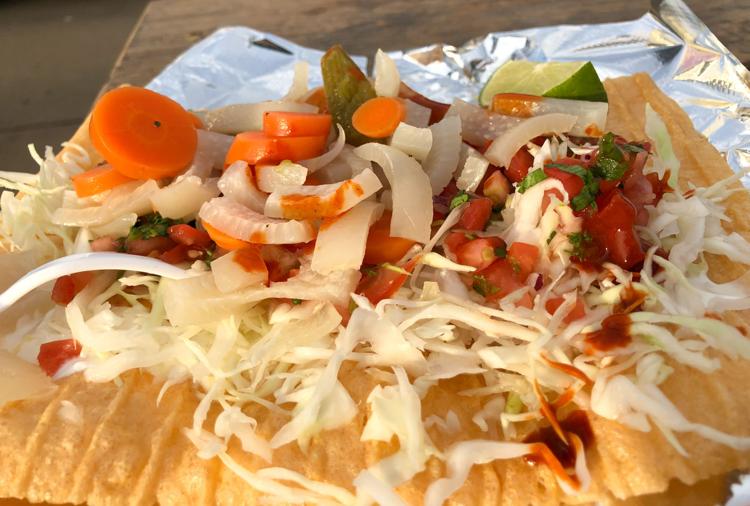 070319-mda-nws-fea-dinnertwo-mercado-001a.jpg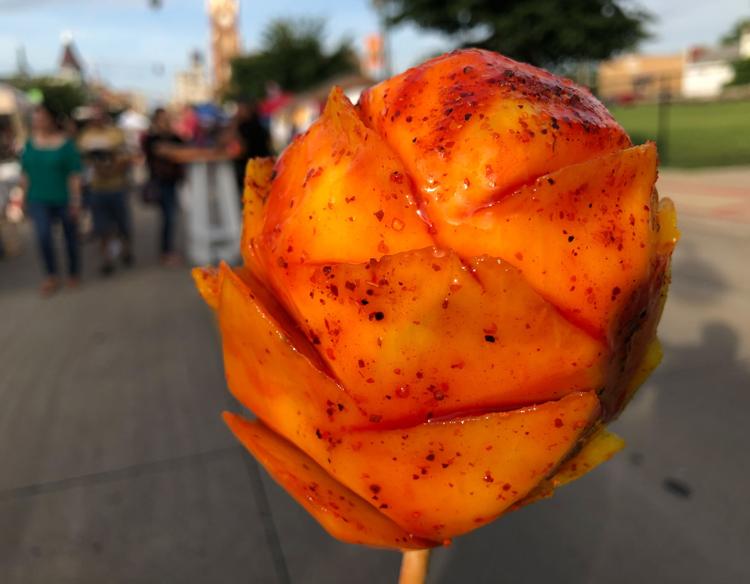 070319-mda-nws-fea-dinnertwo-mercado-004a.jpg
070319-mda-nws-fea-dinnertwo-mercado-009a.jpg