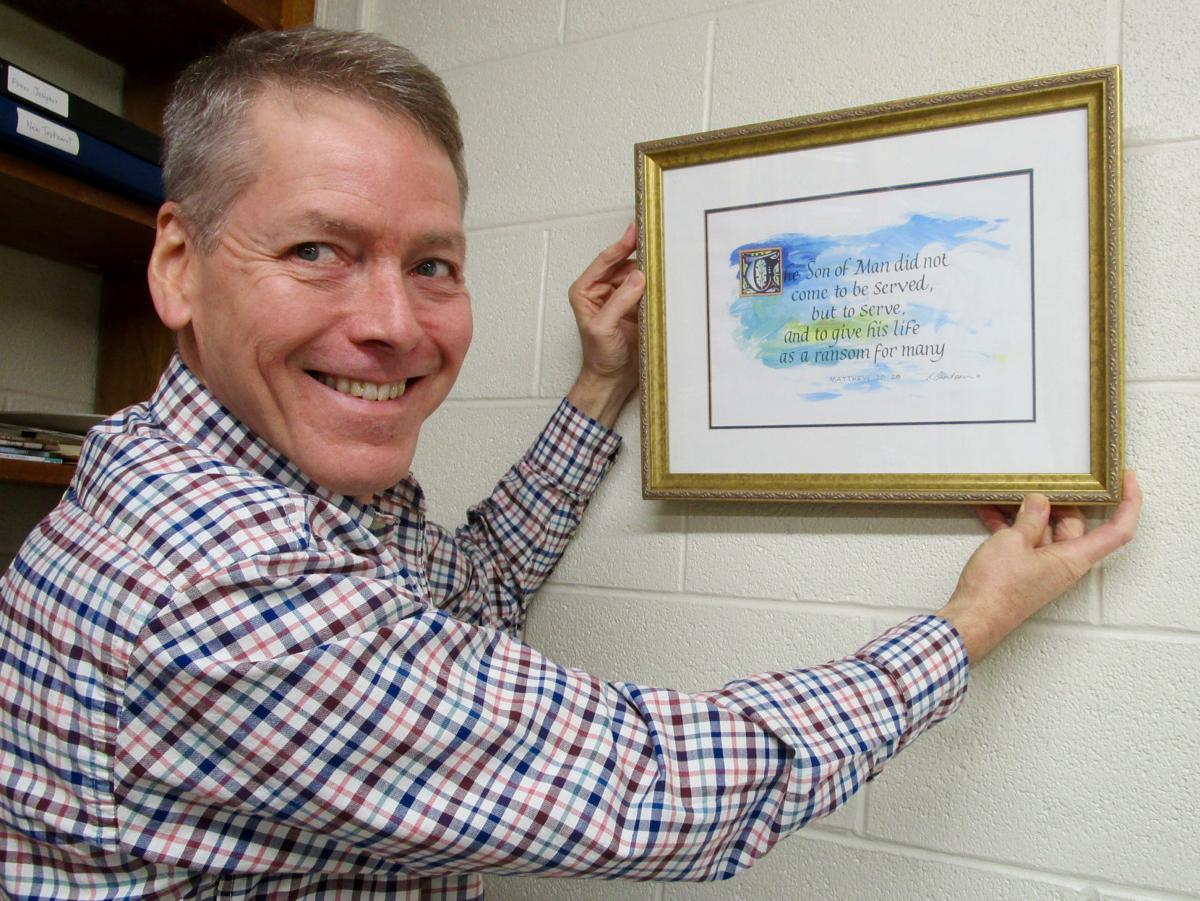 COAL VALLEY — The Rev. David Anderson still is looking for the perfect spot to hang a painting of the scripture in Matthew 20:28 in his new office at Trinity Lutheran Church.
He recently was called to serve as pastor at the Coal Valley church and said, "Several years ago I commissioned a local artist to create a painting which featured the verse, 'The Son of Man did not come to be served, but to serve, and to give his life as a ransom for many,' and I'm still looking for the right spot in my new office to hang it."
Anderson may be familiar to those who grew up in Milan. He is the son of Lyle and the late Nancy Anderson, and during high school and college, he worked at the family business, Anderson & Mandle Grain Company, which is now closed.
He was raised in a Christian home and said the two biggest influences in his life were his father and the Rev. Fred Skov, his pastor at St. Matthew Lutheran, Milan.
"They showed me what good Christian men are like."
He pursued the call to ministry in 1986, and after earning a bachelor's degree in history from Augustana College, Rock Island, where he graduated magna cum laude. Anderson attended Concordia Theological Seminary, Fort Wayne, Ind., and spent his vicarage year at Gethsemane Lutheran Church in Northglenn, Colo.
Anderson received a Master of Divinity Degree in May of 1993 and was ordained at St. Matthew Lutheran Church in Milan, where he had been confirmed.
He first served at Zion-St. John Lutheran Church, Beemer, Neb.
His longest service was at Beautiful Savior Evangelical Lutheran Church in Colona, where he was the pastor for 20 years, from 1999 until the congregation's closing in 2019.
In 2011, he accepted a call to serve as associate pastor at Holy Cross Lutheran Church in Davenport, through which he ministered part-time at the Lutheran East Side Mission.
In addition, Anderson served the Lutheran Church – Missouri Synod as the pastoral advisor for Elkhorn Valley Lutherans for Life; worked as a chaplain and instructor at the Quad-City area Christ Lutheran High School where he taught math, science, history and theology.
He also worked as an assistant to the president of Iowa District East of the Lutheran Church; attended two Synodical Conventions as a pastoral delegate and has served as a pastor filling a vacancy three different times; and worked part-time for Grace Lutheran Church, DeWitt, Iowa, making shut-in and hospital visits. He currently is the treasurer for the Rock Island Circuit of the Central Illinois District of the LCMS.
"I am honored to receive the divine call to serve as a full-time pastor at Trinity Church in Coal Valley," he said. "I deem it a privilege to serve God in His kingdom in this community."
The pastor said, "Real Christianity changes people for the better now and for eternity. It brings out the best in them now and forever."
The motto/mission at the Coal Valley church is "Teach Christ, Preach Christ and Share Christ," and Anderson said, "I wholeheartedly agree with and support their mission."
He leads services at 5:30 p.m. on Saturdays and at 9 a.m. on Sundays at the Coal Valley church, 2815 West 3rd St.; and at 11 a.m. on Wednesdays at Hope Creek Care Center, East Moline.
Be the first to know
Get local news delivered to your inbox!