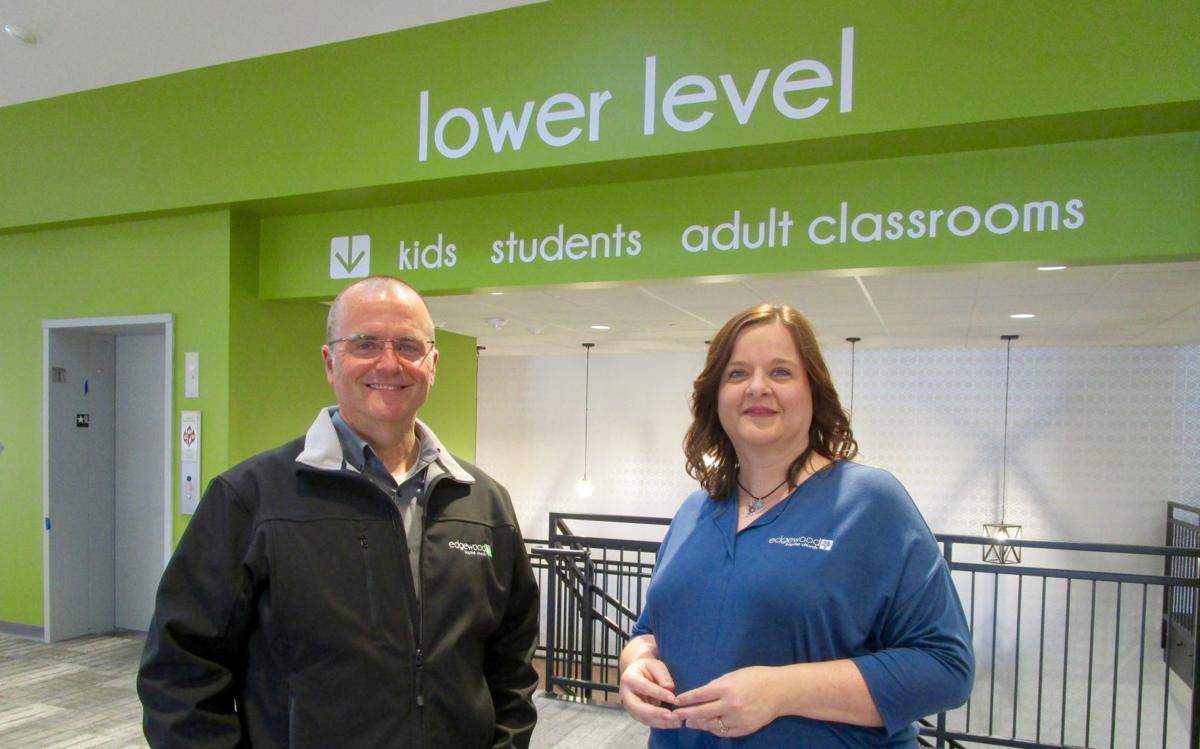 ROCK ISLAND — Two years ago the leadership and the congregation of Edgewood Baptist Church in Rock Island planted the seeds of "Grow Time," and their crop flourished.
The church will celebrate the bounty of their harvest, which includes a facility remodel and expansion, during the dedication weekend Saturday, Nov. 16, and Sunday, Nov. 17.
Public is invited to the celebration, which includes 5 p.m. services on Saturday, Nov. 16, and 9 and 10:45 a.m. services on Sunday, Nov. 17. The occasion also marks the first weekend of new service times.
Theme of the remodeling and expansion, "Grow Time," emphasizes 'Grow in Faith; Grow as Family and Grow our Future.'
The Rev. Brian Bill, senior pastor at Edgewood, said, "Our main emphasis has been to improve and expand our nursery and children's area, to create additional space in the worship center along with enhancements to our seating, sound, video and lighting, and to establish additional connection space in the lobby for fellowship and conversation."
The $5 million-plus project includes improved and expanded space for young families, including a secure nursery and children's area; additional space in the worship center to enhance the seating and solve the overflow issue, sound, video and lighting; and additional space in the lobby for fellowship and conversation.
Ground was broken on the project in October of 2018.
The remodeling and expansion also included installing a full-size elevator and a wide staircase for easy access to the lower level; signage and 'way-finding' to help people navigate the facility; more rooms available for Sunday Growth Groups; increased security in the children's wing; additional and more functional restrooms; putting all staff offices in the same area; and additional parking with new entrances and exits to 38th St.
In addition to more parking, the church also has more space for connecting and fellowship with a coffee café.
The pastor said the ultimate goal of "Grow Time" was not the expansion of church facilities, "but for growth in our faith as we trust God to expand and renovate our hearts and lives. As Hebrews 11:6 says, 'And without faith it is impossible to please him ...' "Grow Time" is all about faith raising, not fundraising. As God stirs each of us individually and awakens us to take our next step, we hope to see Him do amazing things."
As each member of the congregation grows individually, the pastor said: "We will see greater growth in our church family. When all of us move from 'me' to 'we,' we recognize we're part of something much bigger."
"Since we are a multi-generational church family, we can leave a legacy of faith along with expanded and renovated facilities for the next generation," he said. "This will allow us to give toward something that will impact those who will live beyond us. In a very real sense, this is a way to leave a legacy to the younger generation and further God's kingdom."
Edgewood Baptist Church has been a part of the Quad-Cities since 1905.
"Its mission is to equip people to reach their full potential in Christ," Bill said. "Edgewood remains 'on mission' by using these four words to keep their focus: Gather, Grow, Give and Go."
"Buildings don't change lives, but what happens inside does," he said. 'We're not interested in building a monument or a museum — we are a hospital for sick sinners and a place of grace for those out of place."
Be the first to know
Get local news delivered to your inbox!