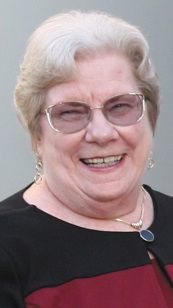 July 16, 1943-October 18, 2019
MOLINE — Sandra A. "Sandy" Resch, 76, of Moline passed away Friday, October 18, 2019 at Unity Point Trinity, Rock Island.
You have free articles remaining.
A Mass of Christian Burial will be 10am Wednesday, October 23, 2019 at Christ the King Church, Moline. Visitation will be 4-6pm Tuesday at Rafferty Funeral Home, 2111-1st St A, Moline. Burial will be at Greenview Memorial Gardens, East Moline. In lieu of flowers, memorials may be made to the American Heart Association.
Sandy was born July 16, 1943 in Moline, the daughter of Marvin and Bonita (Diehl) Robertson. She married Joseph J. "Jack" Resch on November 9, 1963 at Sacred Heart Church, Moline.
Sandy loved crocheting, playing Euchre, puzzle books and especially loved spending time with her family and friends.
Survivors include her husband, Jack; children, Cheryl (Ken) Ricca, Groveland, IL, Jackie Resch, East Moline, Bill (Kristi) Resch, Rock Island and Wanda Resch, Milan ; grandchildren, Alyssa, Brandon (Sareh), Cody, Christian, Liam, Brittanie and Amber; 3 great grandchildren and sister, Diana (Brian) Lovett, Moline. She was preceded in death by her parents.