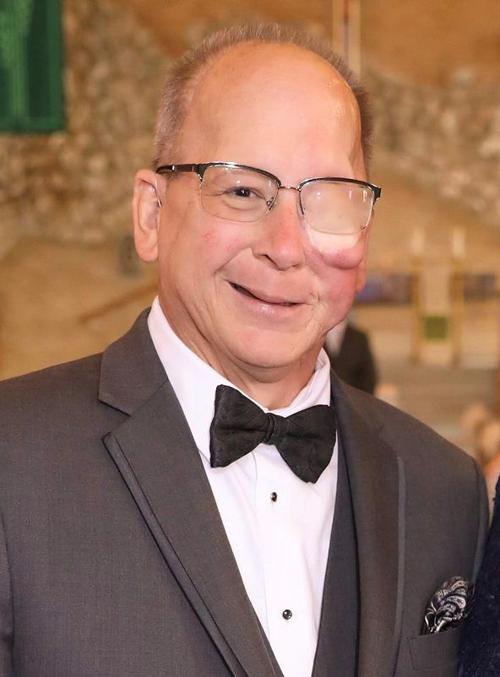 July 18, 1959-September 28, 2019
BETTENDORF — Mark E. Dilley, 60, a resident of Bettendorf, passed away peacefully Saturday, Sept. 28, 2019, at the Clarissa C. Cook Hospice House following a brave battle with cancer, surrounded by his loving family and with his faithful companion, Tucker, by his side.
Funeral services and Mass of Christian Burial will be held at 10 a.m. Saturday, Oct. 5, 2019, at Our Lady of Lourdes Catholic Church, Bettendorf. Burial will be at Mt. Calvary Cemetery, Davenport. A prayer service will be held at 3:30 p.m. with visitation following from 4 to 7 p.m. Friday, Oct. 4, 2019, at Halligan-McCabe-DeVries Funeral Home, Davenport. An additional visitation will be held Saturday from 9 a.m. until the time of the Mass in the Gathering Space at the Church. Memorials may be made to the Hope Lodge, Iowa City, Iowa, Our Lady of Lourdes Catholic Church Outreach Commission, Genesis Hospice or the Clarissa C. Cook Hospice House.
Mark was born on July 18, 1959, in Mt. Vernon, Ill., the son of Edward C. and Iona Kathleen (Grady) Dilley. He graduated from Mt. Vernon Township High School and Eastern Illinois University with a B.S. degree in Marketing. It was at Eastern Illinois University where Mark and Sue met; they were married on June 18, 1983. Mark and Sue moved from the Chicago area to the Quad-Cities in 1990 to open a branch for Fleet Mortgage. In the fall of 1994, Mark started working for Meridian Title Company, continuing his work in the mortgage banking real estate industry. Mark created strong professional relationships which developed into friendships. His professional affiliations included the Quad City Area Realtors as an Affiliate Member since 1990.
He was highly respected as a man of integrity with strong business ethics. He was quick-witted and always ready with a smile. He had a kind, gentle soul and was a friend to all who knew him. Growing up, Mark shared the love of fishing with his dad, Edward. This love of fishing continued right up until he no longer had the strength to walk to the edge of the water. He enjoyed the outdoors and spending time with his family. He was an avid Subaru enthusiast, who enjoyed following the drivers in the Subaru Road Rally. He loved dusting off his turntable and playing his vinyls.
Mark was an active member of Our Lady of Lourdes Catholic Church, including involvement in the Pastoral Council, 8:30 Mass Choir, CEW (Lay Director in 2007), a member of the Knights of Columbus Council 15430 and a past Cub Scout Leader. He was active on the Deerbrook Neighborhood Board of Directors, serving as President.
Mark is survived by his wife of 36 years, Sue (Wator); their children, Kathleen (Kevin) White, Nicholas, Eric (fiancée, Dalani), and Joseph. He is also survived by his mother, Iona Kathleen Dilley, Mt. Vernon, Ill.; sisters, Nancy (Brett) Gibbs, Mt. Vernon, Ill., and Carol (Chris) Jaudes, Maplewood, N.J.; mother-in-law, Ann Wator, Frankfort, Ill.; sister-in-law, Diane Vanderpool; and brothers-in-law, John (Vicki) Wator and Jim (Joan) Wator; many cousins, nieces and nephews. He also leaves behind an abounding number of friends, including his dear friend, Trino Leon.
He was preceded in death by his father, Edward C. Dilley; his father-in-law, John J. Wator; his grandparents, aunts and uncles.
The family would like to extend a special thank you to the nurses and staff of Genesis Hospice and the Clarissa C. Cook Hospice House, his medical team at the University of Iowa Hospitals and Clinics, and to everyone who has come alongside and marched with Mark on his journey.