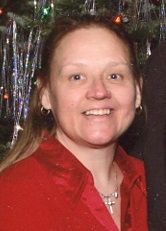 February 5, 1962-August 3, 2019
MOLINE — Kimberly L. Woodrum-Barrett, 57, of Moline, passed away Saturday, Aug. 3, 2019, at her home.
A Celebration of Life service will be held at 3 p.m. on Friday, Aug. 16, at Wheelan-Pressly Funeral Home, Rock Island. Visitation will be from 2 p.m. to service time at the funeral home. Memorials may be left to the family.
Kimberly was born on Feb. 5, 1962, in Moline, the daughter of John and Judy (Bunch) Woodrum. She married Jamey Barrett in October 2003.
Mrs. Woodrum had formerly been employed by the State of Illinois Child Support Enforcement Division.
You have free articles remaining.
More than anything else on earth, Kim loved the men in her life and her family.
Survivors include her husband, Jamey; sons, Jeremiah Barrett, Jesse Barrett; father, John Woodrum; and brother, Ty (Julie) Woodrum. The other male in her life was her beloved Golden Retriever, Poco.
Kim is also survived by brother-in-law, Jeff Barrett; and sister-in-law, Jerri Bird (Tim Goodnight); niece, Josie Woodrum; and nephew, Josh Bird.
She was preceded in death by her mother, Judy; grandparents, Nida and Earl 'Hickem' Bunch, Pauline and John Woodrum; in-laws, Dorothy and Ralph Barrett; grandmother-in-law, Cora Mowell.
Kim lived a life full of love and compassion, caring and generosity, sharing joy with everyone she met. She preferred spending time with her family, gardening, reading, camping, fishing and doing whatever brought others happiness.