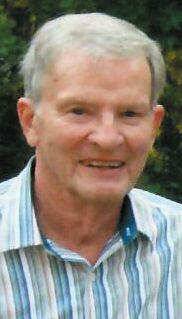 September 12, 1926-October 18, 2019
ROCK ISLAND — Kenneth R. Peterson, 93, of Rock Island, died Friday, Oct. 18, 2019, at home. A funeral service will be 11 a.m. Tuesday, Oct. 22, 2019, at First Lutheran Church, 1600 20th St., Rock Island. Visitation will be from 10-11 a.m. Tuesday at church. Burial will be at Memorial Park Cemetery, Rock Island. Memorials may be made in care of First Lutheran Church, Rock Island, or Junior Achievement. Wheelan-Pressly Funeral Home and Crematory, Rock Island, is assisting the family.
Kenneth was born Sept. 12, 1926 in Moline, a son of Philip and Albertina Carlson Peterson. Following high school, Kenneth joined the U.S. Navy. He married Betty Stout on June 2, 1951, at First Lutheran Church, Rock Island.
You have free articles remaining.
Kenneth retired as a senior engineer from Deere Harvester in 1982 after 35 years. He spent three years in the expat program, which placed him and his family in Zweibrucken, Germany.
Kenneth was a lifelong member of First Lutheran Church, Rock Island. He was a proud volunteer of Junior Achievement. Kenneth enjoyed traveling with Betty and wintered for many years in Florida. He loved to play golf and tennis.
Those left to cherish his memory include his wife of 68 years, Betty Peterson, Rock Island; children, Kathleen Peterson, Columbia, S.C., Linda (Warren) Hartmann, Peoria, and Craig (Cherie) Peterson, Rapids City; grandchildren, Julia and Caroline Hartmann, Patti (Barry) Nord, Jenni (Tom) Wallaert, Casey (Tanya) Peterson; great-grandchildren, Emma, Dylan, Kenley, Weston, Corey and Candice; and sister, Joyce Anderson, Rock Island.
He was preceded in death by his parents; sister, Dorothy Lund; and brothers, Donald and Keith Peterson.