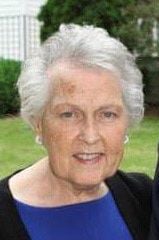 February 17, 1936-August 11, 2019
MOLINE — Jeanne Elizabeth Banfield, 83, of Moline, passed away Sunday, Aug. 11, 2019, at Clarissa C. Cook Hospice House, Bettendorf.
Funeral services will be held at 10:30 a.m. Thursday, Aug. 15, 2019, at First Lutheran Church, Moline. Visitation will be from 4 to 7 p.m. Wednesday at Esterdahl Mortuary & Crematory, Ltd., Moline. Burial will be at Rock Island Memorial Park. Memorials may be made to First Lutheran Church, Q.C. Animal Welfare Center or Quad Cities Pregnancy Resources.
You have free articles remaining.
Jeanne was born on Feb. 17, 1936, in Rock Island, the daughter of Ivan and Hilda (Mahan) Blue. She married Frank R. Banfield on March 7, 1953, at Union Congregational Church, Moline.
Jeanne was a member of First Lutheran Church. She previously worked as an inhalation therapist at Lutheran Hospital, then worked at Servus Rubber, and most recently in the cafeteria at Wilson Junior High. She enjoyed listening to music and attending concerts. She liked to spend her time decorating, making artwork and visiting museums. When her children were younger, Jeanne enjoyed attending their field trips and volunteering at their schools. Above all, Jeanne loved to be with her family.
Survivors include her husband, Frank; children, Denise (Dan) Bennett, Silvis, Dana (Debra) Banfield, Georgetown, Ky., Kevin (Monica) Banfield, Moline, Kara (Jon Vermeire) Banfield, Moline, Cheryl "Sheri" (Earl) Fangmeier, Shafer, Minn.; grandchildren, Chris (Stacy) Banfield, Greg (Jennifer Anderson) Webb, Josh (Lori Taylor) Webb, Amy (Kyle) Heydeman, Darcie Banfield, Dawn Banfield, Misti (Jim) Vignola and Ami (Joe) Cudd; great-grandchildren, Turner, Caleb, Zander, Landon, Lucas, Natalie, Max and Briahna.
She was preceded in death by an infant daughter, Debra; grandson, Chad; siblings, John Blue, Joanne Burbridge; two infant brothers, James Blue and Jerome Blue.