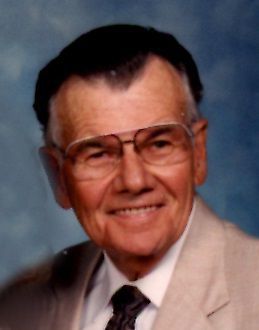 December 29, 1926-January 12, 2020
EAST MOLINE — George Cyriel Lambrecht, 93, East Moline, passed away on Sunday, Jan. 12, 2020, at Illini Restorative Care, Silvis. Funeral services are 10 a.m. Friday at Our Lady of Guadalupe Catholic Church, Silvis. Burial is in Rock Island National Cemetery, where the East Moline American Legion Post 227 will conduct military honors. Visitation is 4-7 p.m. Thursday at Van Hoe Funeral Home Ltd., East Moline, where a rosary will be recited at 3:30 p.m. Memorials may be made to Our Lady of Guadalupe Catholic Church, where he was a member, or to the Wounded Warrior Project of the Quad Cities.
George was born Dec. 29, 1926, in East Moline, the son of Cyriel Lambrecht and Bertha Goethals Lambrecht. He married the love of his life, Rachael Jackson Lambrecht, on Aug. 22, 1953, at St. Mary's Catholic Church in Rock Island.
You have free articles remaining.
George enjoyed golf. He learned the game as a young caddy working at Short Hills Country Club in East Moline. Of all the courses he played over the years, he stated that Short Hills was his favorite. He attended United Township High School where he and his high school golf team placed at state. After graduation, George enlisted into the U.S. Navy where he served for two years as a Gunner's Mate on one of the Navy's Landing Craft Support ships in the Pacific. After returning home from his service, he became a fire fighter with the East Moline Fire Department. He retired as the department's Assistant Fire Chief 25 years later. Over the years, George also sold hundreds of homes as a Realtor in the area. He loved his family and his country.
Those left to cherish his memories include his sister, Margaret Lambrecht Drobushevich; brother, Al Lambrecht; children, Joan Lambrecht Cook, Colona, John (Nicki) Lambrecht, East Moline, Dan (Valare) Lambrecht, East Moline, Dave (LaTres) Lambrecht, Silvis; grandchildren, Kevin Cook, Joe Lambrecht, Matt Cook, Jay Lambrecht, Scott Lambrecht, Marc Crawmer, Adam Lambrecht, Tyler Lambrecht, Jacob Lambrecht and Ariana Lambrecht; and 18 great-grandchildren.
He was preceded in death by his wife; parents; sisters, Helen Lambrecht Verstraete, Gabrielle Lambrecht Dopler; brother, Ralph Lambrecht; and daughter, Ann Lambrecht Hardin.
George's family wishes to express their thanks to Jan Grogan — George's daily caregiver — for the support and great care she gave him. Online condolences may be left for the family at vanhoe.com.
To send flowers to the family of George Lambrecht, please visit Tribute Store.