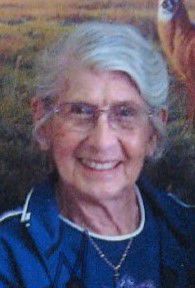 December 29, 1929-September 18, 2019
MOLINE — Betty Jane Roth, 89, of Moline, passed away Wednesday, Sept. 18, 2019, at Hope Creek Care Center, East Moline. A Memorial Service will be held for Betty at 11 a.m. on Tuesday, Sept. 24, 2019, at the Knox Chapel of Wheelan-Pressly Funeral Home and Crematory, 2106 7th Ave., Rock Island. Visitation will be one hour prior to services at the Chapel. Inurnment will be in Roselawn Cemetery, Moline. Memorials may be made to Grace Bible Church, Dallas City, Ill.
Betty was born Dec. 29, 1929, in La Harpe, Ill., a daughter of John E. and Della Mae (Harmon) Blythe. She married George Roth in June 8, 1957, in Rock Island. George passed away suddenly on March 24, 1973. Betty worked as a hairdresser for her whole career and never truly retired. She loved her job and was very fond of making people feel better about their appearance. Betty taught Sunday School in earlier years at Edgewood Baptist Church, where she was a member. She also was active in the PTA, serving as President for a time. Betty loved riding horses as a child. Later in life she enjoyed exploring her family history through genealogy and doing crossword puzzles.
You have free articles remaining.
Left to cherish her memory are her sons, Stephen J. (Cindy) Roth, Moline, and Gary (Jane) Roth, Salem, Iowa; 10 grandchildren; 21 great-grandchildren; sister, Mae Dell Tate, Dallas City, Ill.; and many extended family members and friends.
She was preceded in death by her husband, George; son, David; brother, John F. Blythe; and great-granddaughter, Jazmine.
The family would like to extend a special thank you to Maggie and her team at Genesis Hospice for their excellent level of care.