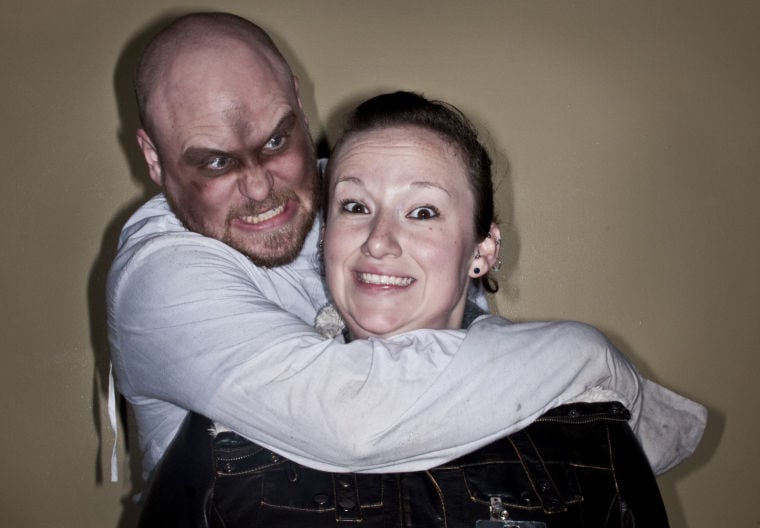 I could feel my heart pounding in my chest as I waited, ready to scream. Through half-closed eyes, I peeked down the hallway, trying to find a way out.
The strobe lights distorted my vision as a girl ran toward me, covered in blood. I let out a scream and stumbled backward. Another girl in a fur-trimmed hood followed. "Stay with me," she pleaded.
This bone-chilling moment at Torment at Twelve Hundred, Orion, along with many others, filled my head as I visited five Quad-Cities area haunts. Cringe along with me through each one, starting with the scariest and most creative:
1. Torment at Twelve Hundred, Orion.
The minute I pulled in, Iknew this haunt would be worth the drive from Rock Island. It's a good thing, too, because being the city slicker that I am, the ride out in the dark on the winding country roads was enough to have me sweating with anxiety.
If you check out this haunt, come early. An 8:30 Saturday night line would have you waiting for at least an hour. I felt like I was at Six Flags, waiting to ride the latest roller coaster.
After I paid, I was briefed on the zombies in the woods by "Sheriff Hole" before I was turned loose to the groundskeeper. Each character I met played his or her role perfectly and made me feel like I was actually about to experience something horrible.
The groundskeeper said I reminded him of his great-grandmother, then proceeded to point to "her" in a creepy old photograph.
After some back-story about the property, I reluctantly made my way through a few buildings and down paths in the woods that connected each. It was misting and chilly, adding an eerie feel to the night.
Characters, mechanical props and animals hiding in the buildings had me screaming words not suitable for print.
I don't want to give too much away; you'll have to check it out for yourself.
If you aren't too scared.
2. Terror at Skellington Manor, Rock Island.
Owned by the couple who ran the former Terror in the Woods, the enormous old building makes a perfect setting for a spook house. From the minute you walk in to the very end, stay on your toes. Even if you anticipate something coming, it'll still make you jump.
This house had it all: an insane asylum, creepy clowns, the most realistic Freddy Krueger I've ever seen (and I've seen quite a few), coffins, body bags, saws, a cemetery, real caskets and more.
I tiptoed through and, at some point in the house, came to a room full of mirrors. A woman with long hair and creepily painted face swooped in, tilting her head to the side as she examined me. I never know what to do in these situations. Do I stand still and let her look me over? What do I say? Do I say anything? Should I move?
So, I said the first thing that came to my mind:"Your hair smells good," and laughed, nervously.
"Your eyeballs smell good," she said before asking if she could taste them. What do you say to that?
Throughout the house, elaborate displays boasted mechanical contraptions, dummies and real people. But the fakes look so real, I'd saunter along and, bam! Not fake.
So far, the haunt has had me peeking under the bed every night before Igo to sleep. If you think your nerves can handle it, check it out.
3. Q.C. Haunted Forest, Port Byron.
My windshield wipers squeaked as Idrove down the road to the site. As I turned into the parking lot, I could hear my tires crunch into the gravel.
I was in the middle of nowhere.
I walked into the brightly lit building and bought my ticket. I had my picture taken in front of a back drop that read "Crime Scene,"so they could "identify my body," as the lady at the ticket counter so eloquently put it.
Walking down the path to get to the beginning of the forest was as terrifying as the forest itself: pitch-black darkness in the middle of a corn field. The wind blew, the field rustled. I forced myself to keep my cell phone in my pocket -- the miniscule amount of light it emits would have lit the path just enough.
Plenty of twists and turns, rough terrain, and mini-mazes made from tarps filled the forest. One strobe-lit scene even had dangling body parts I had to walk through.
While the haunted forest put a creative spin on typical haunted housing, I hoped for more than a handful of folks in masks jumping out at me. Don't get me wrong -- I jumped a few times, but the haunt could use some more developed characters.
The teens in the group in front of me were sure screaming, though.
4. Backwater Gamblers' Haunted Hayrack Ride, Rock Island.
Turning down hot cider at the concession stand after I bought my ticket was one of the most difficult things I've ever had to do. But, I am a professional journalist, and I will not be swayed by delicious drinks that may skew my judgement.
I climbed onto the hayrack and got out of the chilly, windy air. The rack was covered with a tarp, blocking the wind and mist. We waited about 15 minutes for other riders to board, and then we took off.
The bumpy ride began, and the narrator began the tale of Deadwood, the "city" we were about to enter. The "city" had everything -- a creepy lady stirring a cauldron, a saloon, a sheriff, and a robber who tried stealing money from the rich folks of Deadwood.
While I'm a bit too old to have been scared, I was certainly entertained.
We traveled over a rickety bridge, took a gander at a creepy swamp, and a dead pop star even made a cameo.
This 15-minute ride makes for a festive, spooky night for children, and a relaxing ride for adults.
5. Field of Screams, Modern Woodmen Park, Davenport.
This local haunt has a lot of potential. I stood in line for nearly 45 minutes waiting to enter. Iwas glad when it was finally my turn to go in -- I was ready to scream, and we were standing in the rain.
Inside, I traveled through dimly-lit hallways and tiny decorated rooms. Perhaps I went on an off night -- Icouldn't find any reason to scream. Sure, there were chainsaws, plenty of characters wearing masks jumping out and yelling, and one elaborate costume of what appeared to be a dead Captain Hook, but I just couldn't get scared.
Soon, I got stuck in a dark hallway with the couple ahead of me. "Where are we supposed to go?"the gentleman in front of me said to one of the characters. Icouldn't hear the response, but the man in front got frustrated. "Ican't see," he said.
After some comments Icouldn't make out, the character said, laughing, "You paid 10 bucks to see me."
This was the only time I was truly afraid. If the man tried to get at the character, he'd have to mow me over first. And, because it was so dark, who knows what crossfire I would have been caught up in.
I heard screams throughout the house, so perhaps my skin is too thick. This haunt would be great for teens and children, but maybe not so much for adults.
-- Torment at Twelve Hundred, 7 p.m.-midnight Friday and Saturday, 5030 N. 1200th Ave., Orion. Not recommended for 12 and younger. (309) 945-5237; tormentwelve.com. $12.
-- Terror at Skellington Manor, 7-10 p.m. Thursday, 7 p.m.- midnight Friday and Saturday, 420 18th St., Rock Island. skellingtonmanor.com/terror. $12.
-- Quad City Haunted Forest, 7-11 p.m. Friday and Saturday, Adventure Quest of the Quad Cities, 3501 207th St. N., Port Byron. qchauntedforest.com. $12.
-- Backwater Gamblers Haunted Hayrack Rides, 7-10 p.m. Friday and Saturday, 44th Street at the Rock River, Rock Island. backwatergamblers.com. $5.