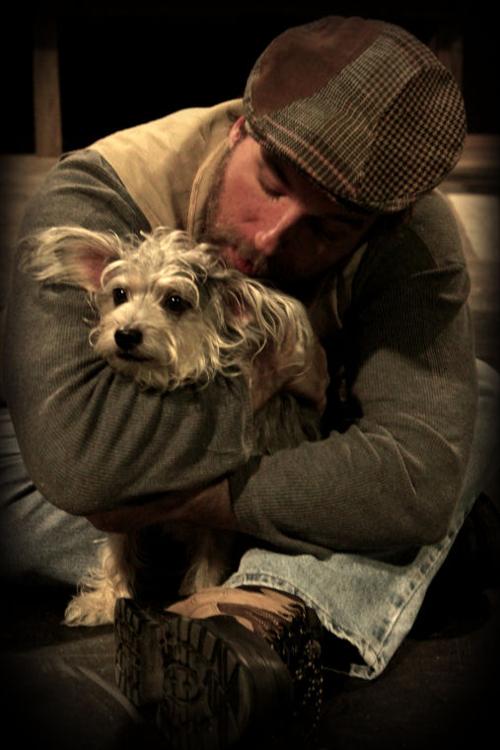 There is much to love in the passionate new production of Shakespeare's "The Two Gentlemen of Verona" from Prenzie Players.
Kicking off their 12th season, the Prenzies open with the Bard's first play -- believed to have been written between 1589 and 1592 -- which includes many elements theatergoers recognize from his later, more famous plays, such as cross-dressing disguises, madcap comic servants, witty banter and absurd love triangles.
Like much of Shakespeare, the story and characters are bursting with life and emotion, with nothing held back.
In the light, breezy "Two Gentlemen," young Proteus bids goodbye to Verona and his love, Julia, to join his lifelong friend Valentine in service of the Duke of Milan, where he immediately falls in love with Valentine's beloved, Silvia. Romantic and bromantic chaos ensues, naturally. Julia, disguised as a boy, travels to Milan and is employed as Proteus' page, where she finds herself in the position of being the liaison between her boyfriend and his new girlfriend. Awkward.
As with many exhilarating Prenzie re-interpretations, the actors are in fairly modern dress (I really like Stephanie Moeller as the page Speed in an Annie Hall-like ensemble with sneakers, vest, tie and beret), but maintain the rapid-fire original dialogue.
With "Two Gents," we've not only got the intertwining love's labors of the titular young guys and the fiery, outspoken objects of their affection, but there's a difficult, demanding father, a nerdy rival, a band of three crazy, sword-wielding outlaws, a maiden held in a tower, and a clownish, perceptive servant and his dog (who fetches the show along with some frequent treats from his master).
Cole McFarren, as the appropriately named Valentine, and Joey Curtiss as Proteus are convincing as best buds, in thrall to the vagaries and whims of youthful ardor. Ms. Moeller gives infectious, apt energy to the scampering Speed, with quick wit and sage advice for Proteus.
Shakespeare gives us hints that all's not well that ends with Proteus and his girl, Julia -- a stunning Maggie Woolley. In an early scene with her maid, Lucetta (a strong Kitty Israel), a conflicted Julia is concerned Proteus doesn't show his love, but when she gets a letter from him, she rips it up, then regrets it. With her flowing blonde locks, Ms. Woolley is high-strung, sensitive and mesmerizing to watch.
In Milan, both Valentine and Proteus fall for the spirited Silvia, played by a red-haired Catie Osborn. Unlike the other three impetuous main characters, the skeptical, good-hearted Silvia seems the only one with common sense. Ms. Osborn brings an unpretentious, down-to-earth honesty to the role.
As daughter of the Duke of Milan, Silvia's hand is very valuable, and she's also pursued by Turio (called a "foolish suitor"), played with a winning "how did I get in to this mess" charm by Andy Curtiss. Tracy Skaggs is authoritative, scheming and threatening as the grand Duke.
Proteus is equally conflicted (between Julia and Silvia), and Joey Curtiss brings a sympathetic nature to his internal debate.
As Proteus's servant Lance, Adam Michael Lewis runs away with the play with his trademark neurotic, frazzled demeanor. It helps that he's carrying along the crabby (but very cute) dog Crab, played with innocent, eager canine charisma by the extravagantly named Sgt. Leon Maxwell Edison VonPepper.
Mr. Lewis keeps the mutt on task, and corrals a female audience member on stage at one point for a funny scene. Mr. Lewis is always relatable, even when the poetic words he says are more than 400 years old.
The equally amusing Andy Koski has triple duty as the smug, confident Antonio (father to Proteus), the flamboyant Latin lover Eglamore in Milan, and an outlaw. With Ms. Israel and Denise Yoder, the trio of enthusiastic outlaws have fun with swords, and recruit Valentine to join them. Ms. Yoder has an especially delicious bit lusting after Mr. McFarren.
This adventurous trip to Verona and Milan -- directed by Andy Lord and the cast -- is well worth taking. For more information on the company, visit prenzieplayers.com.
-- What: "The Two Gentlemen of Verona"
-- When: Tonight through Saturday at 8 p.m.
-- Where: QC Theatre Workshop, 1730 Wilkes Ave., Davenport.