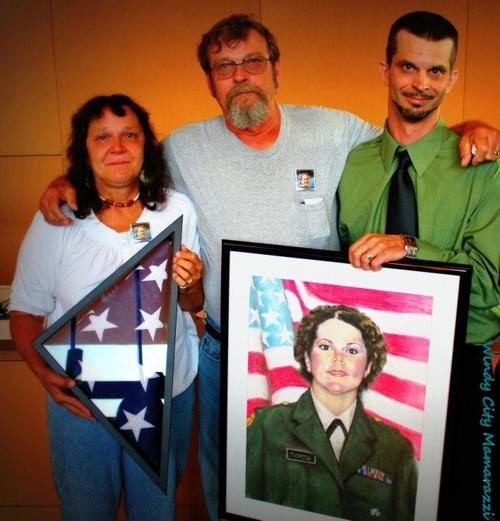 On Thanksgiving Day 2011, Mary Eve Thorson parked on the shoulder of Interstate 80/94 in northwest Indiana, got out of her Mercury SUV and walked in front of a semi truck barreling down the highway.
The 32-year-old Moline native's suicide shocked the small school district of Ford Heights, Ill. (south of Chicago), where she taught gym, and inspired a 2012 documentary -- "Dying to Teach: The Killing of Mary Eve Thorson, Educators Who Bully" -- by former Chicago teacher Myra Richardson.
She has received an outpouring of support nationwide since the two-hour film premiered last summer at Chicago's Beverly Arts Center, and has organized a Bullied Teachers' Forum & Protest Art Exhibit to take place this Thursday, Aug. 8, at The Keith House in Chicago, 1900 S. Prairie Ave., at 6 p.m.
The work of art called "Dying to Teach" will be unveiled at the event, a collaborative project made by concerned parents in dedication to bullied teachers – living and dead. Mary Thorson's family -- including parents John and Shari Thorson, of Moline -- will be in attendance.
"It's an issue that's not really been broached," Ms. Richardson said this week of teachers who are unfairly intimidated and bullied by school administrators. "It's so important and so serious."
"I continued to receive letters, some from teachers, asking me to please do something. So I thought I would give the teachers a forum, so they feel free to speak and can speak with the support of other teachers.This matter is no less serious than children who have taken their lives due to bullying; now, teachers are doing the same and it's tragic."
"The apathy surrounding this matter is shameful," said Ms. Richardson -- who learned about Ms. Thorson from a January 2012 Chicago Tribune profile. "But, I try to impress upon the public the fact that our children are in the crossfire as the abuse unfolds during classroom hours ... consistently. As a society, we are going to be affected by this -- either directly or indirectly. Without teachers, no individual living would have a profession. It's unfortunate that so many teachers have died and the topic hadn't been broached before Mary Thorson died."
"I wanted to extend my condolences to Mary's family, and asked if I could tell their daughter's story," she said. "I don't have a film background, but I thought it was necessary to tell her story. I spoke with teachers outside the state, hearing the same type of horror stories -- bullied either by their principal, or someone from the administration.
"I thought this was crazy -- teachers are afraid and teachers are killing themselves, and nobody is discussing it," Ms. Richardson said.
In a six-page suicide letter, Ms. Thorson wrote that her school was in deplorable condition, discipline problems were not being addressed, and teachers were being forced to alter student grades upward to make it appear they were complying with federal No Child Left Behind standards, to ensure federal funding, Ms. Richardson said.
Co-workers and friends told the Tribune that Ms. Thorson was deeply upset by her job and was worried she was on the verge of being fired. She had been suspended in April 2011 after allegedly striking a student and again a week before her death, records showed, for allegedly cursing at a student.
Her parents urged her to find a job closer to her hometown, or to go to graduate school, but she was attached to the children of Ford Heights, according to the Tribune. In the note, she spoke of her love for the children and her pain at their daily trials.
Ms. Thorson started her teaching career after an eight-year stint in the Army Reserve. She joined in 1998, just out of Moline High School, to help pay for college. Shewas the first in her family to graduate from college, Western Illinois University. She worked at schools in Chicago and Bellwood before taking a job in Ford Heights at Cottage Grove Upper Grade Center in 2008.
Ms. Richardson's documentary was requested by the Save Our Schools organization for their convention in Washington, D.C., last August, and on April 5, CBS 2 Chicago aired an interview with John and Shari Thorson about the continued impact of their daughter's tragic death on teachers across the country.
"It isn't often that you have an opportunity to walk in the shadow of greatness. This young teacher sacrificed her life for the teachers within District 169 and for the children," Ms. Richardson wrote in an introduction that accompanies the documentary online. "I don't believe Mary ever dreamed that she would touch so many lives ... even beyond death. I have never done a project of this magnitude in my life."
"My purpose in doing this documentary is to make the audience aware of what Mary had been subjected to within Cottage Grove Middle School," she wrote. "I want the audience to experience the indescribable loss suffered by her family. I want the audience to understand the fear which teachers contend with everyday in silence. I want the audience to be angry. I want the audience to feel that someone was taken away from them as well."
Be the first to know
Get local news delivered to your inbox!