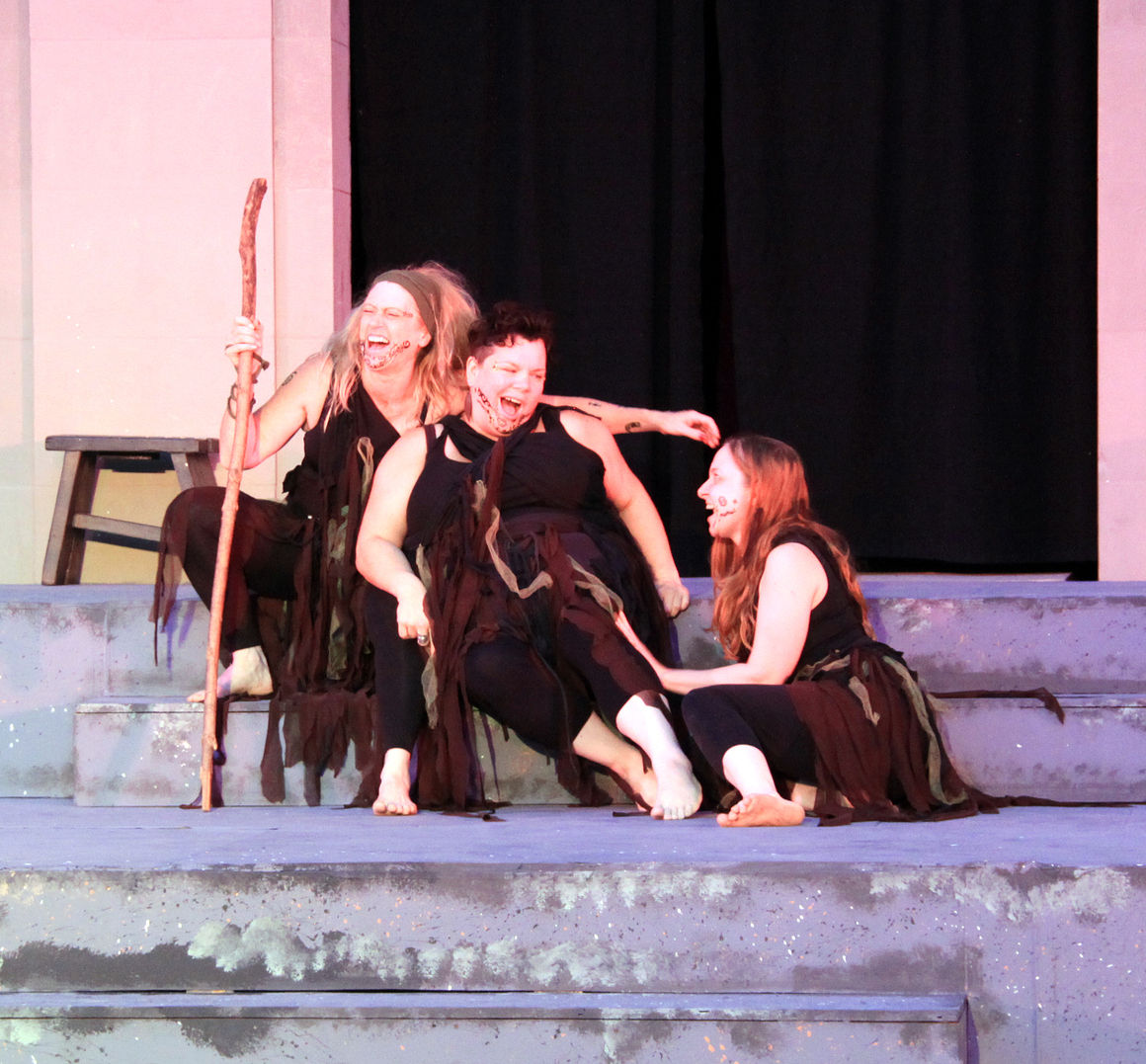 William Shakespeare knew how to set a stage with "Macbeth." All corners of this tormented, violent tragedy are different, and showcase suspense, drama, romance and mystery with a bit of comedy, as seen in the current production by the Genesius Guild.
The three witches played by Cait Bodenbender, Stephanie Moeller and Angela Rathman open Act I. They appear to be women but have beards and together create a hilarious scene by expelling odorous flatulence to each other. The only other comedy in "Macbeth" is Porter, played by Jake Walker -- otherwise this is a very dark play.
Macbeth (Todd Schwartz) and Banquo (Jason Dlouhy) encounter three weird sisters when returning from a victorious battle. The three witches gave Macbeth the honor of thane of Glamis, and second, the thane of Cawdor. In the Middle Ages, areas of land would be ruled by kings who would allow certain noblemen -- or thanes -- to own portions of the land in exchange for their service to the king.
Macbeth (who lived from 1005 to 1057, and ruled Scotland for 17 years) also was to become king. But in the play, the three witches prophesy that Banquo's son, Fleance (Gage McCalester) will reign as king of Scotland. Then the witches vanish.
Macbeth and Banquo meet the king's messenger (Alex McCarthy), and tell him the king is conferring him as thane of Cawdor, as the witches predicted, but he really wanted to be king as in the third prediction. Banquo doesn't want the same thing, because Banquo warned Macbeth he didn't want it, as it would cause betrayals that will lead to deeds of great consequences.
Sarah Ade Wallace is commanding in the role of Lady Macbeth. She displays the character of a cold-blooded killer as she is convincing Macbeth that they should be on the throne and the end will justify the means. Todd Schwartz plays Macbeth in quite a gripping manner. Mr. Schwartz delivers a convincing portrayal of a man with illusions of power and tormented by the knowledge of personal weaknesses.
King Duncan (Bob Hanske) arrives to the home of Macbeth with his sons, Malcolm (Jim Kent) and Donalbain (Jacob Lund), and gives Lady Macbeth a diamond. Mr. Hanske creates an atmosphere of imposing royalty with such a dominant voice.
The king and two grooms retire early while Lady Macbeth is plotting his murder. She intoxicates the grooms to blame them for the murder. Lady Macbeth fears Macbeth couldn't kill Duncan, so she attempts it but stops because he looked like her father as he sleeps.
After he shames Macbeth, he gives in and murders Duncan. After Duncan's sons flee for their safety, Malcolm to England and Donalbain to Ireland, Macbeth became king as predicted. There is much more death and powerful battles to come, and Macbeth sees the three witches again. They tell him to beware of Macduff, the thane of Fife played Andy Curtiss, don't fear anyone born of woman and don't be afraid of conspiracies until the wood of Birnam to Dunsinane Hill came against him.
The strong and convincing Genesius cast includes Michael Currie as Seyton, Emma Simmons as Lady Macduff, and Michael Hill as Lady Macduff's son.
"Macbeth" is a 409-year old lesson in how you shall reap what you sow. Genesius Guild's "Macbeth" will be staged again Saturday and Sunday at 8 p.m., in Lincoln Park, 1120 40th St., Rock Island. Admission is free. For more information, visit genesius.org.
Be the first to know
Get local news delivered to your inbox!