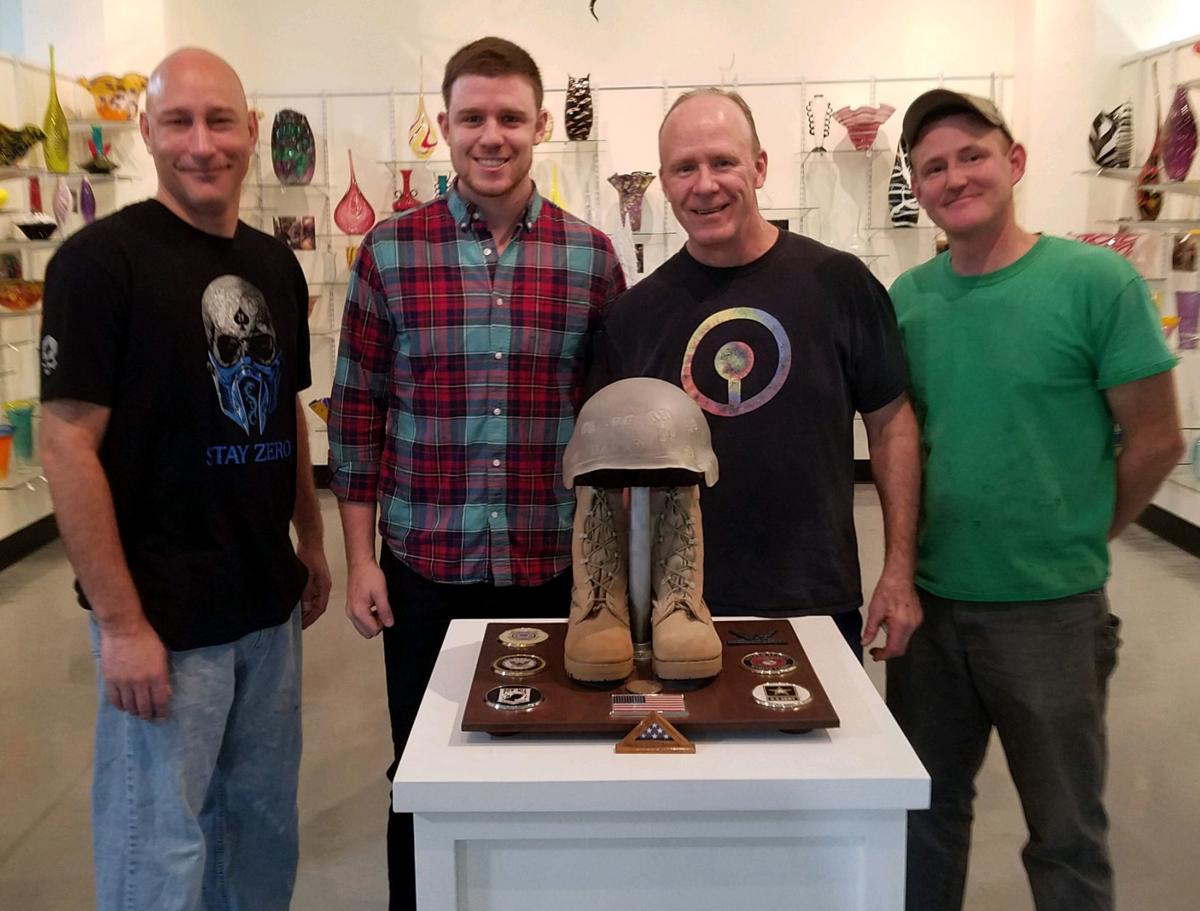 REO Speedwagon's "Ridin the Storm Out'' blasts from the vintage speakers.
A man in his late 50s, hobbled by a half-dozen football-related knee surgeries, fast-limps about the room, sporting the widest of grins.
Joel Ryser, the executive director of Hot Glass Inc. and one of life's truly good dudes, is nothing but smiles these days.
"When your dream becomes a reality and others believe in that dream — and there is great growth — there is reason to smile,'' Ryser said of Hot Glass Inc. (hotglassart.org), a nonprofit art-glass organization he founded in 2014 with his son, Logan, to promote team building and the arts.
"I stand here humbled by our expansion and those who helped take this far beyond my expectations,'' Ryser said. "I get to be part of something I have had a passion for and help others and give back. It has all the components you need.''
Ryser, the retired head of the art department at Moline High School, said Hot Glass came to life to join two of his passions.
It focuses on team-building skills and introduces the glass side of art to anyone willing to learn. He convinced his son, Logan, to join him, and they — with the assistance of many — have created a winner that is nestled along the Davenport riverfront.
Hot Glass Inc., Joel Ryser said, is a hands-on, nonprofit shop dedicated to the instruction, presentation, interpretation, collection, documentation and preservation of the contemporary glass art movement, with a special focus on team building. The goal since the Hot Glass doors opened has been to connect all sectors of the community and improve lives through glass art.
Today, after 48 months, Hot Glass has expanded from its original 1,200 square feet at 101 Western Ave., Davenport, to a 4,000-plus-square-foot hot shop, gallery and studio, with a state-of-the-art furnace and modern cooling room. "Same building,'' Ryser said, taking a break from a team-building discussion with his son. "But now we are in the back of the Davenport Printing facility, with room for everything we need. We have had that kind of growth. I knew we had something special, but I didn't think it would get this way in such a short time. And four years is really short period of time.'' Hot Glass will host a re-opening reception from 5 to 10 p.m. Saturday, Dec. 1, to thank the many individuals and groups involved in its success.The groups range from "John Deere employees to high school kids to the many veterans' organizations that have taken to our mission and understand our purpose,'' said Ryser, who carries a list of donors and volunteers with him everywhere he goes, worrying he might forget someone who has assisted Hot Glass along the way.
"So many people have stepped forward to make this work. So many people have experienced what we are about and shared a team-building experience with others who have told someone else. It's been amazing,'' said Ryser, a 25-year veteran of high school football coaching.
Ryser said one relationship in particular caught him off guard, but it has made a difference for Hot Glass.
"The folks from the Current Hotel have gone above and beyond,'' Ryser said. "They have pieces of our work in every room in the hotel. Each piece is for sale, and when a sale is made, we get a check to give to the person who made the piece. Talk about pride in your work. It's some amazing exposure for us.''
John Miller and Alex Stisser, two of the world's top glass artists, will be on hand for the re-opening gathering, Ryser said.
'It's like the perfect storm to get two artists of their quality to be part of the night,'' Ryser said. "To see them work up close will be a treat for everyone involved. I'd come just to watch them work.''
Though all is well in the Hot Glass world, Joel Ryser refuses to admire his good fortune for too long.
"It's like coaching in that you have to take it one day, one game, at a time,'' he said. "Today's a great day and we look forward to many more, but you just have to keep pushing and not get ahead of the mission. We just look forward to what we are doing and are grateful so many others see what we see.''