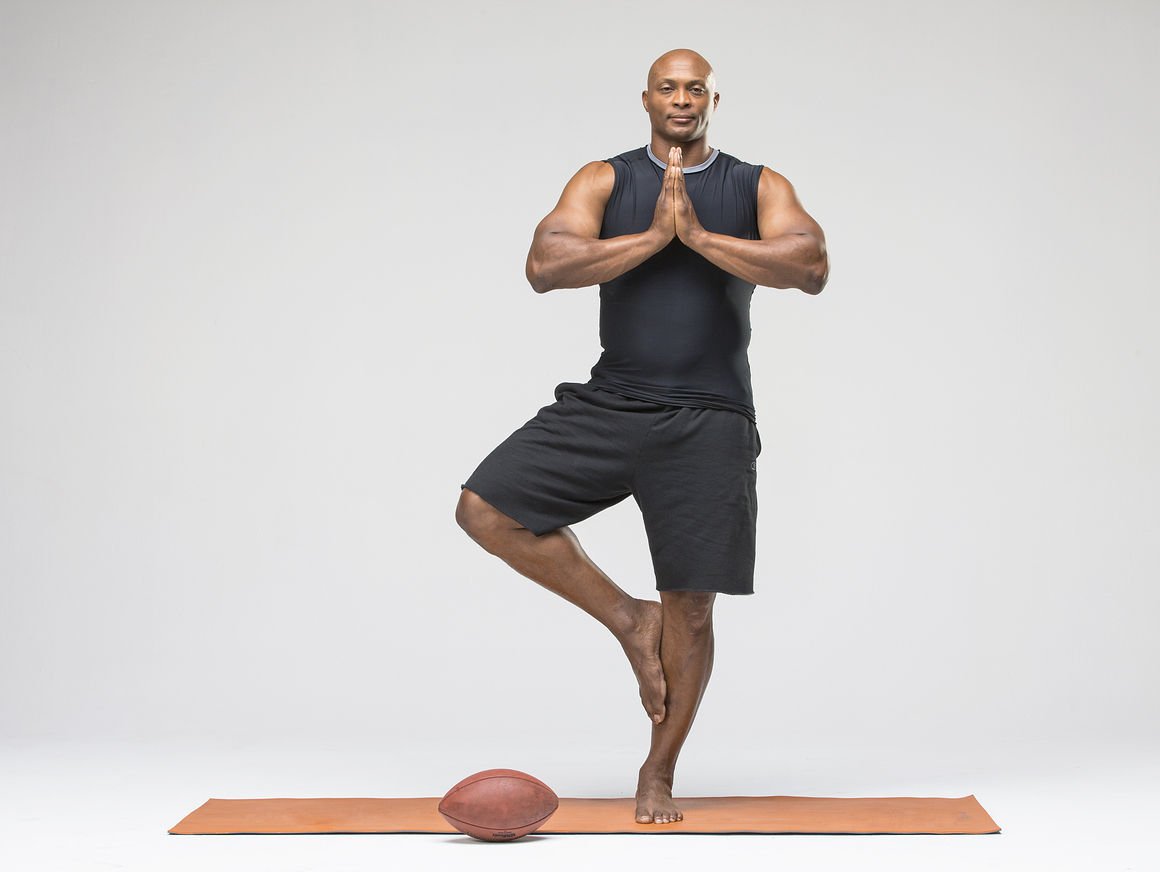 When it comes to weightlifting, former NFL running back Eddie George can press hundreds of pounds above his own weight, but he admits that the first time he tried yoga it crushed him.
"I couldn't hold my own weight up for more than a minute," says George, who went to a Super Bowl with the Tennessee Titans in 2000, rushed for more than 10,000 yards and never missed a game in his nine-year career. "I had muscles that I didn't even know needed to be stretched and conditioned and a traditional workout didn't offer that. I can do crunches all day long, but in yoga my core was challenged in a way that I never felt before."
According to industry statistics, more than 20 million people practice yoga, but traditionally only a small percentage of those people are men. George says that's changing. "Over the last decade, professional male athletes have even incorporated yoga into their training, including Lebron James," he says.
James, as well as the NBA's Kevin Love and Kevin Garnett, and Major League Baseball's Evan Longoria are just some of the athletes who have been outwardly vocal in practicing yoga. "The stereotypes aren't as prevalent as they were about eight years ago," George says. "Men are embracing the practice."
According to the American Osteopathic Association, the many physical benefits of yoga include: less chronic pain, lower blood pressure, reduced insomnia, increased flexibility, muscle strength and tone; improved respiration, energy and vitality; maintenance of a balanced metabolism; weight reduction; cardio and circulatory health; improved athletic performance; and protection from injury.
In addition to the physical benefits he felt from yoga, George says that he most appreciates the mental benefits of a yoga workout.
"I learned how to breathe by restricting any thoughts I've been holding," he says. "You become one with the breathing and get this clarity where you're able to focus and lock in the moment and be in the zone. To this day, I still use those methods in my life."
You have free articles remaining.
He remembers one time when he needed to take an exam for work and could feel the stress coming on. "I couldn't relax," he says. "I put the book to the side, got into yoga, relaxed and got the mental stress out. Because of the tools I used to relax my body and mind, I knew everything I had to do."
If you're new to the exercise, George says to check your ego at the door. "You might look at the guy beside you and he can put his hand underneath his feet, but you can't get yours past your ankles," he says. "It's your practice only. Work it through and embrace where you are right now."
Today, George's entire fitness routine includes yoga twice a week, weight training and stretching. "Before I get out of bed, I greet the day with side bends and twists," says the now 41-year-old. "When you're in your 20s, you don't have to work at your shape as much, but the older you get it catches up to you. As you get older, more stress happens it wears you down. It's important to make yourself a priority."
Even in his early college football days, Eddie didn't depend solely on his athletic accomplishments. He earned a degree in landscape architecture at Northwestern University in Evanston, Ill., and then went on to earn his MBA from the Kellogg School of Management at Northwestern University.
In 2003, he and a team of experienced professionals founded EDGE in Columbus, Ohio, a landscape architectural firm.
Today, in his post-NFL career, the self-proclaimed Renaissance man has taken his love of yoga and its benefits and partnered with yoga coach Kent Katich to create a "Yoga for Strength with Eddie George" DVD by Gaiam.
"When you start any yoga program, I'm not going to say that you'll see results in two, four or even six weeks, but you'll get out of it what you put into it," he says.
"I wouldn't worry about how you look on the outside at first. Practice it every day and gauge your success by the quality of your breath and how you handle stressful situations. Then you'll see physical benefits."