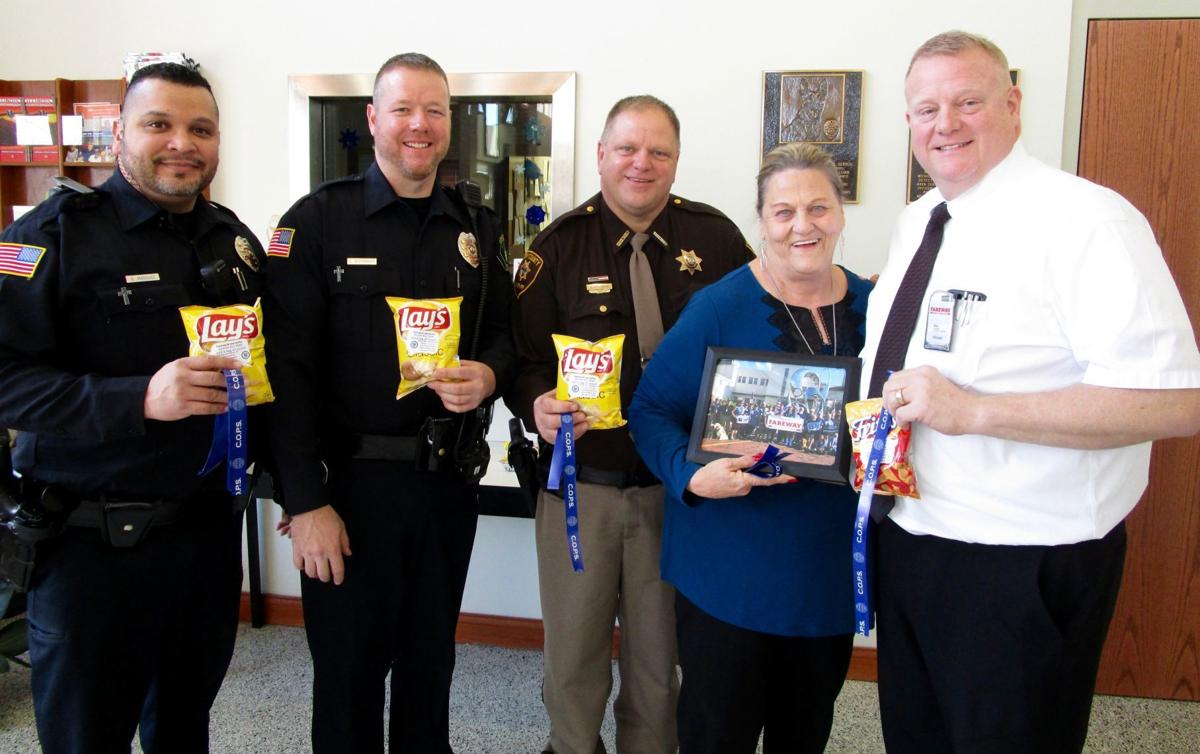 HOOPPOLE — Each year, on Jan. 9, Karen Wolf can be found at an area police stations handing out treats and expressing thanks to officers.
Jan. 9 is Law Enforcement Appreciation Day. Wolf represents the Illinois Chapter of Concerns of Police Survivors.
She unwillingly became eligible to become a COPS member when, on Aug. 28, 2015, her son, Chad, was killed while working as a Michigan State Trooper. His father, Lyle Wolf, is a retired Illinois State Police trooper.
An Annawan High School graduate, Chad Wolf was killed when he and the motorcycle he was riding were struck by a trailer driven by a Michigan man on Interstate 75 northwest of Pontiac. The man was later acquitted.
"Chad was on duty, and the man who hit him had just gotten his driver's license back," Karen Wolf said. "Chad was dragged for four miles before he was stopped.
"After Chad was killed, we were approached by Jennifer Morales, who organized the Illinois Chapter of COPS, to offer help," Karen Wolf said. "She told us about what COPS stands for and how they could help with free counseling."
Morales' husband, the late Marlon Morales, was a Washington, D.C., police officer fatally shot while on duty in 2001. Jennifer Morales now lives in Tampico.
Karen Wolf has been involved with COPS since her son's death. The group provides her with treats that she gives to police officers on Law Enforcement Appreciation Day.
"We want to let each officer know how much they are appreciated and how much we care for them," she said. "They sacrifice their family life and their own lives for us."
Last week, on Jan. 9, Karen Wolf and her friend, Laura Gerber, visited sheriff's offices in Henry and Rock Island counties, as well as police stations in Annawan, Colona, Geneseo, Moline and Silvis.
"Our organization wants to make sure the officers know we are here for them," Karen Wolf said. "In other words, we have their back covered.
You have free articles remaining.
"COPS is a very good support system," she said. "They provide camps for children of the survivors, free counseling, parent retreats and spouse and siblings retreats … so many ways to help the survivors heal."
The group also paid The Wolfs' travel expenses in 2016 when they went to Washington, D.C., for Law Enforcement Week. Fraternal Order of Police groups from throughout the U.S. honor fallen officers.
"They met us at the airport with buses for our transportation, and there were 50 policemen on motorcycles who escorted us to our hotels," she said. "Cars would stop when they saw the motorcade and bow their heads."
The event included a candlelight vigil, a memorial wall listing the names of fallen officers and a ceremony on the lawn of the U.S. Capitol.
"It was a hard time for me," she said, "because the ceremony on the lawn of the Capitol was May 12, and May 12 is our son Chad's birthday."
Wolf also has organized Chad's Chicks, a group of women who participate in a two-day, 25-mile COPS Walk Midwest in memory of fallen law enforcement officers. Each participant seeks pledges, with proceeds benefiting different COPS programs. For details on the walk, call 815-718-4738.
"I enjoy these walks each year," Karen Wolf said. "I have met so many moms and other survivors of officers, and bonding begins immediately."
Wolf also schedules an annual cookout at the Fareway store in Geneseo. This year's event is scheduled April 23.
Bill Lanphere, Geneseo Fareway manager, says the cookouts are popular events at the store, with volunteers from the benefiting organizations helping Fareway staff.
"We see the cookouts as a way to give back to the community," he said
Chad Wolf is survived by his wife, two sons and two daughters. During his time in Fenton, Mich., he also was a youth pastor.
"Being involved with COPS helps me cope with the death of our son," Karen Wolf said. "Without my faith in God, I don't think I would be able to accept Chad's death and I would be a bitter person. But I know Chad is with God."