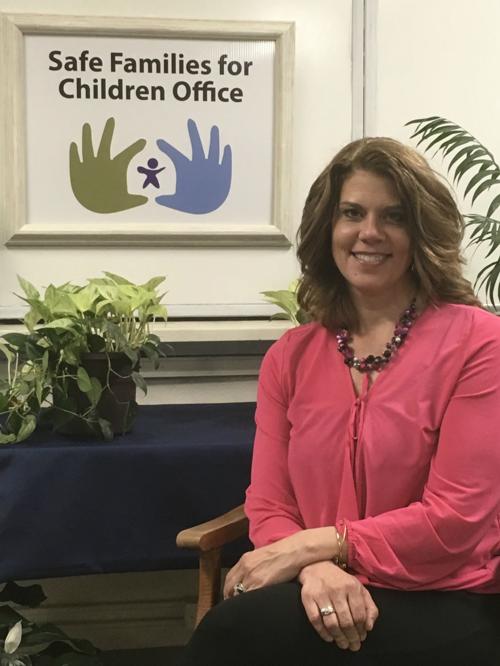 DAVENPORT — Children's safety is the top priority for the Quad-Cities Safe Families for Children Chapter led by Dollie Carpenter.
The chapter was founded in 2007 with a mission to surround families in crisis with a caring, compassionate community that includes a network of local churches and host families.
According to Carpenter, Safe Families becomes an extended family for at-risk children, taking them in temporarily and providing love and support until the biological parents get back on their feet.
There are about 78 Safe Families in the Quad-Cities, she said. On average, children stay with Safe Families for about two weeks. Volunteer families are screened and certified.
Carpenter says the program, funded by area churches and individuals, is in desperate need of help. She's the only staff member; she has two volunteers and two interns.
"We are always in need of more Safe Families who are willing to have children in their home on a temporary basis, and we also need 'family coaches' who serve as mentors for the families in crisis and spend time with the parents providing support and teaching them life skills," she said. "And we are always in need of 'family friends' who are able to help with financial support."
Carpenter said the ministry also needed volunteers willing to be "transporters," taking children to various activities. She noted the need for help, including transportation assistance, increases "tremendously" during the holidays.
"Holidays are stressful for families that struggle and, thankfully, they reach out to Safe Families for assistance," she said. "Safe Families is receiving support from Adventure Christian Community Church in Davenport this year in providing gifts for families that have been served throughout the year."
Carpenter is responsible for five counties: Scott and Jackson in Iowa and Rock Island, Mercer and Henry in Illinois. Most of the children — about 85 percent — are younger than 10, she said. Others are as old as 18, as long as they are in high school.
"Our vision is to create a world where children are safe and families transformed through radically compassionate communities," Carpenter said. She said she had seen God work through her to provide assistance and services when she could not see a way to help those in need.
"Numerous times, when the need for assistance is present, I have been shocked at the level 'believers' come through to help," she said. "I have had numerous times when a need is met that I did not see possible.
"I raise my hands in appreciation to God because it is only through Him that these needs are met," she said. "I am so blessed to be intimately involved in families' lives and I know it is not me, it is God providing when I see no humanly way."
She said her Safe Families work deepened her faith as "a piece of the process" to help families in need.
Safe Families is an alternative to foster care. Host families receive no compensation for caring for children, Carpenter said, and parents voluntarily have their children stay with the host families.
"The goal of Safe Families ministry is to offer support in a time of need and reunite children with their families in a stronger home environment," she said. "This temporary care for children in need gives parents time to establish stability in their homes."
Safe Families is not foster care. The children are not placed in the care of the state, and parents may have their children live with a host family as they face challenges such as postpartum depression, financial instability, acute illness or hospitalization, domestic violence, drug or alcohol addiction or incarceration.
She shared a tale of one mother and her three children who were living out of a van.
"The mother was ready to give up, as she did not have a job and was without money," Carpenter said. "She was helped through Safe Families."
Mike and Donna Westerlund, of Geneseo, said they became a Safe Family when both of their children went off to college. Having been involved in their children's activities for more than 20 years, they knew they were facing a void in their lives.
"We heard about Safe Families through our church (Geneseo Evangelical Free Church) and thought this might be a good way to use our time and our empty beds by becoming a host family," Donna Westerlund said.
The couple has hosted two children: an 11-year-old girl, who stayed with them for a short time, and a 6-year-old boy. Donna Westerlund is the Safe Families coordinator at Geneseo Evangelic Free Church.
"We see this ministry as a demonstration of the historic role of caring for orphans and widows," she said. "Our church family at Geneseo Evangelical Free Church supports this ministry with several others helping in the ministry by providing financial assistance and most of all by covering the families in prayer."