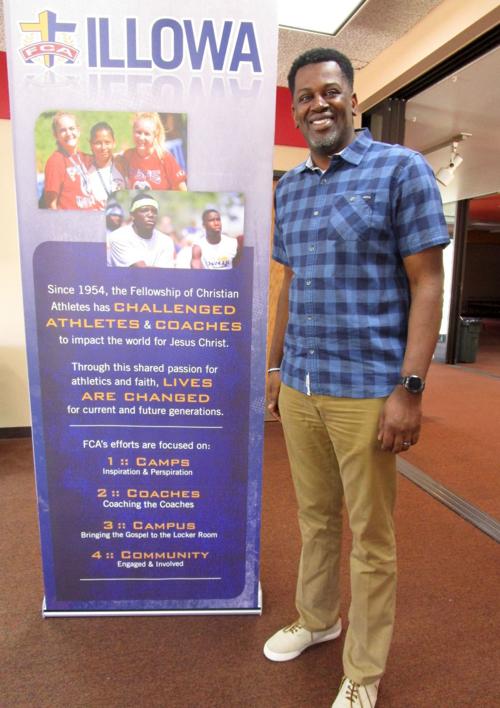 EAST MOLINE — Marc Polite left a secure job he enjoyed and moved to a position where he felt God was calling him.
After teaching for 10 years at United Township High School in East Moline — coaching for eight of them — Mr. Polite joined the Illowa FCA team as an area representative for the metro Quad Cities.
"I really poured all that I had into being the best coach, leader and mentor that I could for the kids that played basketball for me," he said. "However, my time ended there and I was not as successful as I desired, which really had me questioning a lot of things about my life."
After coaching, Mr. Polite remained a UT teacher but began to question what awaited him in life.
"I had been in prayer, really seeking clarity for what was going to be the next chapter of my life, professionally," he said.
That's when FCA director Dan Pearson called him to discuss plans to expand the local FCA staff.
"He wanted to know if I would be willing to come onboard," Mr. Polite said. "I have known Dan for a long time from his days at KWQC-TV. Our families hit it off right away, and that was a strong sign that God was pulling me in a different professional direction."
Mr. Polite said he decided to leave teaching for a job where he would have to "completely trust God."
"Part of the responsibility of joining the FCA staff is fundraising your salary every year," he said. "That can be a daunting task, looking at it with your natural eyes. But I truly believe that if this is what God has for me to do, He will supply every need."
About the same time, his wife, LaShonda, lost her job in the corporate world.
"She is quite an accomplished woman in her own right and has been very blessed to hold many prominent positions," Mr. Polite said. "So when I made the decision to move to FCA, she was really the safety net for our family."
Despite the loss of that safety net, Mr. Polite said he knew he needed to stay the course for what God had designed.
"Since making that tough decision, we have been blessed," he said. The fundraising has been a lot of work, he said, but God has blessed him and his wife, connecting them with people who believe in FCA and who have supported him financially.
He said his trust in God began in his childhood, growing up in East Moline, where he was blessed with parents who raised their family to understand God's role in their lives.
He said he also was blessed at an early age with a passion for athletics. He earned a basketball scholarship to Eastern Illinois University in Charleston, where he played for four years.
Mr. Polite said he was an FCA member while at United Township High School and that he learned how sports and God "were not mutually exclusive."
After college, he coached at EIU and Florida Gulf Coast University in Fort Myers, Fla. He then returned to East Moline as boys basketball coach at UTHS, where he helped to restart the FCA chapter.
As an FCA representative, he works with FCA "huddle groups" that meet at more than 20 Quad-Cities area schools. He's also building relationships with area coaches and administrators.
"We have quite a few exciting new ideas that we want to implement in the coming years that are designed to better serve our coaches and athletes," he said. "Another cool part of my job is that I get to travel to different schools and build relationships with people — sharing the good news of Jesus Christ while also meeting individual needs of coaches and athletes.
"Our mission with FCA is to see the world transformed by Jesus Christ through the influence of coaches and athletes," he said. "Our entire staff tries daily to live out our mission in the lives of the people we come across."
Be the first to know
Get local news delivered to your inbox!