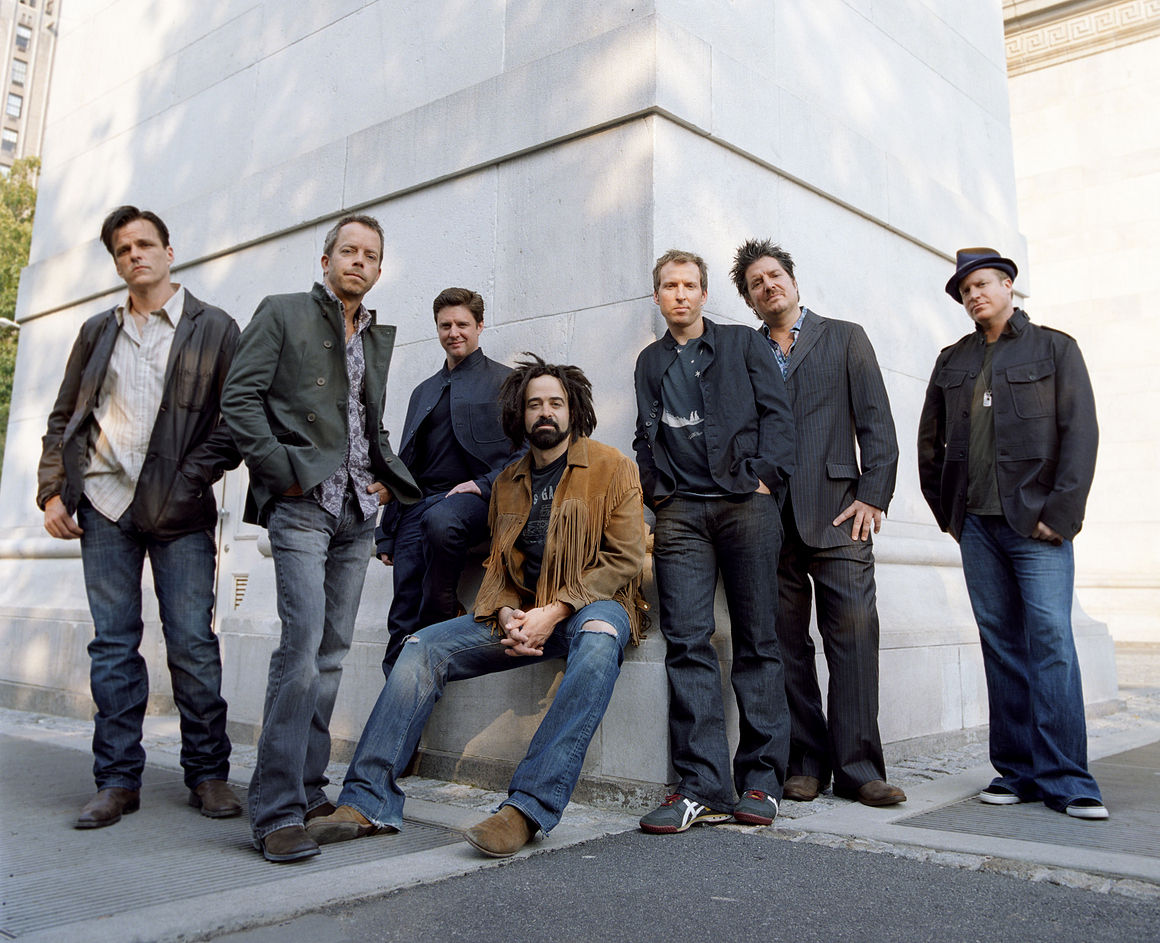 Counting Crows lead singer and writer Adam Duritz is counting his blessings this holiday season.
The 50-year-old Baltimore native -- to front his band this Tuesday at Davenport's Adler Theatre -- is winning raves on tour and on record. Counting Crows, which broke through with 1993's multi-platinum "August and Everything After," is promoting its soulful and intricate rock on "Somewhere Under Wonderland," the band's seventh studio album.
The Bay Area-bred alt-rock band push into new terrain with a revamped songwriting approach it calls "adventurous and visionary but still rooted in raw emotion," with "some of their most grandiose yet intimate songs so far."
"I had never written for anything but myself. That was the first time in my life I had ever written for anyone but myself," Mr. Duritz said of the new disc in a recent phone interview. "I found it's really important to communicate in song, how you feel about somebody or something, in a way that really moves people. Before, I thought that had to be very tied to my life, and it doesn't."
Collaborating on a new play (with acclaimed playwright Stephen Belber on the in-progress "Black Sun") and Counting Crows' 2012 covers album, "Underwater Sunshine" altered Mr. Duritz's approach.
"Doing the play, I wrote some of the best songs of my life, and they weren't just about me. I communicated as much emotion, and I didn't think that was quite possible," he said. "The covers album and my learning to write a little bit from a different perspective, opened up a different palette for me."
"This album sounds more like 'Underwater Sunshine' more than anything," Mr. Duritz said of "Somewhere." "That really affected this record. It's got some of the bounce of that record. It feels loose."
As the new record came to life, the band saw interpreting the work of other musicians helped expand their own songwriting and sound. "Singing other people's material and taking on different perspectives, we sort of stepped away from music being solely a vehicle to express whatever I was going through," Mr. Duritz said. "I started allowing myself to write about things I might never have allowed myself to write about in the past, and some really great songs came out of that."
Borrowed from a line in the album's quirky second track "Earthquake Driver," "Somewhere Under Wonderland" gives a nod to Hollywood's Laurel Canyon, which Mr. Duritz once called home. "It was kind of a place where I started over in life, and this record's somewhat about starting over too," he said. 
On "Palisades Park" -- "Somewhere Under Wonderland's" eight-and-a-half-minute opener -- the story centers on a fictional pair of friends stumbling into self-discovery in the violently changing world of New York City in the late'70s. "At turns exultant and heartbreaking, the piano-driven epic weaves in images of boxing legends Jack Johnson and Jim Jeffries, flying horses and pinball machines, Edie Sedgwick and angel dust — all while spinning an oddball romance ...," according to the band.
An October review of the new CD at popmatters.com said "Palisades Park" symbolizes Counting Crows' epic reach -- "... the band's ambition perfectly within the parameters of what they do best: piano-driven, old-guard rock with lush vocal harmonies and Duritz's vividly moving storytelling chops. Yeah, it eventually bubbles over into the type of pop you'd expect to hear from them, but this time, its parts allow its sum to feel fresher than its felt in decades. To call it sprawling would be an understatement of grand proportion."
"We're making much broader records -- fans knew, but the public at large is only exposed to very small portions of what we were doing," Mr. Duritz said in the recent interview. "I got tired of that. I really wanted 'Palisades Park' to be the first thing people heard. It's not going to get on the radio."
The band is coming off a successful European tour in November.
"That was pretty cool. We haven't toured in America since the record was released," Mr. Duritz said. "In Europe, they really responded to it. They knew every word to 'Palisades Park.' In the south of Europe, they don't speak English, but there we were, thousands of people, all singing 'Palisades Park.' "
A review of a June Florida concert in the Tampa Bay Times asked of the dreadlocked lead singer: "After all, any fan of the '90s roots-rock survivors knows all too frustratingly well, you're never sure which head-trip Adam you're going to get. Loopy? Lucid? Lackadaisical? Or locked in to each romantically quavering song with a moving, yelping gusto?
"In short: We got the last one, thankfully. The Crows, a hit-or-miss gang for sure, kicked off their summer tour with two hours of heart-swelling/heart-breaking goodness, the reason we fell in love with them -- and stayed in love with them," the review said.
"August and Everything After" -- which included the singles "Mr. Jones," "Rain King" and "Round Here" -- was produced by T Bone Burnett (former member of Bob Dylan's Rolling Thunder Revue and producer for many artists including Elvis Costello and Los Lobos), and sold seven million copies.
Counting Crows saw their sophomore album "Recovering the Satellites," produced by Gil Norton (The Pixies, Foo Fighters) debut at No. 1 upon its October 1996 release and eventually go double-platinum. Other career highlights include the hit cover of Joni Mitchell's "Big Yellow Taxi" (2003) with Vanessa Carlton, and the Academy Award-nominated 2004 single "Accidentally in Love," from "Shrek 2."
Turning 50 was a milestone for Mr. Duritz, who's also struggled with mental illness (depersonalization disorder) for many years. "At 30, I opened for the Stones that day. By the time I turned 40, I had accomplished things," he said. "At 50, I was in Tulsa, I felt old. I remember my grandmother being that age."
Playing live, "we play as good a show as possible," Mr. Duritz said. "If people go insane, that's great. If they're not, if they're just sitting there, you need to play a good show anyway."
"I realized a long time ago, there are really going to be terrible audiences, they don't deserve a terrible show," he said. "I owe them a great show." He's also looking forward to being back in the Quad-Cities, having recorded at Daytrotter in Rock Island, and played a Barnstormer tour in Maquoketa, Iowa.
"That's really special to me," Mr. Duritz said.