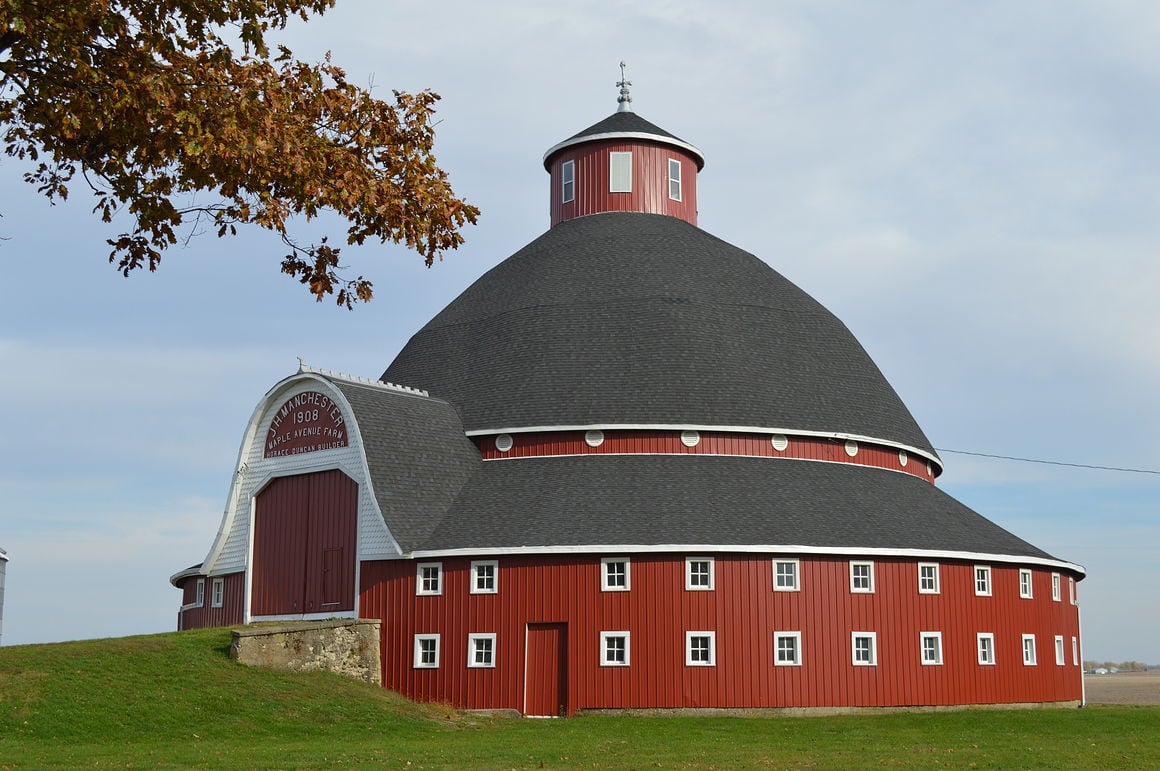 Kelly and Tammy Rundle of Moline-based Fourth Wall Films certainly know how to make history.
The prolific, award-winning husband-and-wife team make history come alive — and make the inarguable case for historic preservation — through intelligent, insightful, expertly crafted documentaries on important subjects that have Midwest connections.
They reveal the height of their expressive, compassionate cinematic powers with their latest, "The Barn Raisers," which tells the story of barns in the Upper Midwest through the loving lens of architecture.
Filmed in Iowa, Michigan, Wisconsin, Ohio and Kansas, the ambitious and observant canvas (stretching a bit under an hour) paints a mesmerizing picture of how barn styles, building methods and materials reflect the people who built them, the life they lived, and the role these "country cathedrals" played in settling and building the nation, according to a Fourth Wall summary.
That religious theme is explored occasionally in this meaningful, affecting portrait. It serenely starts with sounds of birds, then majestic organ music, accompanying the painterly images. That's fitting as "Barn Raisers" feels like a hymn to the solemn beauty and importance of these buildings, and the Rundles treat them with the reverence they deserve.
One of many of the film's interviewees — including barn preservationists, historians, farmers and architects — likens barns to being in a cathedral. Many early barn builders also built churches, and used similar types of construction. One interior shows a magnificent arched roof, like a church, and the film says it can be a spiritual experience to simply stand in a barn.
Jeremy Marlow, artist and barn owner in Waukon, Iowa, recalls that as churches are landmarks on the European landscape, barns are landmarks here.
"These barns are part of the history of American immigration, and it's really sad to see these things fall down at an alarming rate," he says. It's estimated that Iowa loses more than 1,000 barns each year.
"The Barn Raisers" revels in a vital way of life that it says has been largely forgotten, and the film reminds us that these examples of America's rural past still are here to be appreciated.
"I see old barns as documents," says architectural historian Marlin Ingalls of the Office of the State Archaeologist in Iowa City. "There's no other thing on the landscape that gives that sense of connection to the history and agricultural activities of a bygone era."
Tim Anderson, historical geographer in Athens, Ohio, says barns loom large in the American mind, even though less than 2 percent of the labor force currently farms.
These buildings — traditionally erected with no plans, with the cooperation of untrained neighbors and entire communities — contain stories of our past, Mr. Anderson says. "When you lose that building, you also lose all the stories associated with it; they vanish from our collective consciousness."
"The Barn Raisers" compellingly and emotionally makes the case for another skill in need of rebuilding — stewardship.
"I think a barn evokes a sense of respect for the hard-working, rugged individualist of a farmer, out there on his own, making his way through life, being successful, building a country as he is building his own life," Jeffrey Marshall of the National Barn Alliance says.
Many Iowa barns appear in the film, including the Nebergall "Knoll Crest" Round Barn in Scott County, designed and built in 1914 by architect Benton Steele.
Steele believed the round barn was the strongest form of building, creating the most efficient use of space, the film says. He was hired by Charles W. Nebergall, of Davenport, and this is the only known example of a round barn from his work left in Iowa.
We also see a 1839 barn in the village of St. Donatus in Jackson County, Iowa, arguably the oldest barn in the state, built with stones from local quarries.
Barns were traditionally painted red in the 19th century because that was the cheapest paint, the film says, noting other colors, like white, showed people farmers were doing better. Farmers also were competitive, wanting to ensure they made a good impression, from their wood piles to clotheslines, to paint.
John Poorman, a sixth-generation farmer in Somerset, Ohio, shows a barn from 1819 — requiring a massive amount of labor to construct, with stones weighing 900 pounds. "If we want to keep the history going, we have to keep these structures intact," he says.
"We have to have a pride in what we're doing, not only raising crops and cattle, but in the buildings that have been here a long time, and stand for what our ancestors have done."
"The Barn Raisers" includes a visit to nearby southwest Wisconsin, and a beautiful barn designed by Frank Lloyd Wright — just south of Spring Green and the Wisconsin River, on the architect's Taliesin estate.
Jim Erickson, director of preservation at Taliesin, notes it's markedly different than your standard barn in Wisconsin, very "horizontal, hugging the land line."
Kelly Rundle said by email that the film "is not designed for barn experts. It's designed for someone who has never thought about a vintage barn as a valuable resource. As one of our interviewees says in the film, barns are the story of America, and preserving barns is preserving that story."
Fourth Wall has produced the regional Emmy-nominated documentaries "River to River: Iowa's Forgotten Highway 6," "Letters Home to Hero Street" (co-produced with local PBS station WQPT), and "Country School: One Room – One Nation," and the award-winning films "Lost Nation: The Ioway" and "Villisca: Living with a Mystery," as well as the feature-length "Movie Star: The Secret Lives of Jean Seberg" (co-produced with Garry McGee).
"The Barn Raisers" will premiere on the Putnam Museum's Giant Screen Theater on Jan. 28. The Quad-Cities' Barley House Band, whose music is featured in the film, will perform at the event, and a Q&A with the filmmakers and other film participants will follow the screening.
Be the first to know
Get local news delivered to your inbox!