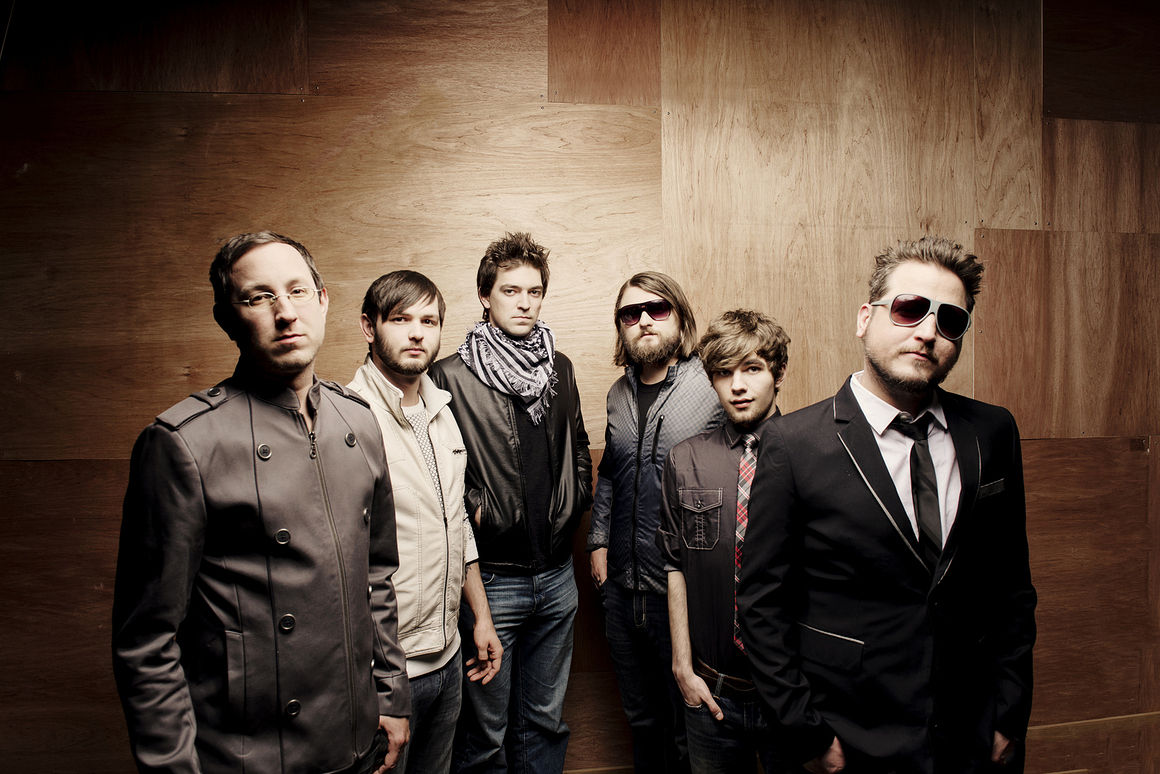 From Gregorian chant to barbershop to doo-wop, singing without accompaniment has long been popular. Today, a cappella is perhaps at its pop zenith, and the national tour of a top reality TV show celebrating that music stops next week at the Adler Theatre.
"The Sing-Off Live" — based on the top-rated a cappella music competition series hosted by Nick Lachey on NBC — brings its high energy and multi-layered vocal sounds Wednesday night, with three headliners and an Iowa group.
"Our guest groups are a combination of the best groups from past seasons of 'The Sing-Off' combined with some of America's greatest professional groups," show director Deke Sharon said of the tour. "A cappella is at its very best when experienced in person, which is why I'm thrilled to be working with 'The Sing-Off Live' tour once again, bringing some of the world's greatest groups to theaters around the country. People will not believe their ears when they hear our Sing-Off stars, and we love introducing audiences to their own fantastic local groups."
"I feel very strongly that a cappella is everybody's music. The great thing about a cappella is hearing it live. Everybody used to sing around the campfire, at the end of the day, 100 years ago," Mr. Sharon said in a recent interview. "It's nice that a cappella is getting out to people. By showcasing local groups, we want people to know there are great groups in their area, and inspire them to sing as well."
The Adler show features Season 5 finalists The Exchange, Season 2 winners Street Corner Symphony, and Season 4 winners VoicePlay, with opening act Intersection (uiowaintersection.com), the University of Iowa's male a cappella group.
"The Exchange is like an all-star boy band," Mr. Sharon said. "They come out with more energy than any a cappella group. They're like the nuclear reactor of a cappella, they're jumping energy and relentless, great."
"VoicePlay is like a finely honed theatrical experience -- unbelievably intricate medleys, and comedic bits," he said. "You forget they're one of the best a cappella groups. They're doing stuff with video screens, it's really great and tremendous.
"Street Corner Symphony are like laid-back rockers," Mr. Sharon said of the last headliner. "You close your eyes and hear CCR, that classic swampy, rock-y sound. Each of the groups is almost like three different primary colors. They have different surprises."
"These are three of the best groups," he said. "You roll them around the country, able to do amazing lights, amazing sound, and put on a full-on theatrical quality rock concert."
A 47-year-old national leader of contemporary a cappella, and prolific music arranger, Mr. Sharon said the genre has exploded since he graduated college (from Tufts University and the New England Conservatory) in 1991. Then, there were 200 groups (mainly on college campuses) around the country; today it's over 3,000.
"Modern a cappella started treating voices as an instrument, taking the traditional four-part harmony into 16 parts, with vocal percussion, bass, drums, and all these layers," Mr. Sharon said. "You have the fullness of the spectrum that you hear when you listen to music on the radio. It lets you use your voice in different ways."
"A cappella is everybody's music; it's the oldest music," he said. "There are great traditions around the world."
"In Germany, there's a group with vocal guitars, bass, with a live drummer. They're like screaming, heavy metal, in black. You'd swear you were watching Judas Priest," Mr. Sharon said. "There's everything out there."
"Now you can't tell there aren't instruments, the sound is so dense and full," he said, "With shows like 'Glee,' movies like 'Pitch Perfect,' and YouTube, you see what people are doing, and that's really helped a cappella take off."
Also, as college a cappella singers graduated, they have gone back to teaching music in high schools, introducing that music there, boosting the potential for growth in high school groups, he noted.
"There's no more versatile instrument than the human voice. It can cross the genres," Mr. Sharon said. "With the human voice, you can skip your way through music history with nothing more than a pitch pipe."
"There's a general reluctance for people to incorporate something that's popular in a more traditional educational program," he said of high schools, noting a cappella is very different from show choir. "A cappella is far more vocally challenging than a lot of great choral music, four-part stuff. In 'Pitch Perfect,' it starts in 10-part, and 'Pitch Perfect 2,' there are 20, 24-part charts -- the highest of highs, lowest of lows.
"It's a giant, complicated, intricate wall of sound, no educator could possibly say that is less than demanding and high quality," Mr. Sharon said.
For some reason, more men are singing a cappella than women, he noted, but the popularity of "Pitch Perfect" (a big hit in 2012, with the sequel opening May 15) is getting more girls interested. It's becoming more common to see co-ed a cappella groups, and women are doing vocal percussion as well, Mr. Sharon said.
"It's a great equalizer; they're rocking just as hard as the guys," he said.
"Pitch Perfect" (co-starring Anna Kendrick and Elizabeth Banks, about an all-female college group) is able to make fun of a cappella and pay tribute to its hard work and musical quality, Mr. Sharon said.
"If people are not out of their seats cheering for the winning group, the movie won't work," Mr. Sharon said. "It's a joyous, jubilant performance. What I think works really well about that movie, through the entire process, we are extremely, almost slavishly, purist about the nature of what we're trying to do in the movie.
"We want people to feel and hear what a cappella is really like," he said. "We're not slathering Auto-Tune, creating fake tricks -- we want the live performances. Each of the actresses had to sing parts by themselves from memory." The parts were recorded separately, combined in the studio, with actresses lip-synching to themselves on camera.
Elizabeth Banks returned for "Pitch Perfect 2" to make her directorial debut.
"She is so great, she is just great as a person -- she's smart, she prepares," Mr. Sharon said. "I absolutely loved working with her."