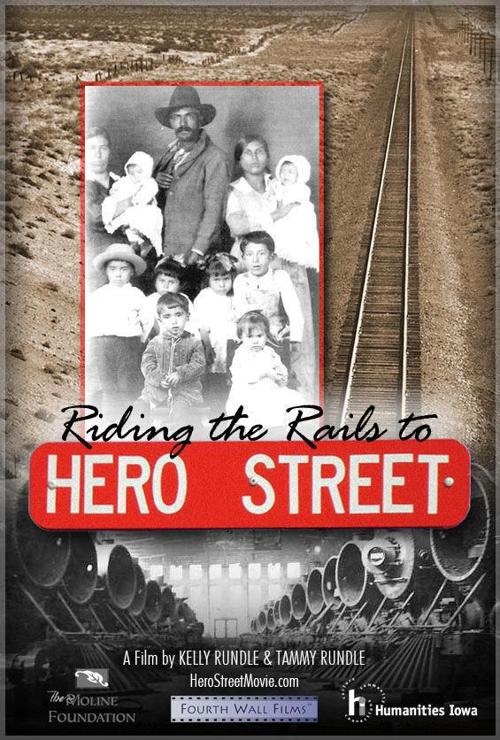 "A World Away From Hero Street" (William Sandoval's story) and "Riding the Rails to Hero Street" will start at 3 p.m., with a panel discussion following the film presentation.
Only a block and a half long, Second Street in Silvis lost six young men in World War II and two in the Korean War, more than any other street in America. Hero Street, as it is known, has provided over 100 service members since Mexican-American immigrants settled there in 1929.
"Hero Street," a planned 10-part documentary series by Emmy-nominated filmmakers Kelly and Tammy Rundle, will explore the personal and family sagas behind each of the eight heroes and tell the compelling true story of an ongoing struggle to memorialize Tony Pompa, Frank Sandoval, William Sandoval, Claro Soliz, Peter Masias, Joseph Sandoval, Joseph Gomez and John S. Muños, according to docublogger.typepad.com/hero-street-movie.
The series will combine interviews with family members, friends, veterans, community leaders and historians with vintage photos, film and archival materials to tell an "unforgettable story of American courage, character and perseverance," the site says.
Part 3 in the series, "Letters Home to Hero Street," a co-production of Fourth Wall Films and WQPT, was released first, in 2015, and won film festival awards and a regional Emmy nomination.
Based on the success of "Letters Home to Hero Street," which tells hero Frank Sandoval's story, and the completion of "Riding the Rails to Hero Street" and "A World Away from Hero Street," the development and production of seven more films to complete the series will take place between 2020 and 2023. If funding is obtained sooner, the series may be completed sooner.
You have free articles remaining.
"Riding the Rails," the first film, explores the immigrants' journey from Mexico to the Chicago, Rock Island and Pacific Railroad train yards and boxcar homes in Silvis. The families of Hero Street experienced both acceptance and discrimination in their new community, according to the filmmakers. Around the time of the Great Depression, the families were removed from the rail yards and some moved box cars or built new homes on 2nd Street in Silvis.
Hero Street's John Muños and Joseph Sandoval's stories are planned for 2020; Claro Soliz and Tony Pompa in 2021; Peter Masias and Joseph Gomez in 2022; and the final episode, "Remembering Hero Street," in 2023. Each film in the series will be 26 minutes long. Interviews with family members, friends, veterans, community leaders and historians will be combined with vintage photos and film, and archival materials.
The scheduled release of the documentaries is dependent on available funding and resources for each. For more information, visit HeroStreetMovie.com.
The series has received funding from the Regional Development Authority, Illinois Arts Council, Illinois Humanities Council, Humanities Iowa, Quad City Arts, Mexican American Veterans Association—East Moline, Quad Cities Community Foundation, Moline Foundation, LULAC Iowa, city of Silvis and individual contributors.
'Thunder' screening in Connecticut
Harriet Beecher Stowe (1811-1896) lived in the house on the historic grounds, and was a neighbor of Mark Twain. She died in the house, 10 years after her husband Calvin Stowe passed away. This special screening kicks off showings of the finished film in theaters, museums, historic sites and at film festivals in the months ahead.
"Sons & Daughters of Thunder" tells the true story of the 1834 Cincinnati, Ohio Lane Theological Seminary anti-slavery debates. The controversial meetings, led by abolitionist Theodore Weld (Thomas Alan Taylor), were the first to publicly discuss the end of slavery in America. For more information, visit lanerebelsmovie.com.