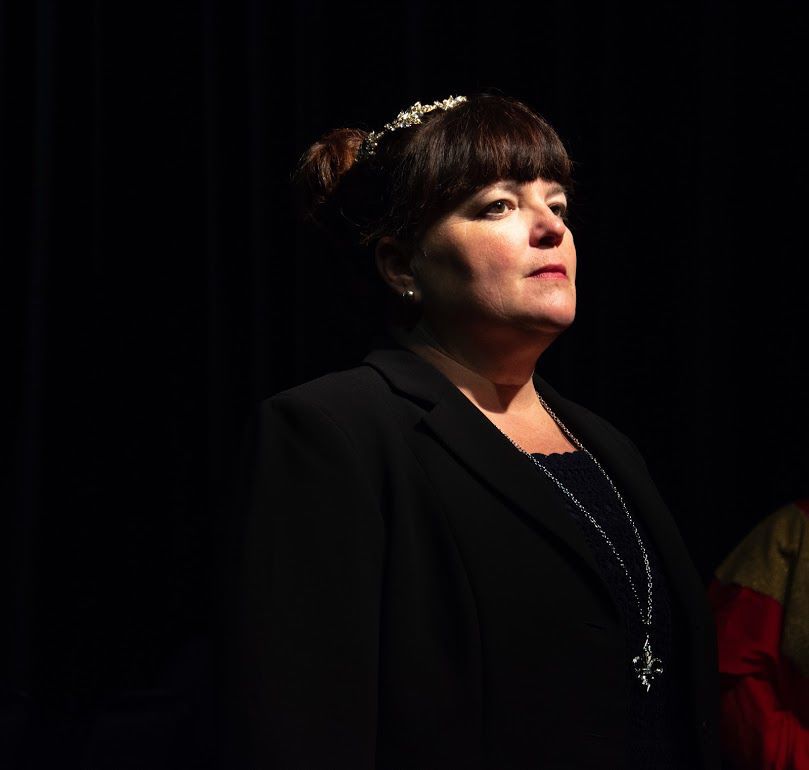 William Shakespeare's "King John" — Prenzie Players' current offering — is rarely performed, perhaps because of its somewhat convoluted plot and large cast of interrelated characters requiring the audience to keep on its toes.
It's at once a history play, a tragedy and a study in ambition and treachery. Kudos to Prenzie for adhering to its mission to perform the full canon of Shakespeare's works.
Kate Farence ably pilots a squadron of very capable veterans as well as some talented and refreshing newcomers to the Prenzie stage. However, once again this show is staged without scenery and only an upholstered chair to serve as a throne. Also again, costuming is black contemporary clothing, but she wisely has the English court in red accents, the French court in blue accents and neutral characters in purple.
King John (Jeremy Mahr) is the unpopular (think "Magna Carta") and mean-spirited fourth and youngest son of King Henry II and Elinor of Aquitaine (Susan Perrin-Sallak). He attempted to usurp England's throne from his brother, Richard the Lion-Hearted, while Richard fought in the third Crusade, inheriting the crown after Richard's (and his other brothers') death. But, as is said, "uneasy is the head that wears the crown."
Somewhat easing the burden is devil-may-care Philip Faulconbridge (Nathan Klaus), illegitimate son of Richard I who, through an inheritance dispute with his half-brother Robert (Tracy Skaggs), comes to relinquish his inheritance to gain recognition as Richard's son by King John, becoming Sir Richard Plantagenet. The play refers to him as "The Bastard," a devoted and tempestuous ally to John.
John's reign is challenged through fierce machinations of Constance (Jessica White), widow to John's older brother Geoffrey. Constance resides in the French court and convinces Queen Phillipa (King Phillip in the original script and here portrayed by Denise Yoder) to advance her son's (Arthur, played by Joe Brune), claim to the throne. It's not a hard sell since England and France were almost perpetual enemies through medieval times.
Prenzie's habit of double castings and switching male roles to females plays out unevenly in this production. Ms. Yoder totally sells herself as a strong, decisive monarch making the switch believable. However, casting a female as a male Catholic cleric just doesn't make it, nor do female soldiers in pink lipstick.
Among standouts here is Mr. Klaus, whose wry delivery and energy infuse his scenes with fireworks. Matching him in battle and energy is Tracy Skaggs — also cast as the Duke of Austria and ally and ferocious defender of France, and Jessica White imbues Constance's grief with heartbreaking passion.
The play will be repeated at 8 p.m. Thursday through Saturday; tickets are $10 in advance (available at 563-484-4210 or tickets@prenzieplayers.com), and $15 at the door.